Bronze Elvis Statue Introduction
The bronze Elvis statue depicts the iconic figure dressed in a suit, with a guitar slung over his shoulder. This representation captures the essence of Elvis Presley in a sophisticated and timeless manner. The bronze material not only adds durability to the statue but also lends a classical and refined aesthetic.
The attention to detail showcases Elvis in a poised and musical stance, paying homage to his legendary status as the "King of Rock and Roll." The combination of the formal suit and the casually slung guitar creates a visually striking and culturally resonant portrayal of this iconic musician.
A Vibrant Elvis Statue
What sets this statue apart is its portrayal of Elvis with a vibrant stage presence, The guitar adds a layer of musical authenticity to the statue, emphasizing Elvis's instrumental prowess and his significant contribution to the world of music.
Placing this vibrant bronze Elvis statue in life-size in a space not only pays homage to the cultural impact of the King but also adds a touch of excitement and vivacity to any environment. Whether in a music-themed setting, a collector's showcase, or a public space, this statue becomes a focal point that celebrates the enduring legacy of Elvis Presley in a visually stunning and dynamic manner.
Realistic 1:1 Clay Model
The reason why the Elvis statue in our factory is so realistic is that we will make a 1:1 clay model before using the lost wax method. We have artists who specialize in making clay models of characters, and they will carefully study the background of the character before starting, observing the structure of the figure, and striving to create the most perfect Elvis sculpture.
Customize the Elvis Statue You Want
Elvis Presley, a legendary rock star, is synonymous with timeless and iconic poses. At Trevi Factory, we boast an extensive collection of clay models, each capturing the essence of Elvis in various classic forms. By choosing us, you not only gain access to this diverse array of shapes but also benefit from cost savings, eliminating the need for a separate clay model.
Our commitment to excellence ensures that each bronze sculpture of Elvis Presley produced is a masterpiece, destined to become a classic handed down from generation to generation. The meticulous craftsmanship and attention to detail in every piece guarantee an enduring tribute to the King of Rock and Roll, making each sculpture a symbol of artistry and cultural significance.
Choose Trevi Art Sculpture Factory
Trevi Art Sculpture is a professional bronze statue manufacturer with 40 years of experience in statue making. We can provide you with the most professional bronze custom design and service. Therefore, our clay model artists and sculptors are very experienced in making this custom statue. Our artists focused on the details of the statue and worked to 100% restore all of Elvis Presley's details.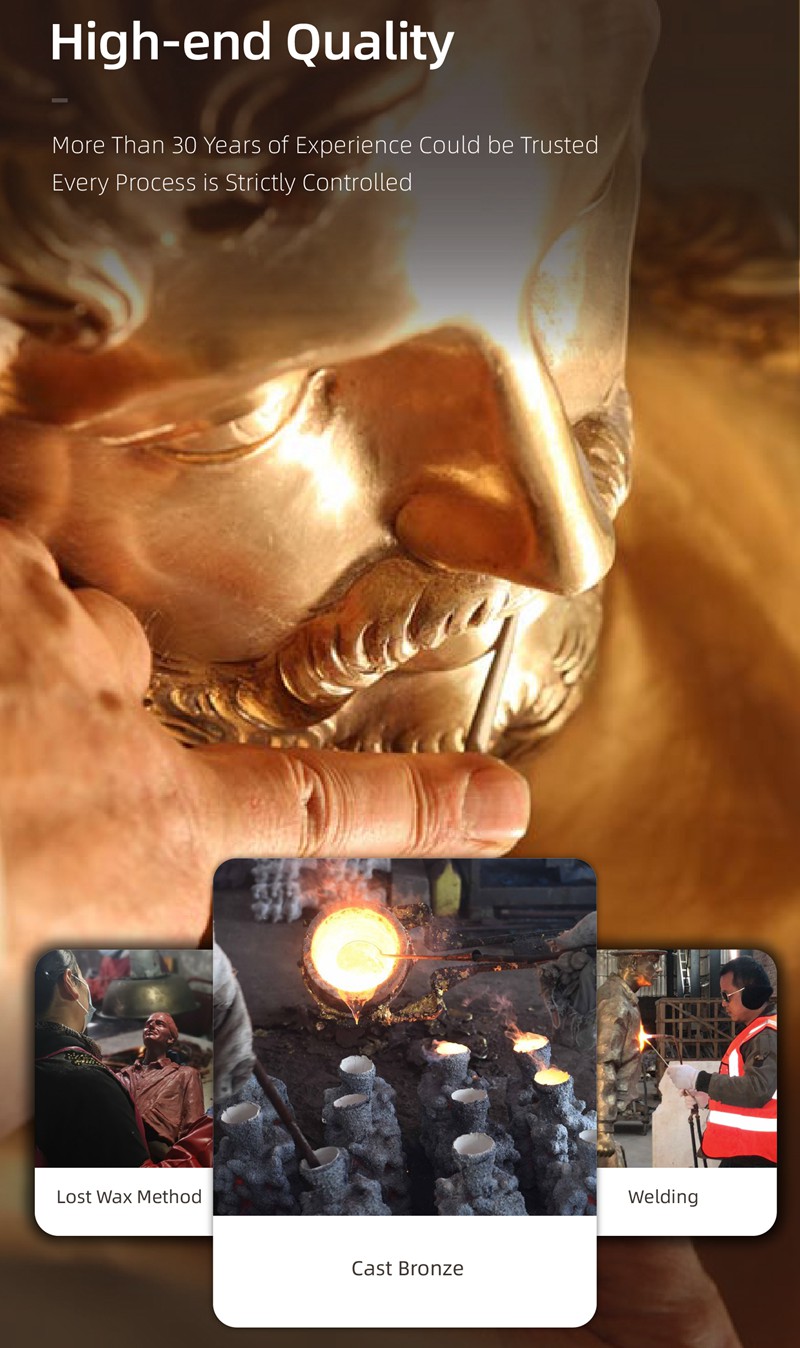 If you like rock star Elvis and hope that this Elvis statue in life size can add musical vitality to your space, please contact us quickly and we will create the perfect sculpture for you.