Choosing a headstone is a deeply personal and meaningful decision to honor a loved one. It requires careful consideration of various factors, including materials, design, carving, and cultural preferences. This comprehensive guide is designed to make your selection easier by providing you with valuable insight and guidance to help you choose the best headstone.
Step 1. Material
Gravestones are available in a variety of materials, each with its own unique properties and aesthetics. Common materials include granite, marble, bronze, limestone, and slate. Consider factors such as durability, maintenance requirements, and visual appeal when choosing a material that best reflects your loved one's memory.
Granite: Renowned for its durability, granite tombstones are able to stand the test of time and offer customization options through a variety of colors and finishes.
Marble: Exuding elegance and softness, marble headstones have a timeless appeal, but may require more maintenance.
Bronze: Combining artistry and longevity, bronze tombstones develop a unique patina over time and allow for intricate carvings.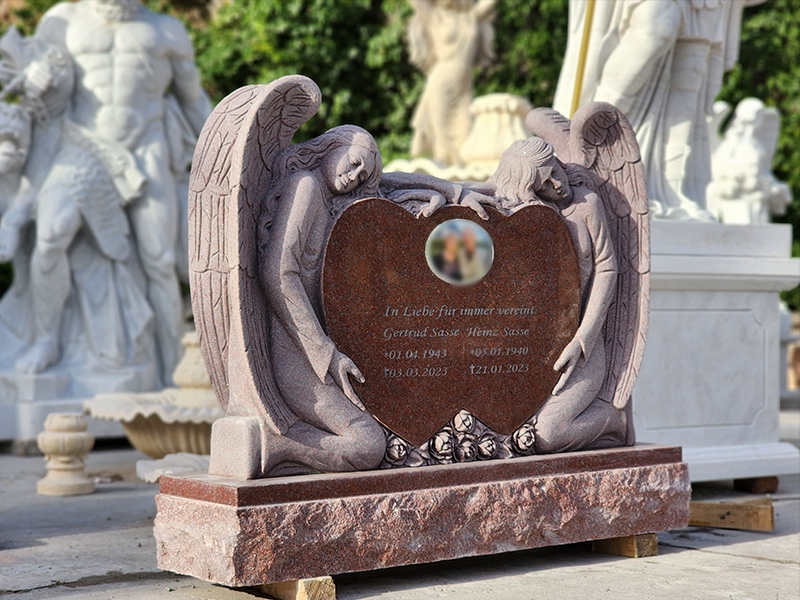 Step 2. Tombstone Style and Design
After determining the material of the tombstone, the next step is to determine the style and design. There are actually many common tombstone styles, such as upright tombstones, flat tombstones, cross memorial tombstones, heart-shaped tombstones, angel tombstones, bench tombstones, and other personalized custom tombstones.
Cross Monuments: Cross-shaped monuments are often used to represent religious beliefs. They come in a variety of sizes and designs, from simple crosses to more intricate and ornate styles.
Heart-Shaped Tombstone: A heart-shaped headstone symbolizes love and affection. They can be inscribed with engravings, images, or inscriptions that reflect an individual's personality and relationships.
Angel Statues: Angel sculptures are often placed on tombstones as symbols of protection or spirituality. The statues are detailed and intricate, depicting angels in various poses and expressions. And this is the most popular style of tombstone.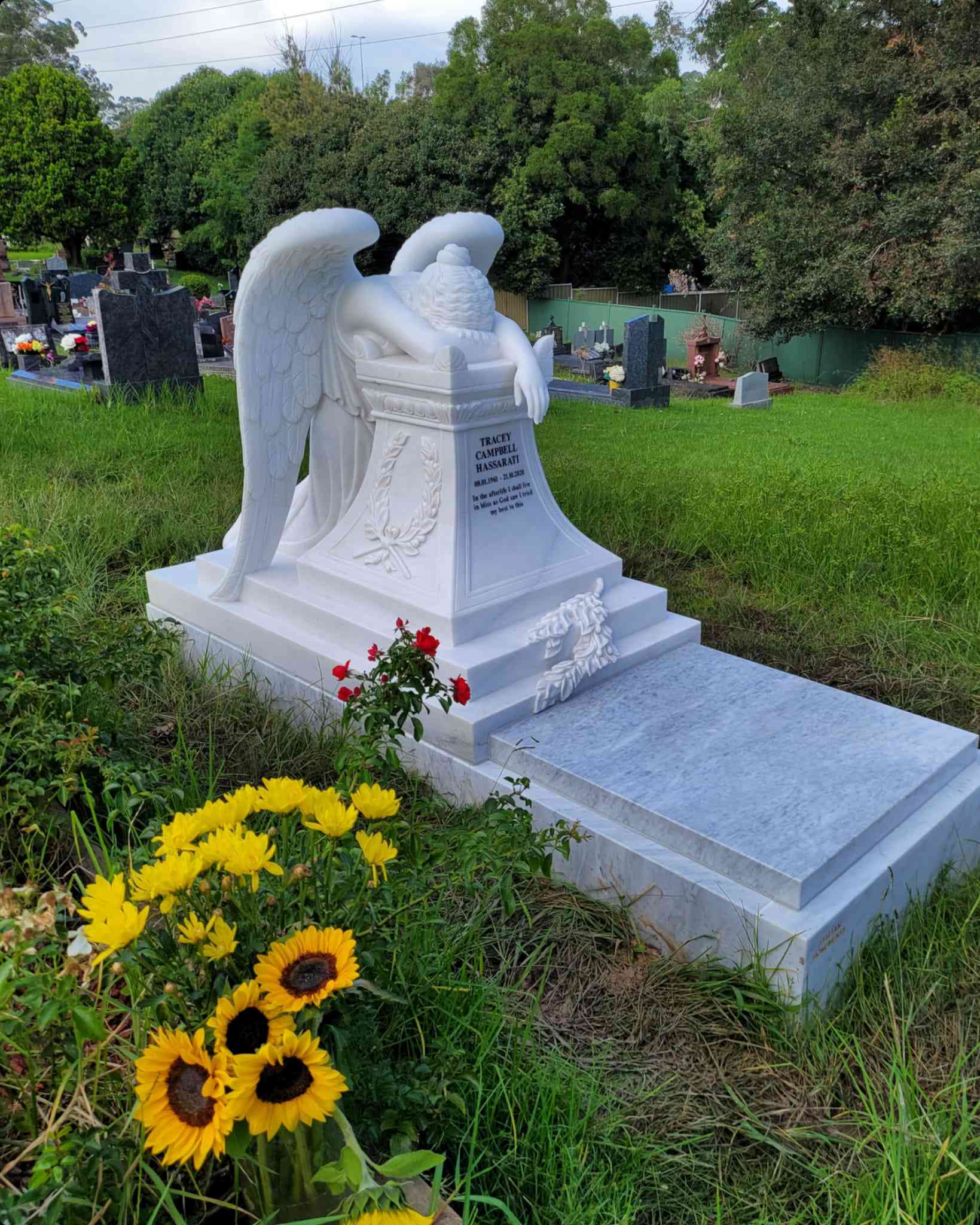 Custom Headstones: Some headstones have custom sculptures that represent a hobby, interest, or career. It can also be an exclusive tombstone made for a specific group of people. These sculptures range from animals and nature scenes to objects of personal significance.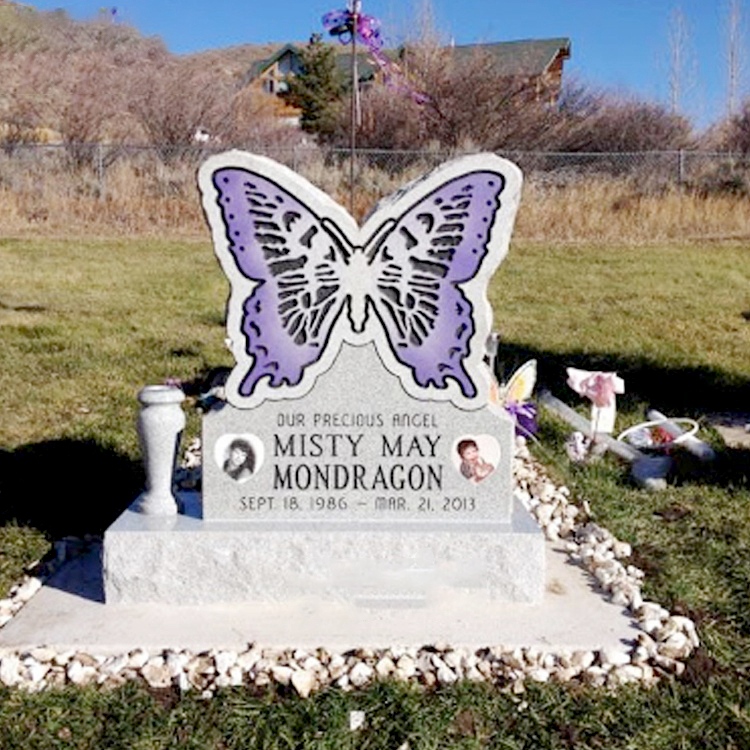 Step 3. Meaningful Carving Design
Each tombstone is unique, and it is our remembrance and nostalgia for deceased relatives or loved ones. Therefore, designs such as personal text content will be carved on the tombstone. This content plays a vital role in telling the life story of your loved one. Every character and element will reflect their personalities, passions and accomplishments.
Before the headstone is made, you can discuss with your supplier what you want to engrave and convey on the headstone. Work closely with skilled artisans to create carvings that resonate with your family values and memories you wish to preserve.
Step 4. Size and Placement
The size of the headstone and its location within the cemetery are important considerations. Previously, our customers had encountered the problem of not checking and communicating the size of the cemetery in advance, which led to the problem that the tombstones purchased back were not suitable. Therefore, everyone needs to check the cemetery's guidelines and regulations regarding headstone size, style and placement beforehand. Balancing meaningful mourning and following cemetery rules can ensure a harmonious and respectful memorial.
Step 5. Budgetary and Financial Considerations
Creating a budget is an important step in the decision-making process. Tombstones come in different price ranges, especially tombstones of different materials and designs. Knowing your financial constraints can help narrow down your options while ensuring you have meaningful discussions and decisions.
Choosing the best tombstone is practical and requires deliberation. From material selection to style determination, every element contributes to creating the perfect and most suitable memorial headstone to honor your loved one.
The above is a detailed guide on the choice of tombstones. Hope these words can help you. If you still have doubts after reading the above content, please contact Trevi Sculpture. There will be professional personnel here to answer your questions, and they can also provide the highest quality memorial tombstones to work out the most suitable plan for you.