More Details About the Flower Sculpture
Metal flower sculptures have become very popular in recent years and this large metal flower sculpture is one of the best of Trevi. This stainless steel lotus flower sculpture is made of high-quality stainless steel, with a highly polished metal mirror surface, which can easily reflect the blue sky and white clouds, adding scenery to both the sculpture itself and the environment. Walking into the sculpture, we can see that the lotus flower consists of 6 blooming petals and four stamens, which perfectly shows the holy and vivid image of the lotus flower in full bloom.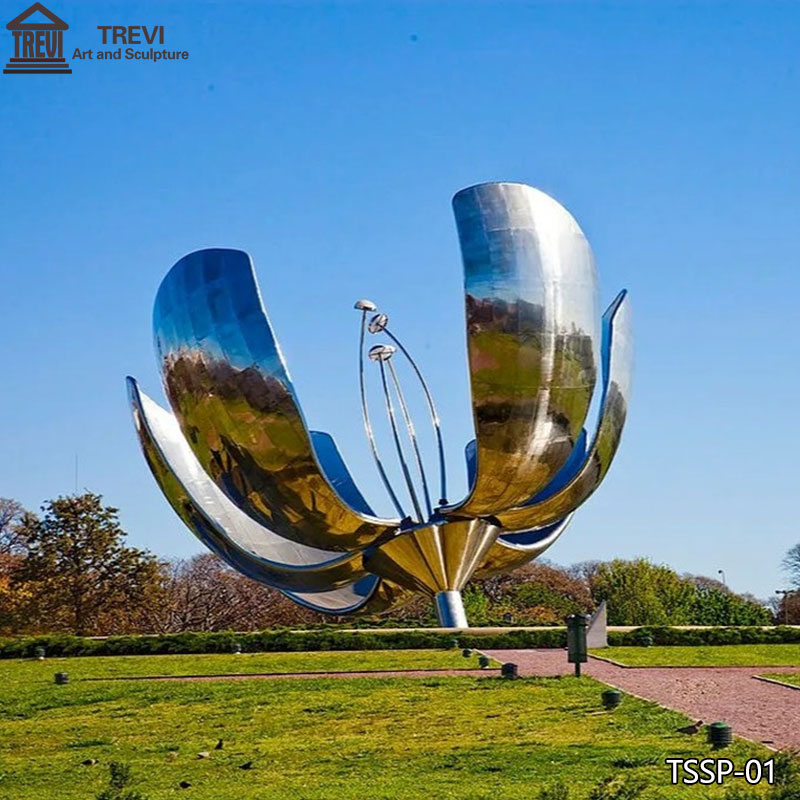 Symbolism of the Lotus Sculpture
The lotus is a flower with a beautiful posture and is imbued with symbolism of high purity, which is widely revered in China and around the world. It is widely believed that the lotus flower symbolizes rising above the temptations of life and becoming a better person. In nature, the lotus flower grows in murky water, and its elegantly clean petals unfurl in the wind, revealing its beauty. This stainless steel lotus sculpture unfurls a large number of petals, representing spiritual awakening. Trevi's lotus sculpture would bring you visual enjoyment and show the modern charm of the sculpture, and would also let us have the desire to grow into a better version of ourselves.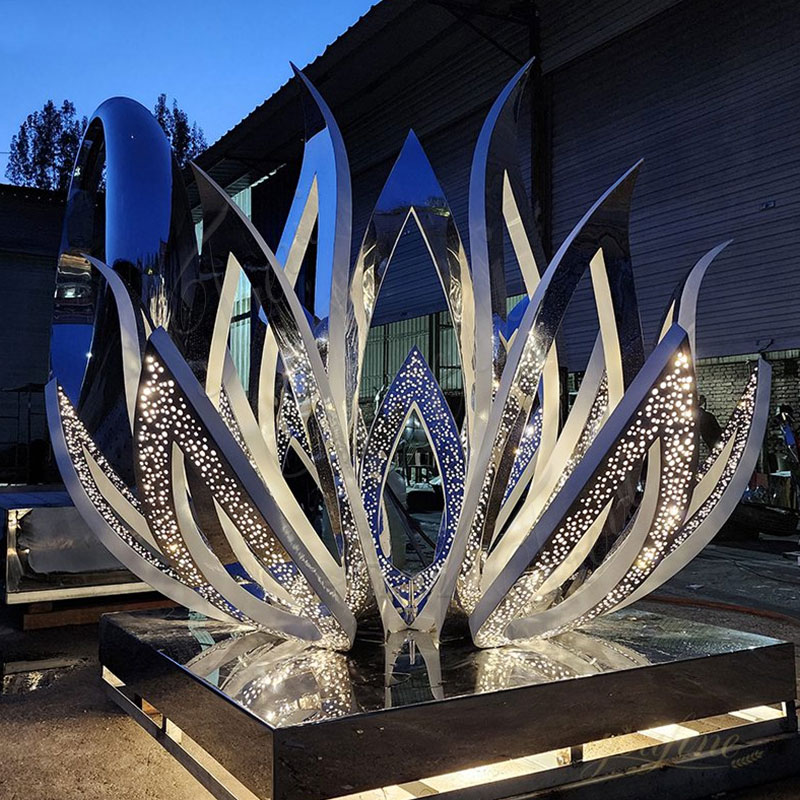 The Surface Effect IS up to You
As we can see, the surface of this metal lotus flower sculpture is very smooth and delicate, just like a mirror. This is because our artist has applied a mirror polish to the surface of this sculpture. It can easily reflect the surroundings in it, such as your house and the blue sky. The sculpture and its surroundings decorate each other, adding double the beauty to the installation scene, easily matching various installation scenes. If you prefer other surface effects, we can customize them specifically for you, such as painting, sputtering, matte, brushed, etc., and a variety of surface treatment options for you to choose from!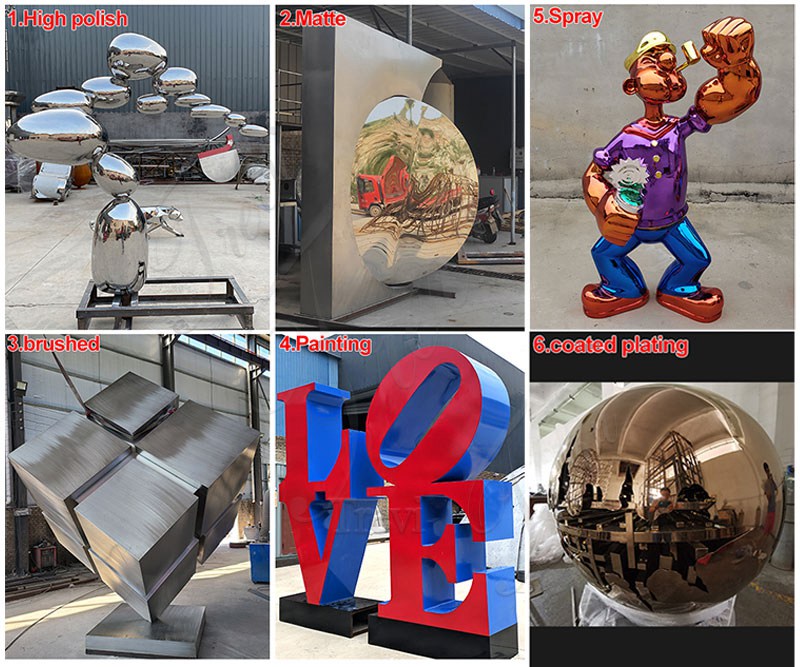 Perfect Installation Service
At Trevi Factory, our commitment to ensuring a seamless experience extends beyond the creation of large stainless steel sculptures. We not only provide comprehensive installation guidance but also boast a dedicated and highly skilled professional installation team. Your artistic vision will come to life effortlessly as our experts work diligently to bring your stainless steel sculpture to its designated location, ensuring it stands as a testament to artistry and precision.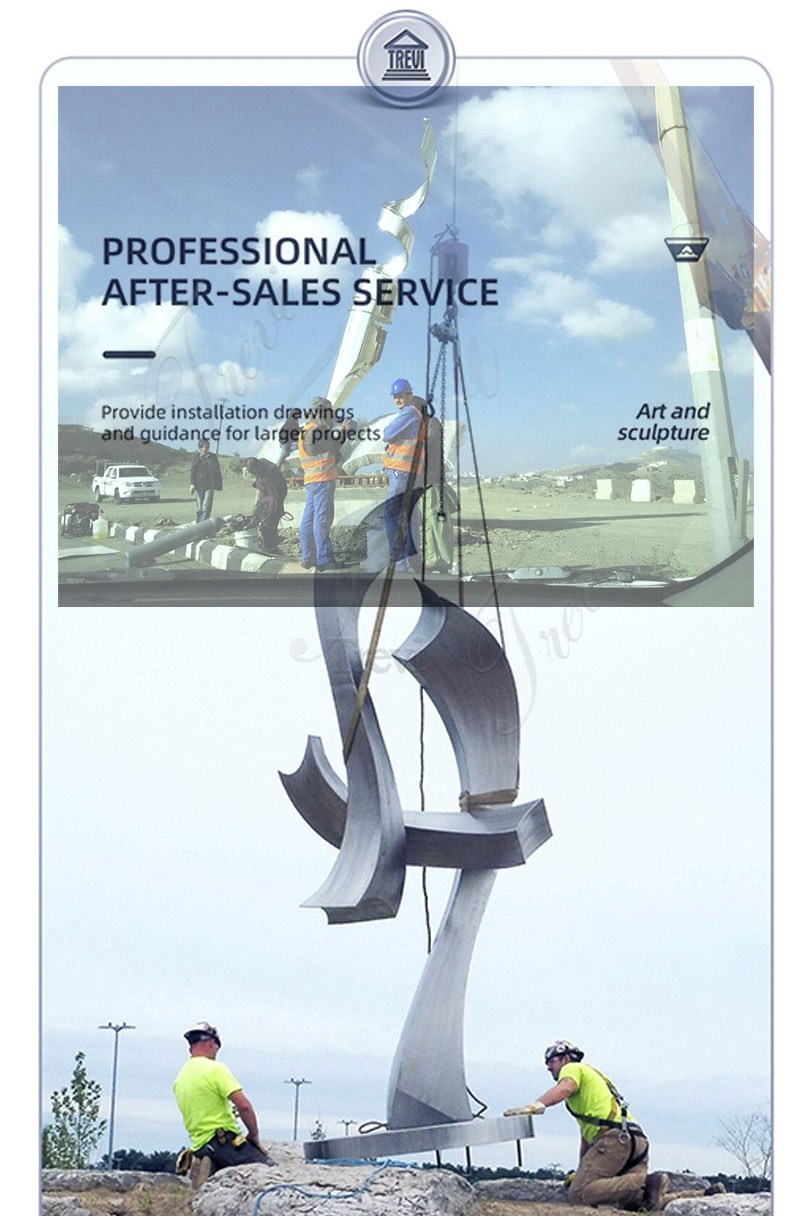 More Flower Sculptures for Your Reference
Trevi, as a direct sales factory, has been specializing in stainless steel sculpture production for 41 years. We have done many stainless steel flower sculptures, and have thousands of designs for your reference. Of course, if you already have your favorite design or idea for your art sculpture, it's lucky that we met each other, we have professional designers to work with you to turn the idea into reality.
If you're interested in this metal lotus sculpture and want to let it decorate your garden or even your city, please contact us immediately! Treive always be here, and ready to give powerful support! Contact us to get a favorite quotation!