Sculpture Introduction:
Large metal flower sculpture public art installations are inseparable from stunningly beautiful artistic creations. Beautiful flowers from the natural world are the most beautiful decoration, so many artists would also use flowers as inspiration to produce many amazing outdoor works of art, such large outdoor flower sculptures are very eye-catching red and Silver and alternate flowers come together to form a growing fantasy.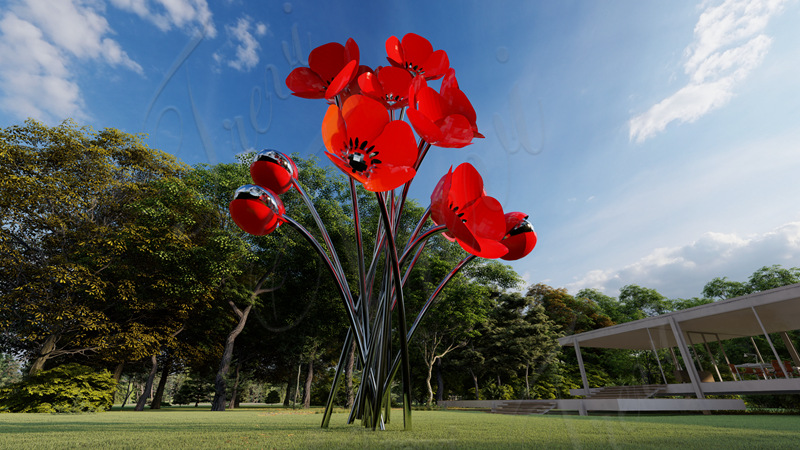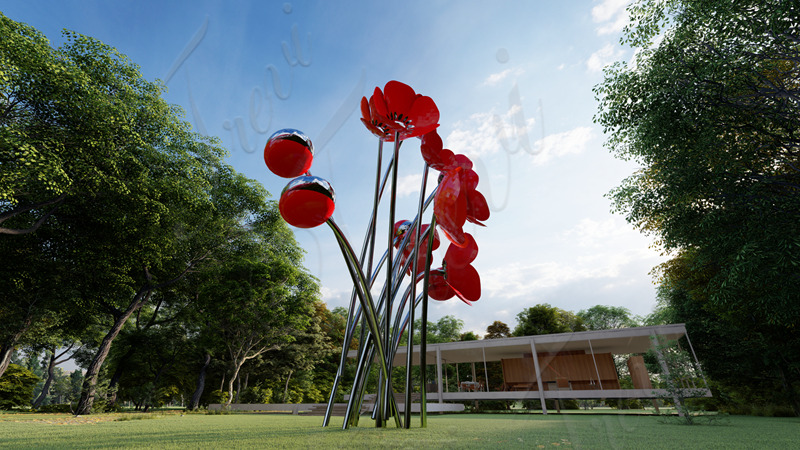 What Flower Sculpture Would Bring to You:
When pedestrians are walking on the huge outdoor square, such large metal flower sculptures and tree sculptures with unique designs in front of the huge size is easy to attract people's attention. Clusters of blooming flowers, combined with the huge size, would bring people a visual feast for a week in the center of the program. If the city is covered in winter or dark clouds, this sculpture would present an unexpected burst of color.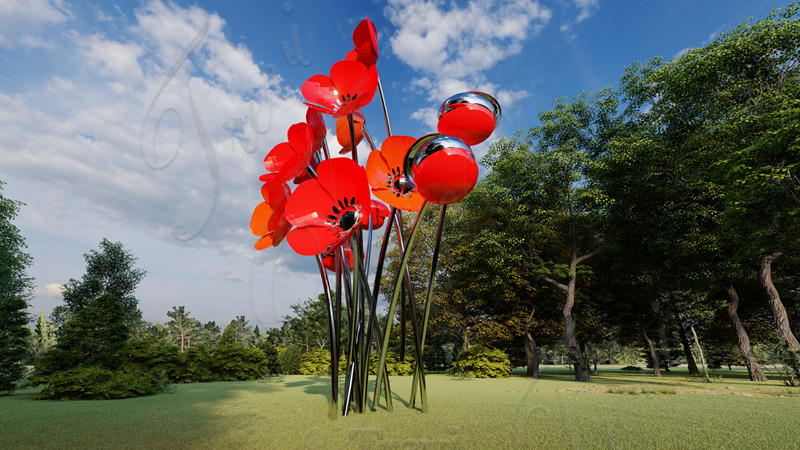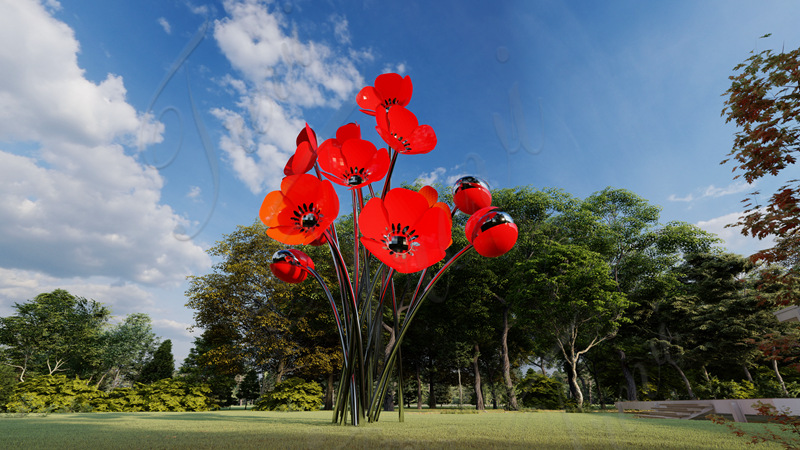 Make the Sculpture that You Like:
Making flowers into stainless steel tree sculptures seems to be a beautiful way to keep flowers forever. When making such a huge outdoor flower sculpture, we chose to use stainless steel as the raw material. There are two ways to deal with the color of highly polished flower stems and flower parts, one is car paint spraying and the other is spray plating. And the color of the flowers could be customized, in addition to red, you could also choose other beautiful colors.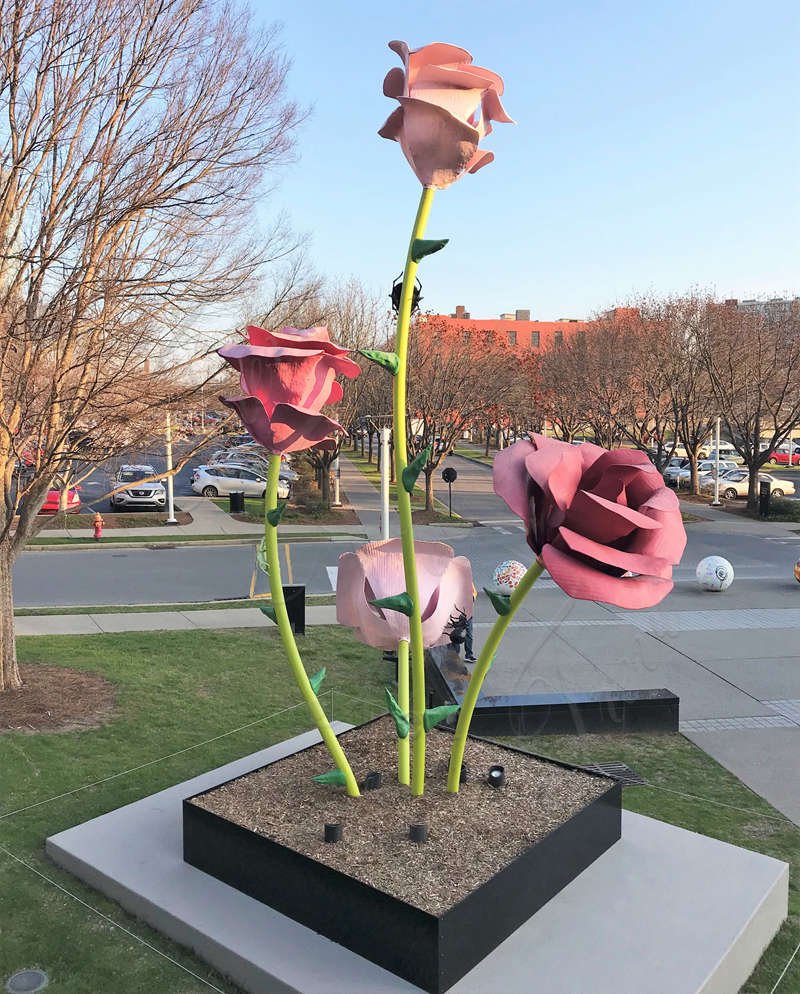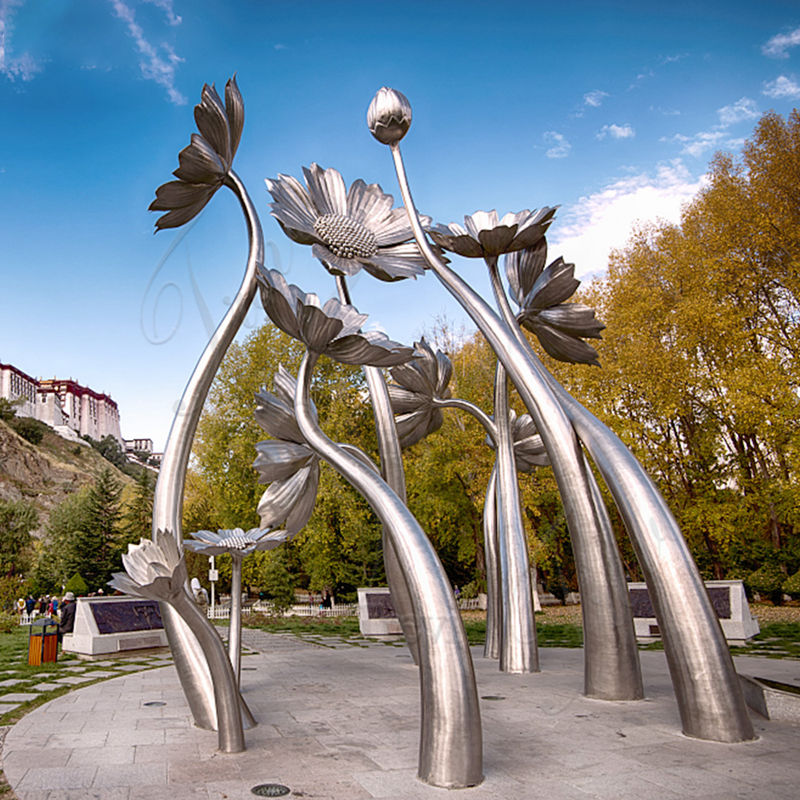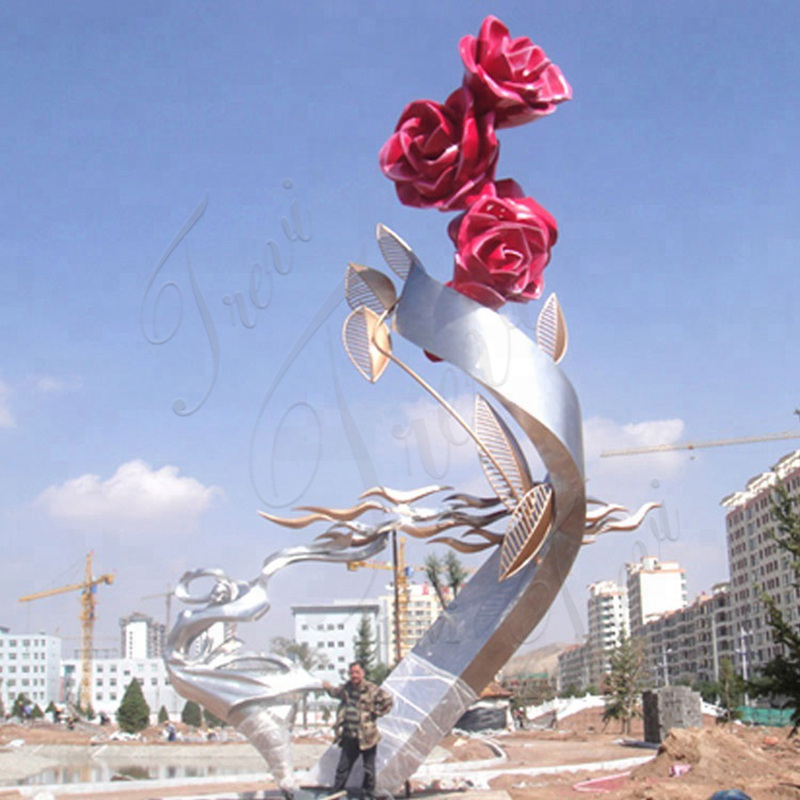 Because it is made of stainless steel, such large metal flower sculptures are resistant to corrosion and high temperature and could serve customers outdoors for many years. When the audience walks under the flower statue, people could move, touch, pass through, and bypass these flower installations. Such a flower is not as delicate as a real flower. And ten years after its birth, it would still be as stunning as a new sculpture.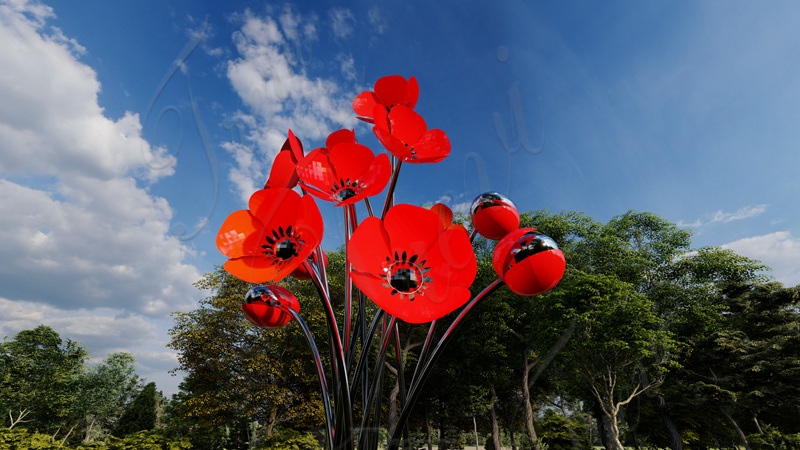 More Flower Options:
Because flowers are very lovable plants, there are many designs of beautiful stainless steel flower sculptures. In addition to such beautiful red flower designs, we also have many other designs of flower sculptures for you to choose from. Varieties of the same flower, different flower colors. But the same thing could be a beautiful landscape outdoors.
Exquisite Metal Flower Sculpture Feedback:
This is a giant metal flower sculpture we made for a client from the UK. The bright red design would stand out even in the leafy outdoors. Red, green, blue and a little white, these colors are mixed together to form a beautiful landscape oil painting.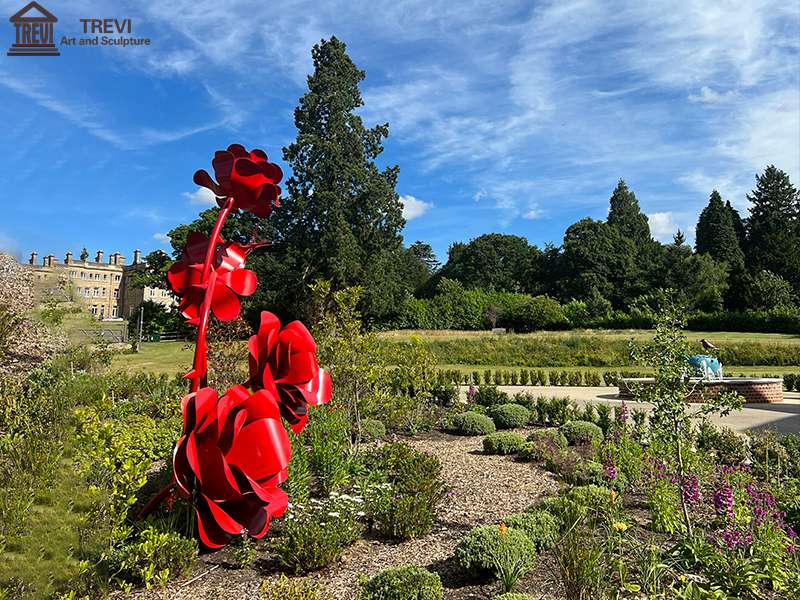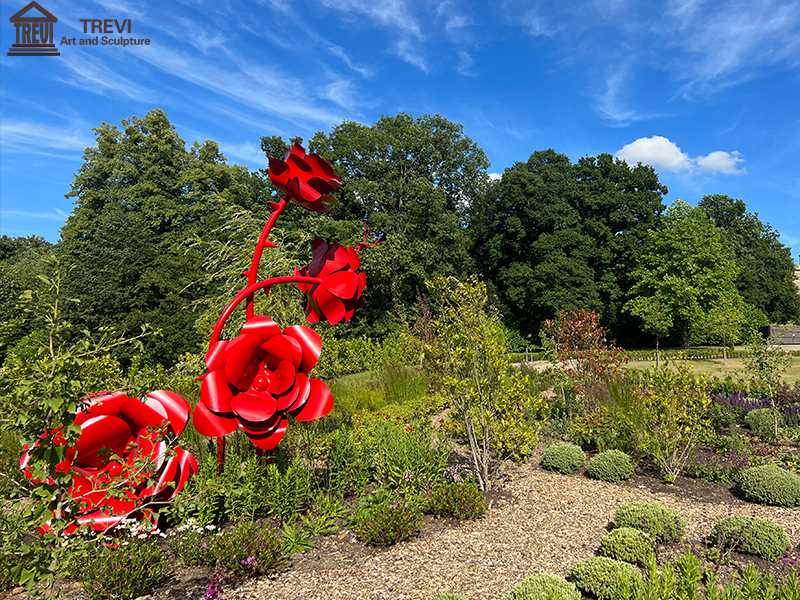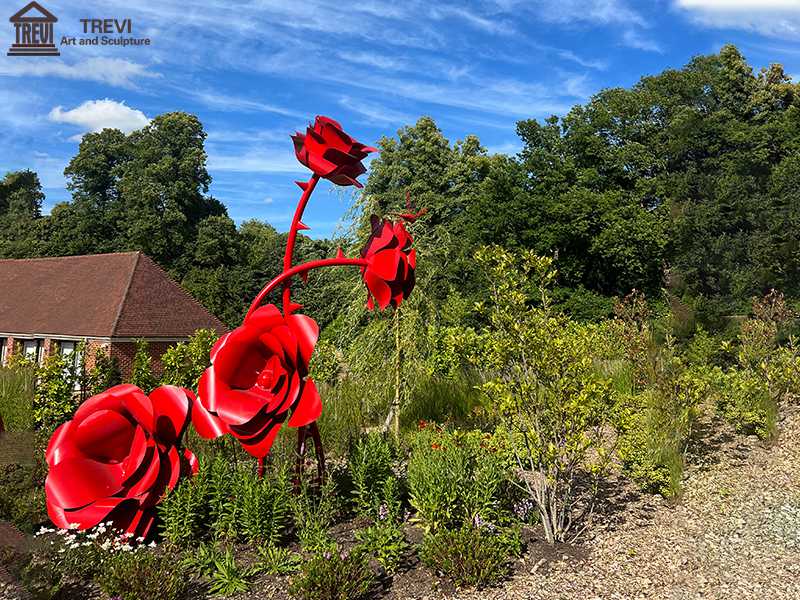 Trevi Advantages:
As a stainless steel sculpture production company established for many years, we have very rich experience in the production of large-scale outdoor art installations. We have participated in the production of many large-scale outdoor sculpture projects, and have also provided long-term outdoor beautiful scenery for many projects.
So It is reassuring to be able to guarantee such a large outdoor statue. And we would also tell our customers some matters needing attention in the installation before the sculpture is transported, and provide installation guidance and video drawings, etc. If our customers have any problems, we would try our best to help our customers solve them.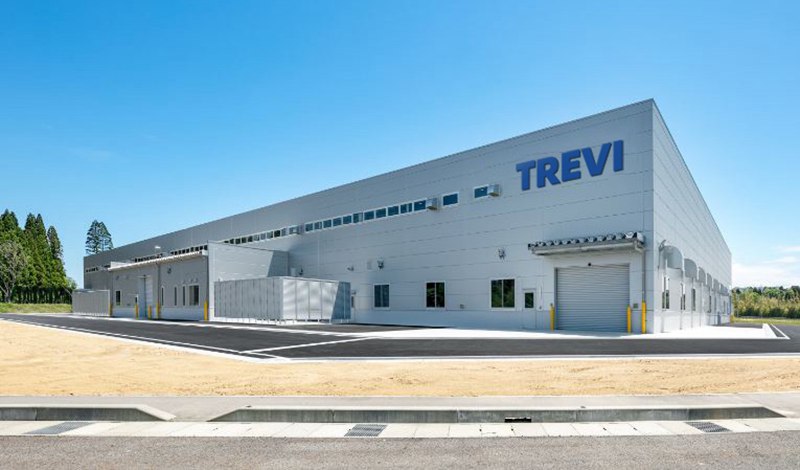 If you have more questions about the large metal flower sculpture, feel free to contact us.