This outdoor marble gazebo has rich color matching and exquisite carving designs. The artists of Trevi skillfully combined the marble figures and the gazebo and used the graceful figure of a woman as the pillar of the gazebo, which has a special charm. The red-brown hollowed-out iron hat on the top of the gazebo and the white pillars set off each other, making this gazebo even more unique and beautiful.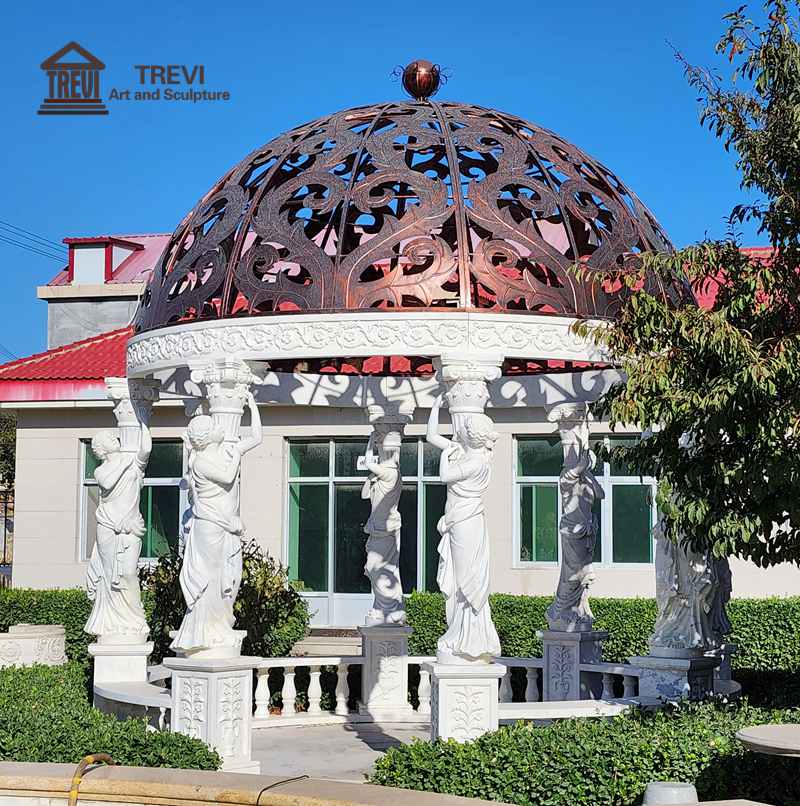 Exquisite and Delicate Carving Details:
All of Trevi's outdoor marble gazebos are hand-carved by the most experienced carving artists. Therefore, we could guarantee that every detail of every gazebo is exquisite. The curves of the female body and the accessories and patterns on the clothes are very delicate.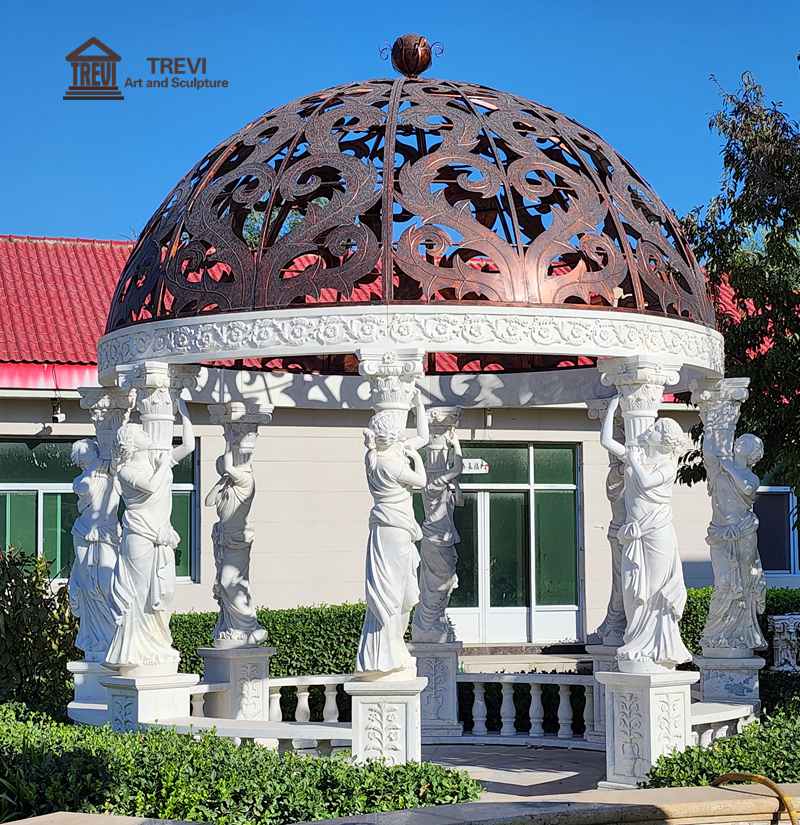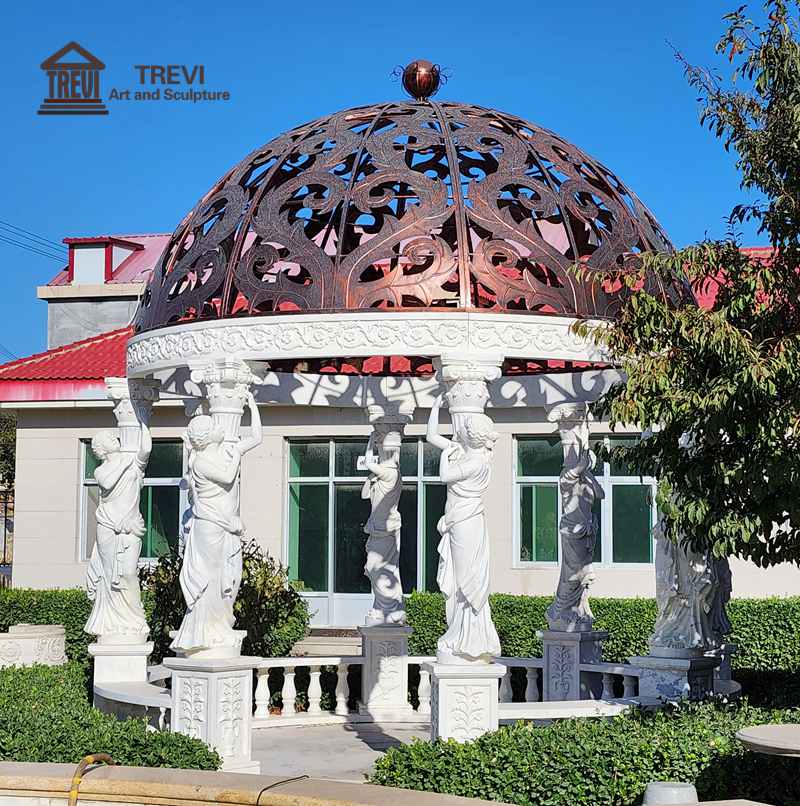 The carvings on the beams on the top of the gazebo are also lifelike. They seem to have vitality, shape, and energy.
Top Anti-Rust Treatment:
Our kiosk top hats are made of iron. Sometimes, stainless steel, pc board, etc. are also selected according to different situations. If you choose iron art, we usually coat the outside with a layer of anti-rust paint to prevent the top from rusting and affecting the appearance. This anti-rust paint is also colorless and odorless, and would not affect the appearance of the gazebo.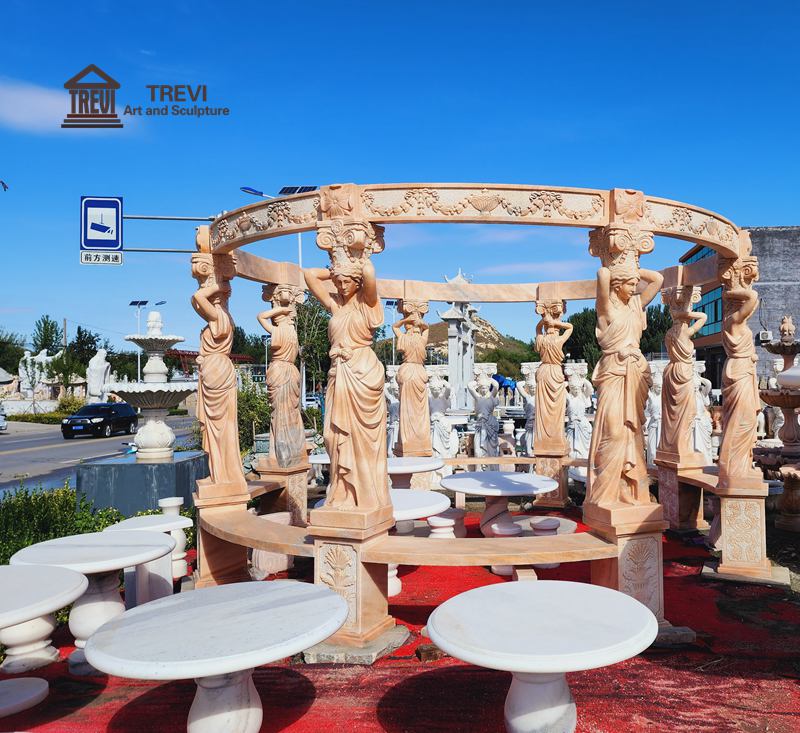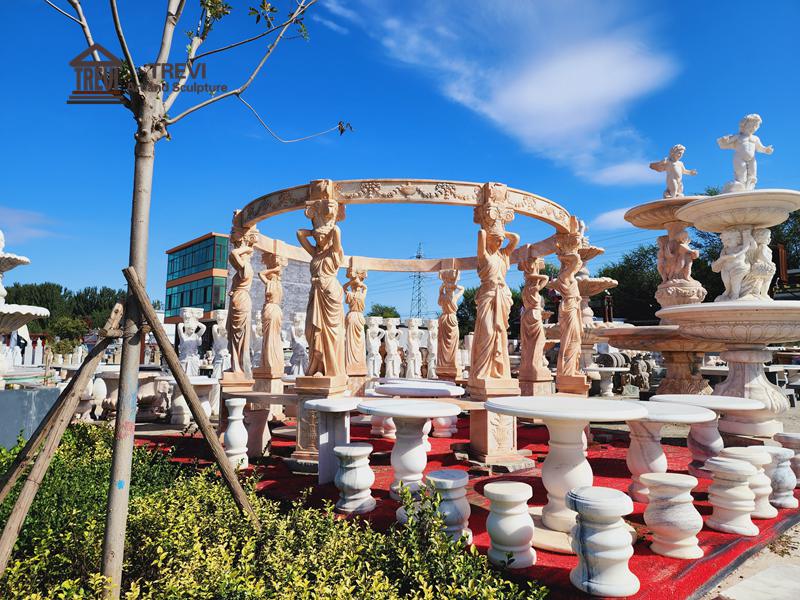 Safe and Robust Design:
Considering the variability of the outdoor environment, we also specially reinforced the marble pillar gazebo. U-shaped pipes and other joints are installed on the top beam of the gazebo to ensure overall stability of the gazebo. We also made special treatment for the connection of other parts of the marble gazebo. In this way, you could enjoy the scenery as you like.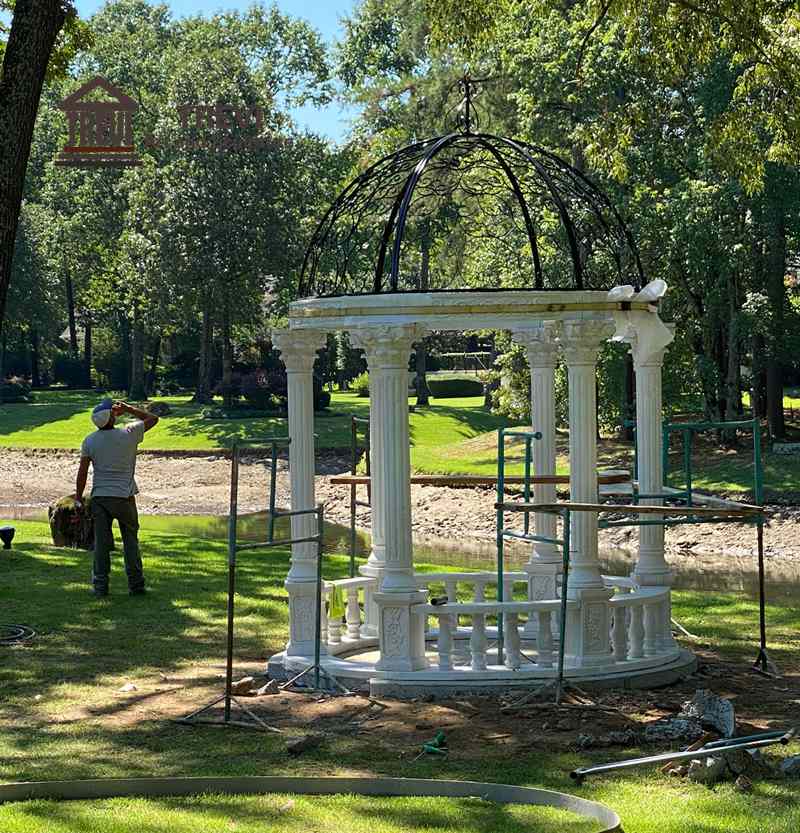 Nice Feedback Display:
Our kiosks are very popular with customers. They like to place it in open grass. In the background of green grass, a white and exquisite outdoor marble gazebo is located in it, forming a beautiful picture.
Whether you are in the gazebo or outside the gazebo, you could harmoniously blend into this picture scroll.
Trevi carves every piece of marble outdoor gazebo with the heart to create the most beautiful enjoyment experience for customers. If you also want to add a beautiful outdoor marble gazebo to your new home, then you could contact us. We would recommend and design the most suitable gazebo style for you according to your site.