Gazebo Introduction:
This is a magnificent Marble Column Gazebo, with white solid marble pawns, round arches, elegant railings, and benches with a charming green iron top giving people a visual sense of classical beauty. The combination of white and green also adds an unforgettable luxurious impression to the design. Such a marble gazebo would be a wonderful outdoor view.
The design of this Marble Column Gazebo is unique. Different from the common marble gazebo design in the past, the design of this outdoor gazebo is more inclined to a kind of promenade. There are also extensions around the circular gazebo. This combination could give people a wider resting place.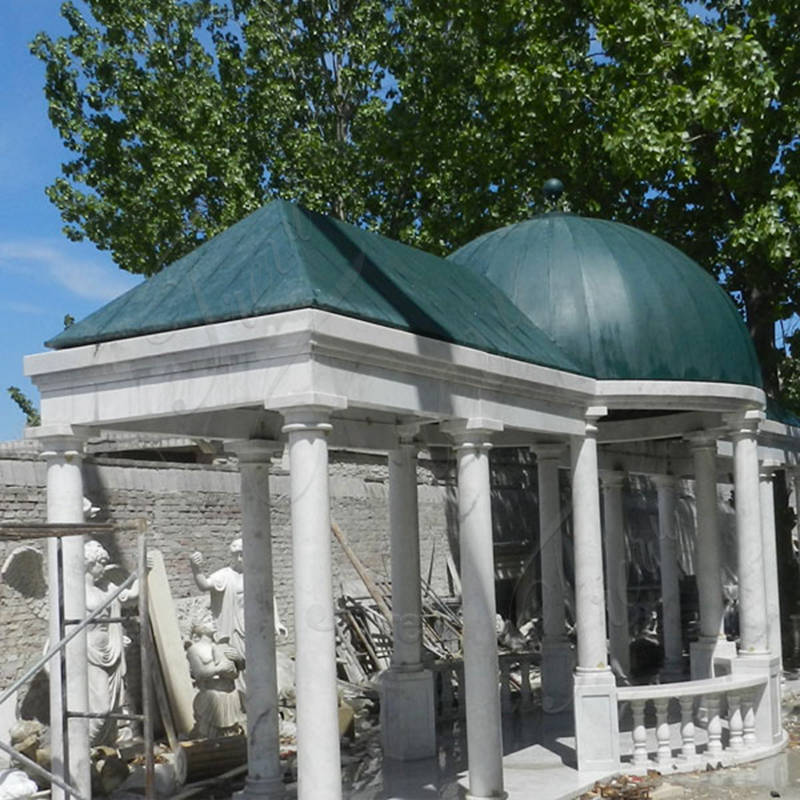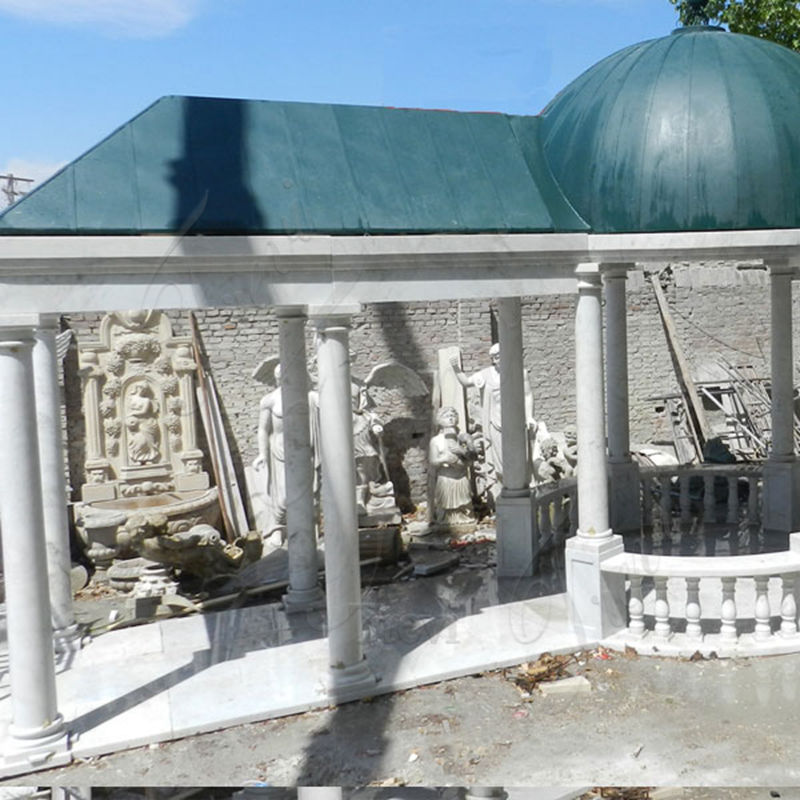 Gazebo – Versatile Recreation Installation:
A Large size Marble Column Gazebo can be a landscape in itself. The white marble makes this gazebo stand out on the lawn. When the sun is shining, the gazebo seems to glow. And the stone absorbs heat, in summer, such a marble gazebo will be an excellent place to escape the heat. On rainy and snowy days, such a white gazebo would also be a warm haven. If installed in an empty manor, such a gazebo can also become a venue for people's parties, weddings, and other activities, bringing people joy and happy memories.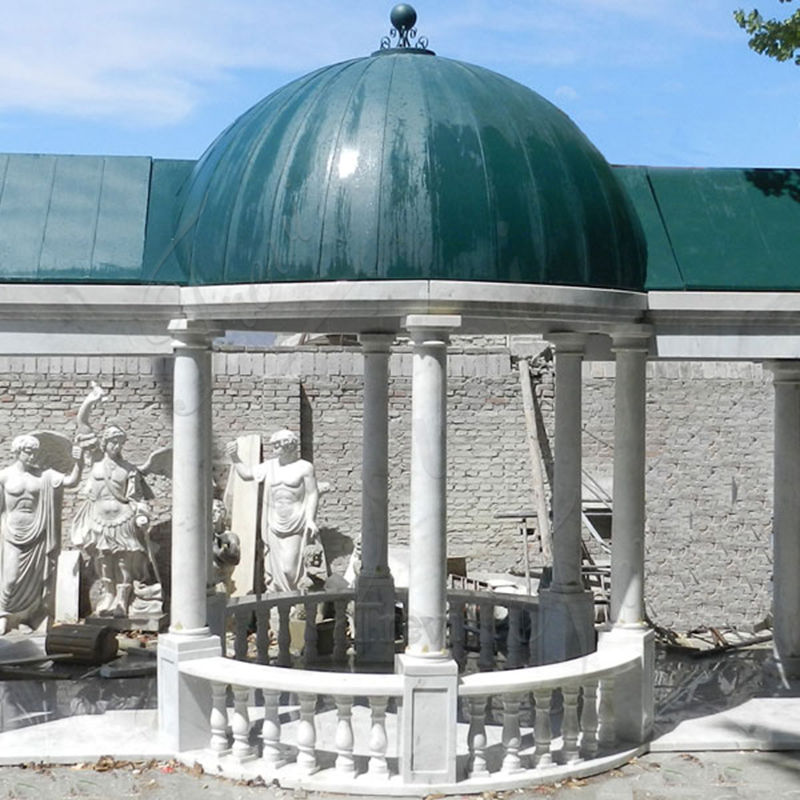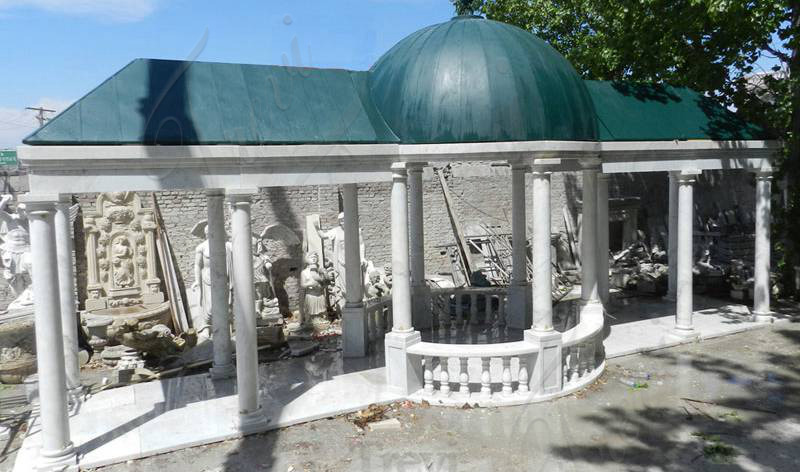 Natural Marble as Raw Material:
When carving this marble outdoor gazebo, we choose natural white marble as the raw material. Marble has good wear resistance, because it is not easy to age, and it does not need to be maintained and maintained, so it has a long life. Marble is non-conductive, relatively stable, and rigid, and its hardness is also very high, and it is not easily affected by moisture. So marble is a good raw material for gazebo.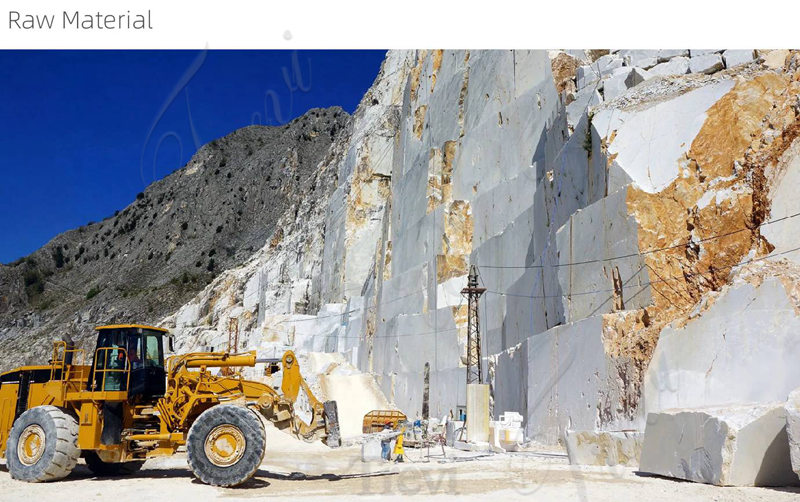 Trevi Factory Advantages:
Trevi's marble gazebos have been exported for many years, with exquisite details and excellent quality. Our gazebos are very popular in Europe, America, Oceania, and the Middle East. In addition, our products are also tested before shipping to ensure that every part fits and is error-free. We are familiar with the import and export policies and port conditions of many countries and regions and can specify the most suitable solution for you according to your needs. This could save you a lot of money.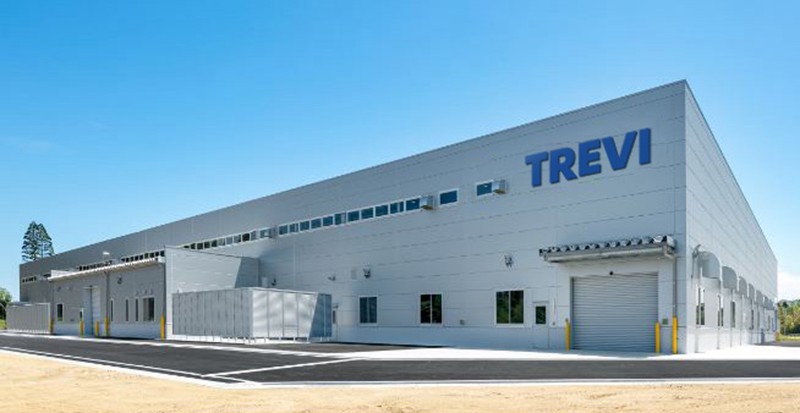 Please feel free to contact us for more information on marble gazebos.