Marble Apollo Bath Statue Description
The Marble Apollo Bath Group Statue is a stunning depiction of ancient Greek mythology brought to life. This exquisite sculpture showcases the god Apollo luxuriating in a bath, surrounded by a group of figures. The attention to detail in this marble masterpiece is remarkable, from the delicate facial expressions to the intricate drapery and flowing water. The composition exudes a sense of serenity and harmony, capturing the essence of the divine in a captivating way. The Marble Apollo Bath Group Statue is a testament to the skill and artistry of its creators, and it serves as a captivating focal point, inviting viewers to immerse themselves in the beauty and mythology of ancient Greece.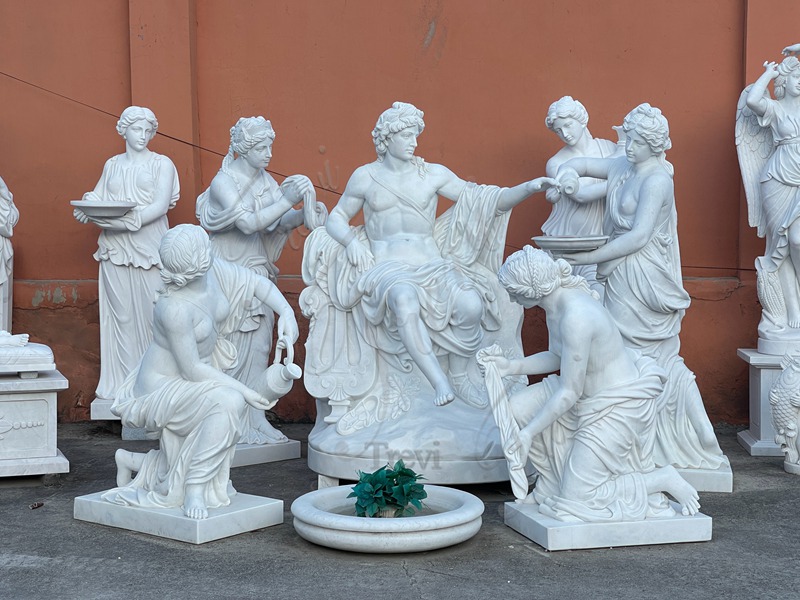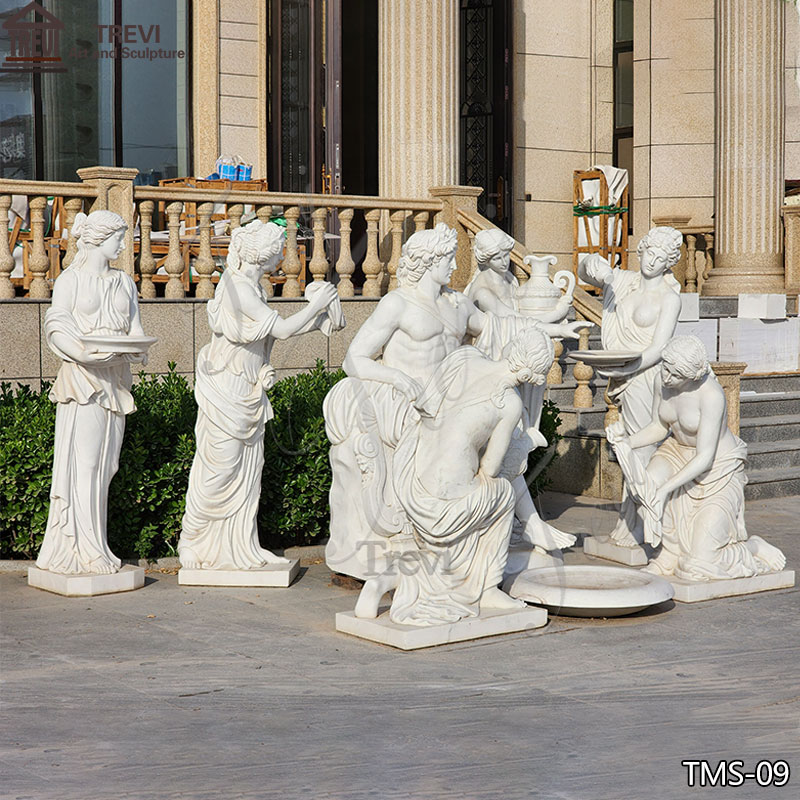 Show More Hand-Carving Details
Trevi factory has skilled sculptors who specialize in creating figurative sculptures. When crafting the Apollo Bath Group Statue, their expertise shines through in the intricate level of detail they achieve. Each delicate feature of the sculpture is meticulously carved with precision and artistry.
From the expressions on the faces to the intricate drapery and flowing dress, our skilled sculptors devote themselves to capturing the essence of Apollo in a truly exquisite and lifelike manner. The result is a stunning masterpiece that showcases their exceptional craftsmanship and dedication to bringing the vision of the Apollo Bath Group Statue to life with exceptional finesse.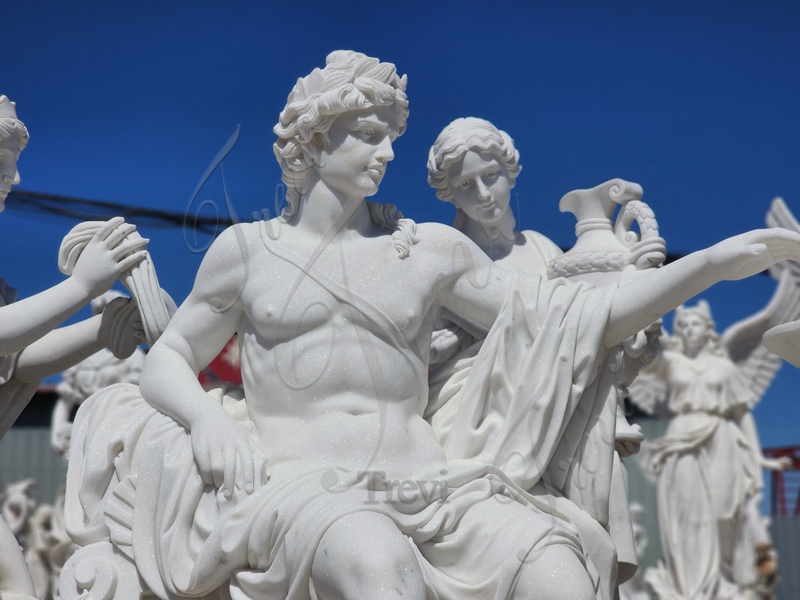 Why Do People Worship Apollo?
People worshiped the Greek god Apollo for various reasons. He represented light, vitality, and healing as the god of the sun. Apollo's association with music and the arts made him an inspiration for creativity and cultural development. As the god of prophecy, people sought his guidance through oracles like the famous Oracle of Delphi. Furthermore, Apollo symbolized order, justice, and civilization, making worshippers seek his favor to maintain societal harmony. Overall, Apollo's worship stemmed from his attributes of light, music, prophecy, healing, and his role in promoting order and civilization. If you want this Apollo bath sculpture to add to the classic ambiance around you, our factory can satisfy you.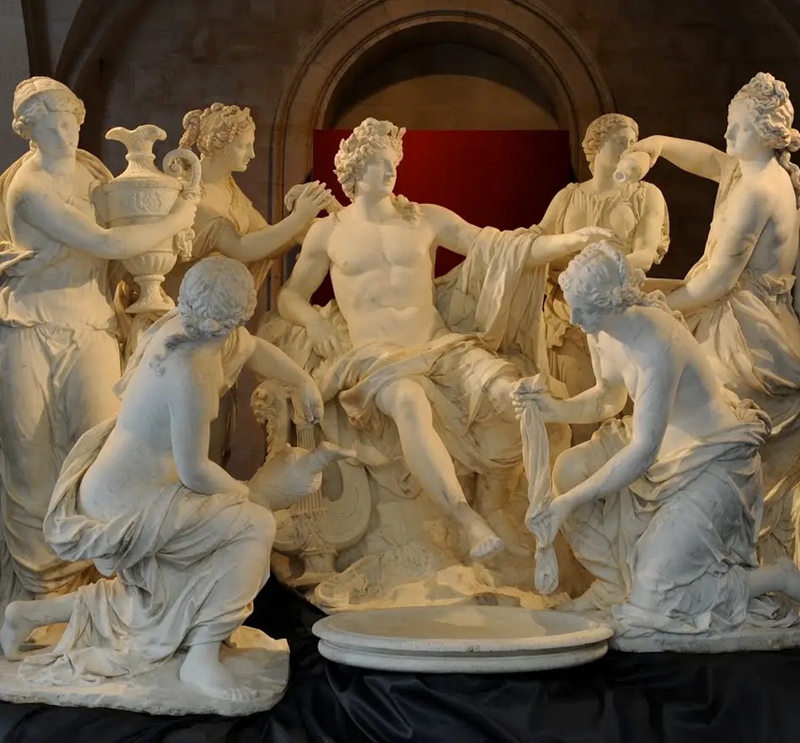 Trust Trevi to Make The Perfect Famous Statue
Intricate Carving Detail:
We specialize in creating famous marble Greek sculptures with strikingly lifelike details. Our artisans possess a mastery of intricate carving techniques, ensuring that each sculpture is imbued with realism and precision.
Usage of Premium Marble Material:
Trevi exclusively utilizes high-quality marble sourced for its purity and durability. This choice of premium marble not only ensures the authenticity of the sculptures but also guarantees their longevity and resistance to wear, maintaining their aesthetic appeal over time.
Tailored Customization Services:
Trevi offers personalized services, allowing clients to request customizations on sculptures. Whether it's adjusting dimensions, specific detailing, or creating unique pieces, our team accommodates diverse preferences, ensuring each client's vision is satisfied.
Large In-Stock Marble Greek Sculpture:
At Trevi Factory, our expansive inventory boasts an impressive selection of Greek marble statues, ready for your perusal. This substantial stock not only offers you a wide array of options but also serves as a valuable time-saving resource. With these exquisite sculptures readily available, you can expedite the production process and promptly acquire the sculptures that resonate with your preferences, ensuring a swifter and more gratifying experience.
If you want a Greek marble sculpture to decorate your space, please feel free to contact us, We have professional sales staff to reply to you promptly.