Marble Farnese Hercules Statue details:
If you ask what kind of marble classic statue can catch your eye and show your great taste, I must say it must be this marble Farnese Hercules statue. No matter where you want to put it, it can perfectly match the circumstance, which shows your masculine. This marble Farnese Hercules statue is hand-made by our excellent artists whose average carving days for over 30 years! Please contact us now, and you will get a satisfactory answer!
Marble Farnese Hercules Statue introductions:
The marble Farnese Hercules statue was modeled on an ancient Greek original by an ancient Roman sculptor. The original is the resting Hercules of Lysippus, and it is said that all who witnessed the statue felt a strong shock. In 212 AD, the emperor Caracalla built a large entertainment center (the Baths of Caracalla) in Rome, and he commissioned Glykon, a sculptor from Athens, to make two 3.2-meter-high statues of Hercules, one of which is now the statue of Hercules at Farnese. Since its discovery in the baths of Caracalla in 1546, this massive statue has inspired countless artists and athletes as well as the general public, who were struck by its majestic masculinity and made it the ultimate goal of a sportive physique. Known by art historians as "Hercules at Rest," the statue has influenced the world of art and sport for more than two millennia.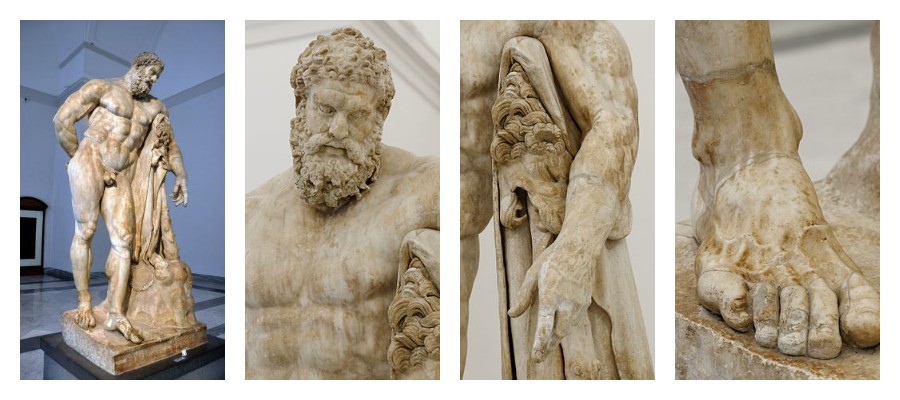 If you see this marble Farnese Hercules statue personally, you will definitely be attracted by his beauty. Although the figure is marble, Farnese Hercules statue is in a relaxed state, it is still very strong, and the seemingly calm body seems to contain great power. The carving of muscles in the statue is very exaggerated, whether this marble Farnese Hercules statue is the volume of muscles or the sense of strength shown, it has reached a saturated state, making people feel as if they can burst out powerful energy at any time.
Exquisite Carving Skills of Trevi
This Farnese Hercules statue replica is carefully carved by our professional design team, which is experienced. In the study of marble sculpture, they constantly visit a variety of famous statues and artworks, read Greek mythology stories, and have an in-depth understanding of different types of statues, so as to lay a solid foundation for carving high-quality marble carving sculpture.
Perfect Decor for Various Places
This sculpture is more than an ornament, it is also a work of art. It could bring people a sense of peace and tranquility of mind. Our marble statues could be placed in parks, gardens, squares, and private courtyards, adding a unique charm and mystery to any outdoor location. It would attract people's attention and inspire them to pursue beauty.
More Marble statue designs
Trevi Sculpture Advantage
1. Lifelike Details
The details of every character and animal have been restored by our artists, and every detail has withstood the test.
2. Grade A Marble Material
We have a natural marble stone mountain, mining and selecting the most suitable and high-quality stone materials to carve for you.
3. Accept customization
Just a picture, we can make what you want.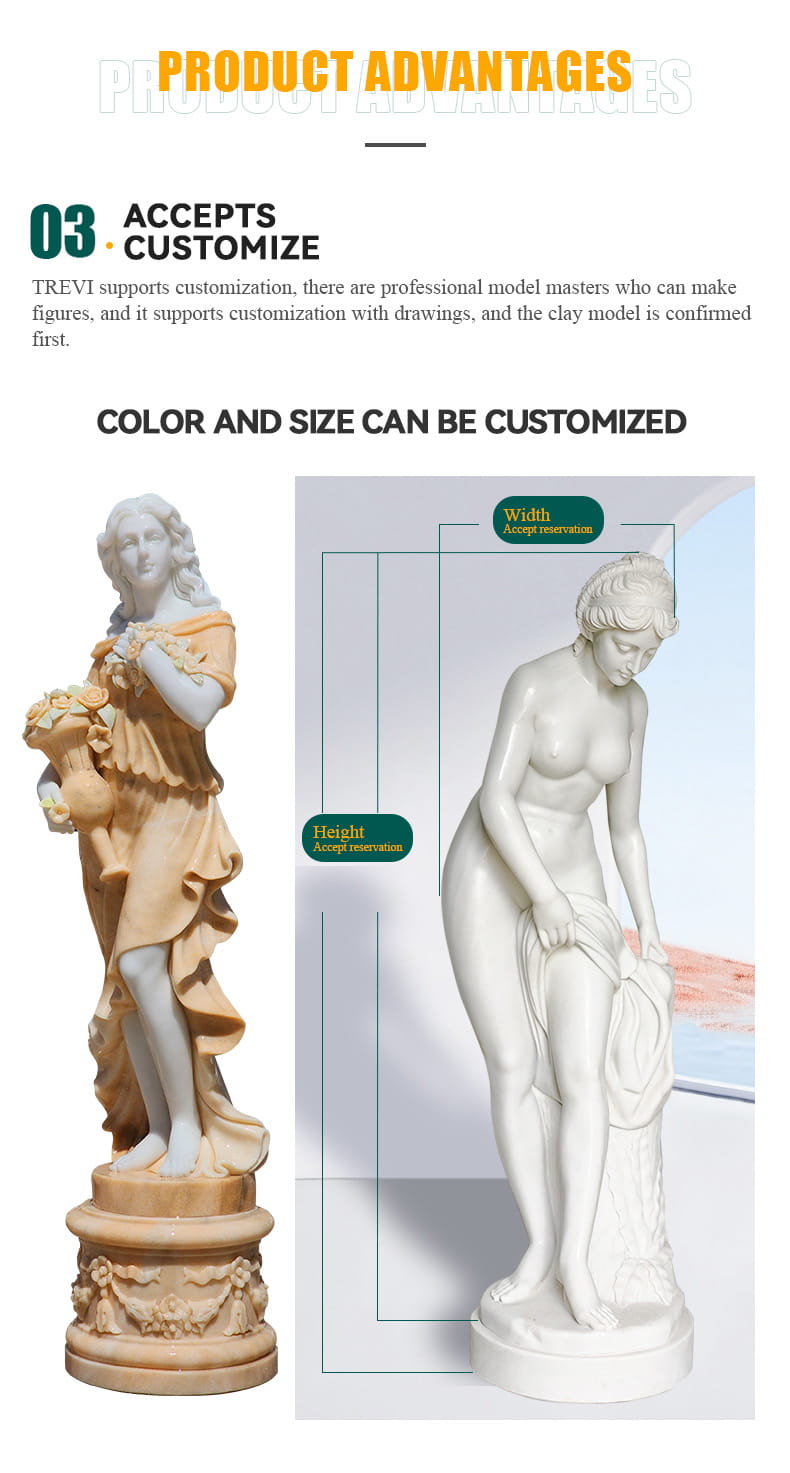 4. Exquisite Sculpture in Stock
With extensive experience, our Trevi factory offers a wide selection of exquisite classic sculptures readily available in stock that can be shipped to you quickly.

Marble Carving Sculpture Process
From stone selection to clay model production to hand-carving, Trevi takes every step seriously and strives to achieve your satisfaction in every link.
About Trevi Factory
Trevi is a leading sculpture factory and exporter in Quyang, which is known as the land of sculpture. We specialize in making hand-carved stone sculptures, cast bronze sculptures, stainless steel sculptures, cast iron products, and so on. We have a professional work group and designers. Your final product will not be finished until you have approved it completely.
The marble carving in Quyang is a kind of ancestral legend skill, Lots of people here knew the marble carving when they were very young, we are familiar with it, love it, and give it life.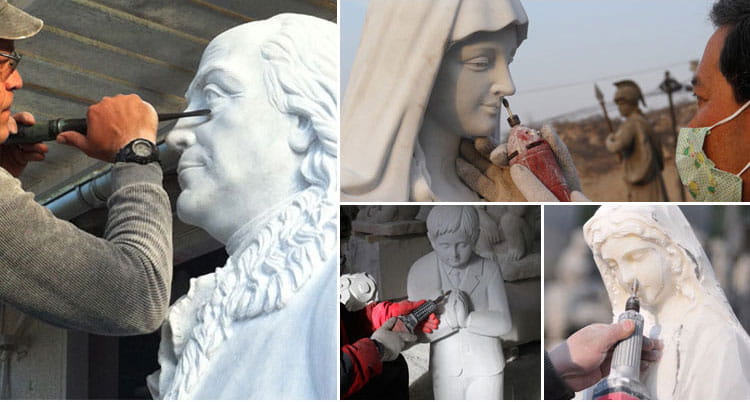 Jingwei Han, one of the excellent clay model masters in Quyang, who is the representative of the young generation of clay model masters. Many foreign clients come here specially.
As a professional sculpture factory, our products have been exported to many countries during the past 30 years, including USA, Canada, UK, Germany, France, Russia, Cyprus, Greece, Saudi Arabia, Costa Rica etc. Our products are very popular with customers. In these countries, every year, we would receive many good feedback from our customers, because of our good quality and service.