Holy Family Statue Details:
This life-size marble holy family statue is such a beautiful work of art sale. Jesus, Mary, and Joseph perfectly portray harmony, love, and peace. Together they celebrate the purity of love. This solid marble stone retains the white color of natural marble. Each marble religious statue is detailed to the exacting standards of our modern master sculptors. This piece really shows that and sees our artist's superb sculpting skills in the details of the face and even the feet. The look of the holy family sale is so happy and peaceful. Trevi's holy family statue is the most popular sculpture in the Catholic Church.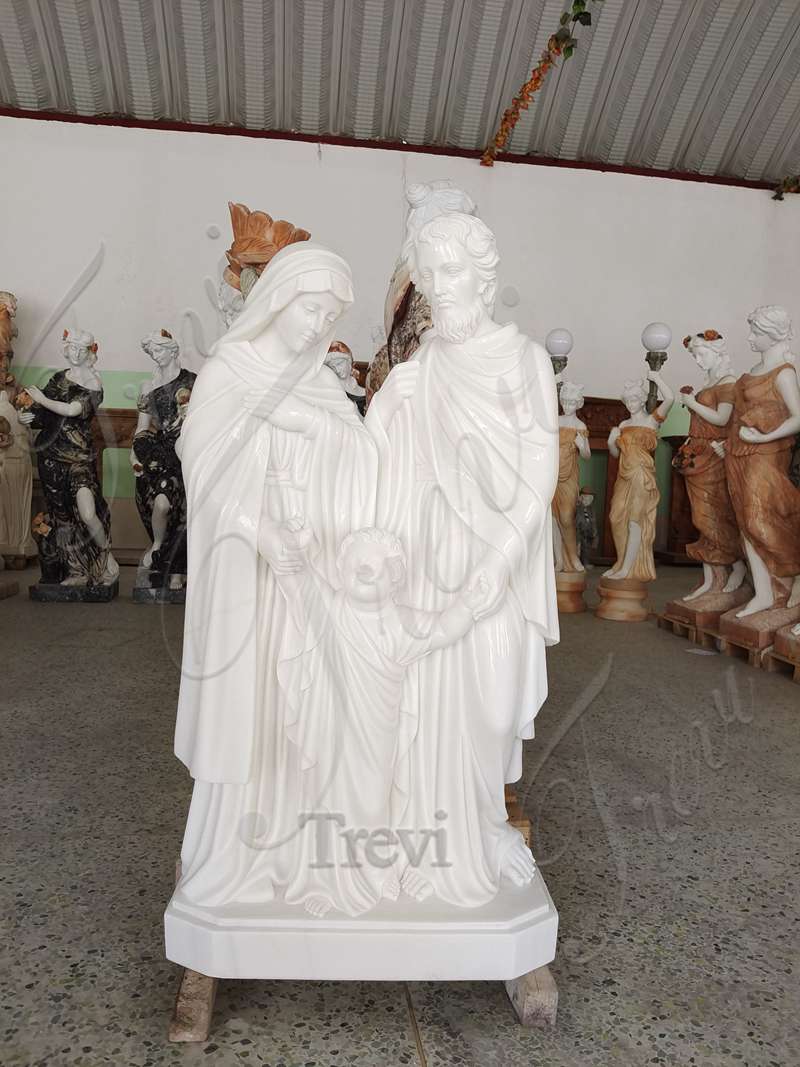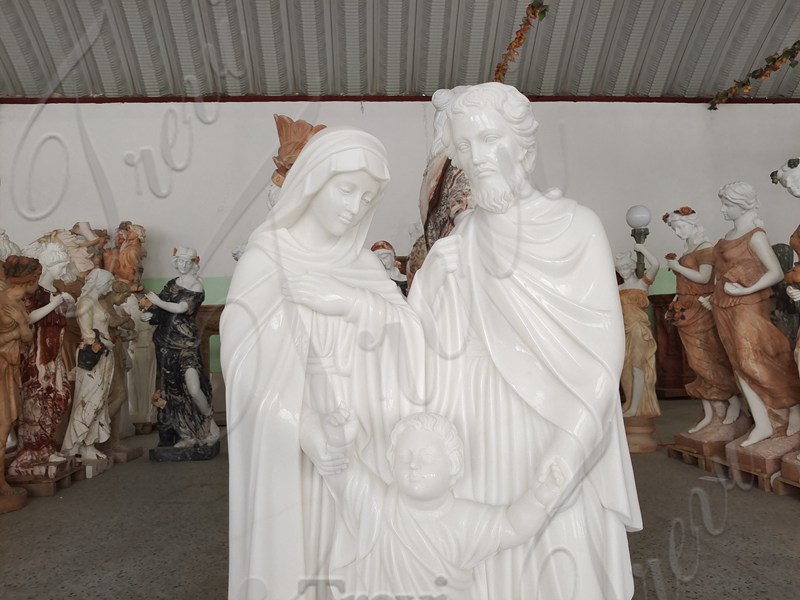 The Advantages of Marble Material:
White is the symbol of purity and holiness. Therefore, white marble is often used to carve statues of religious figures, which could show the solemnity and holiness of religion. Secondly, natural marble has good decorative properties. Moreover, this natural material does not contain radiation and does not harm people's bodies. In addition, marble has good wear resistance and is not easy to age. Its service life is generally around 50-80 years, so we could put the marble sculpture outdoors all year round and this marble holy family statue would maintain its permanent beauty. Also, the polished marble has a slightly translucent quality. This is ideal for representing purity in people's hearts. Because it induces a sense of reality to a certain extent. At Trevi Sculpture, we always insist on a strict selection of high-quality marble.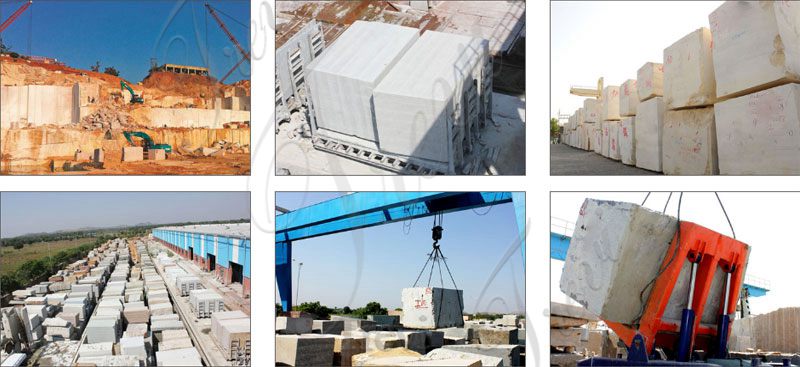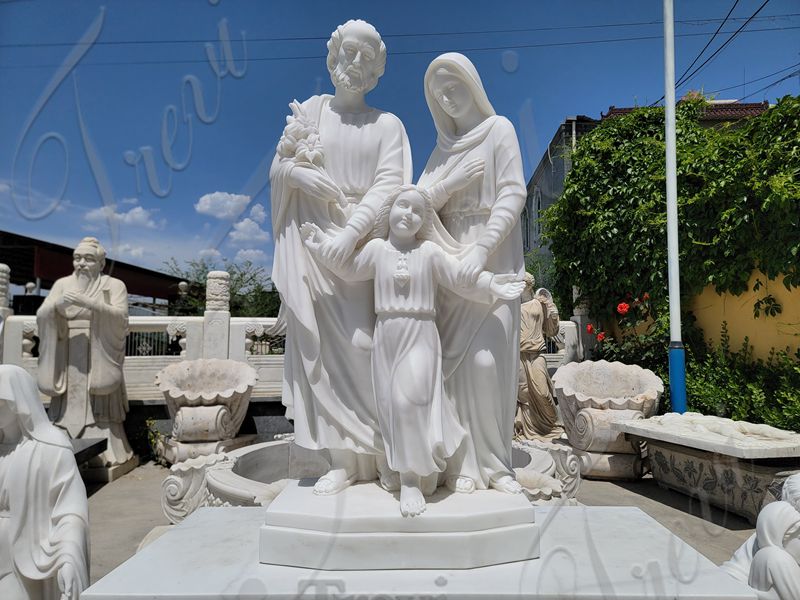 Trevi Excellent Artist:
The famous holy family marble statue outdoors is made of natural marble. Moreover, the holy family statue is entirely hand-carved by our professional marble sculptors. They have specialized in making various church marble statues for many years. And, they have rich experience in religious sculpture. For this life-size Holy Family marble statue sale, we could customize it according to your requirements. If you need, we could also engrave your desired logo on the statue.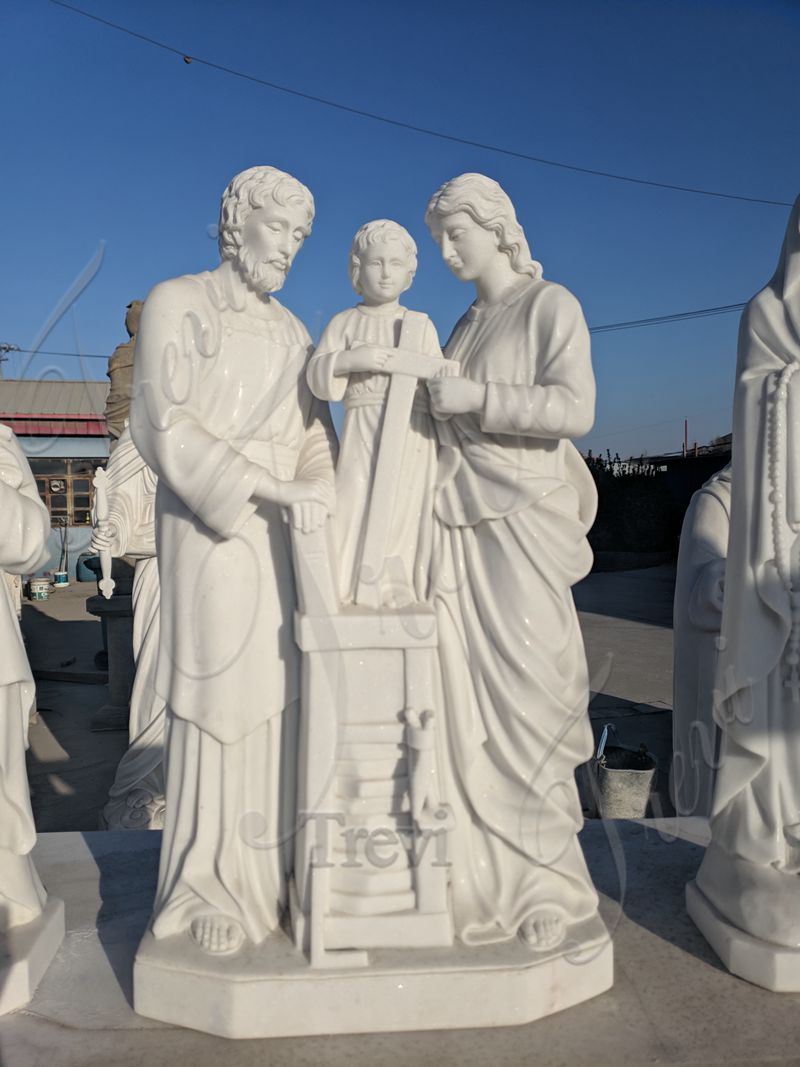 Positions that Could be Decorated:
This outdoor famous white marble statue of the Holy Family could not only be a decoration for your home's outdoor garden but it could also be placed in front of any park or church. Outdoor religious sculptures are not only beautiful but also a great inspiration for a life full of faith and love.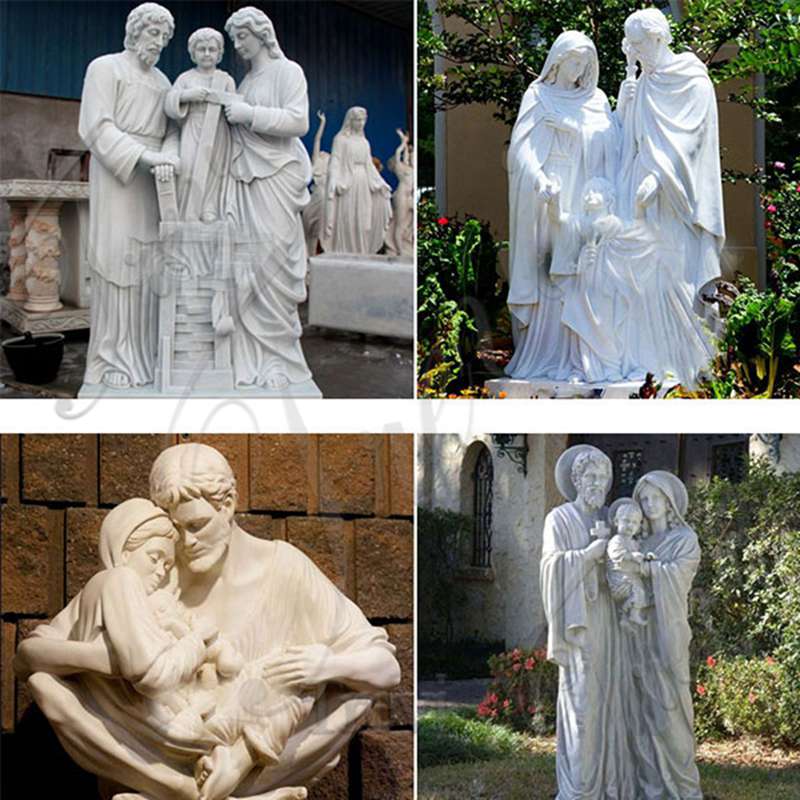 Advantages of Trevi Sculptures:
You could buy any religious marble sculpture products or other sculpture products with confidence. Trevi's famous Sagrada Familia marble statues are absolutely guaranteed to be of high quality. Because all of our sculptures you buy come with a 30-year quality guarantee. This means that if you notice an unusual problem with a sculpture you purchased, you could quickly contact Trevi for the necessary solution.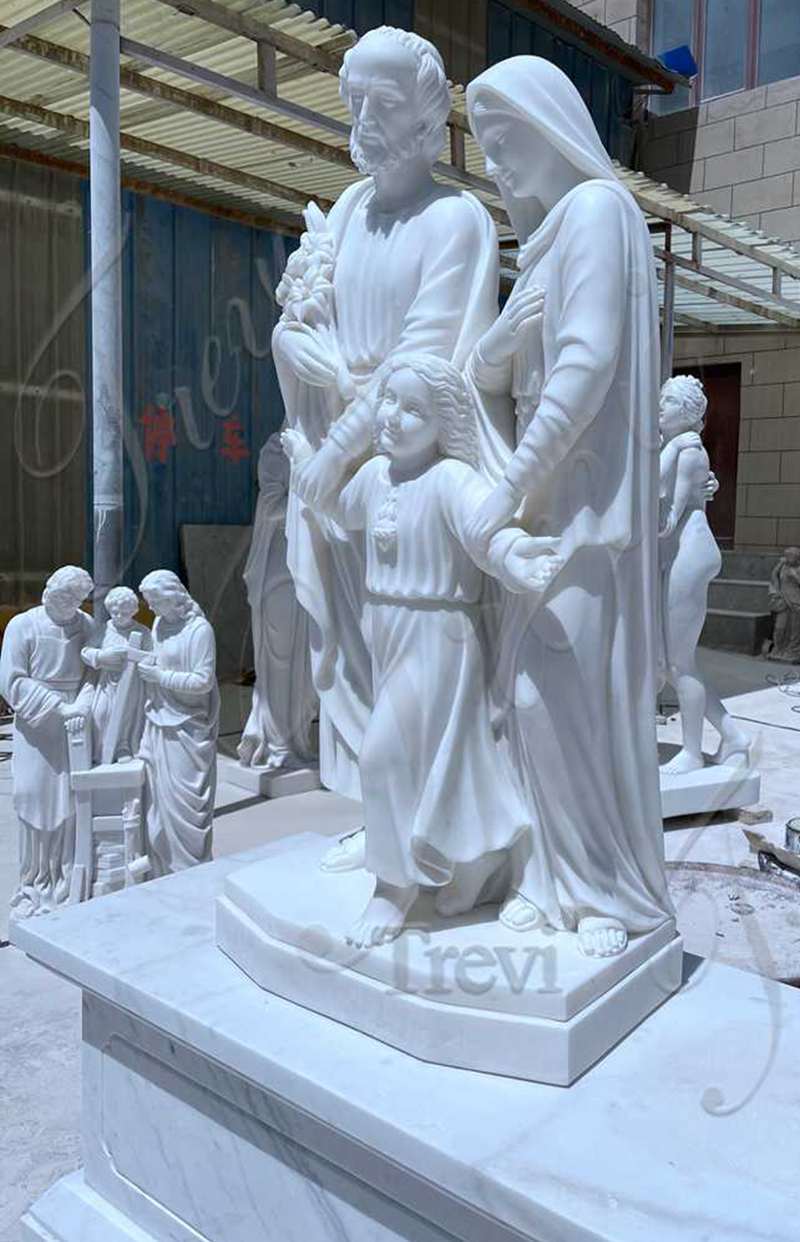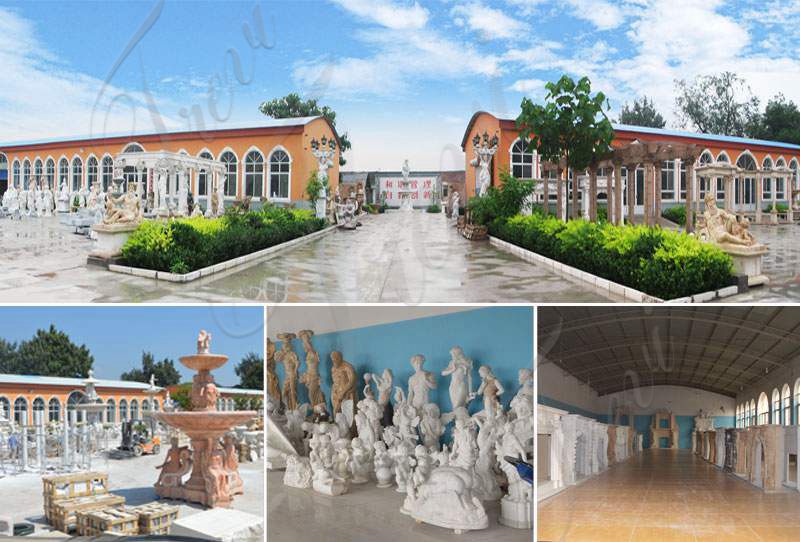 A Variety of Customized Services:
First of all, if you already have your own design, just send us the design idea and we would customize the sculpture according to your requirements. If you don't have a design idea, we could also provide you with professional advice. Second, you could purchase our sculptures in existing sizes. But if you want other sizes of sculptures, no matter how big, we could do them too. Of course, you could send us designs, sketches or photos, and dimensions. We could customize products according to your requirements. If you decide to cooperate with us, we would send a product quotation and arrange production as soon as possible.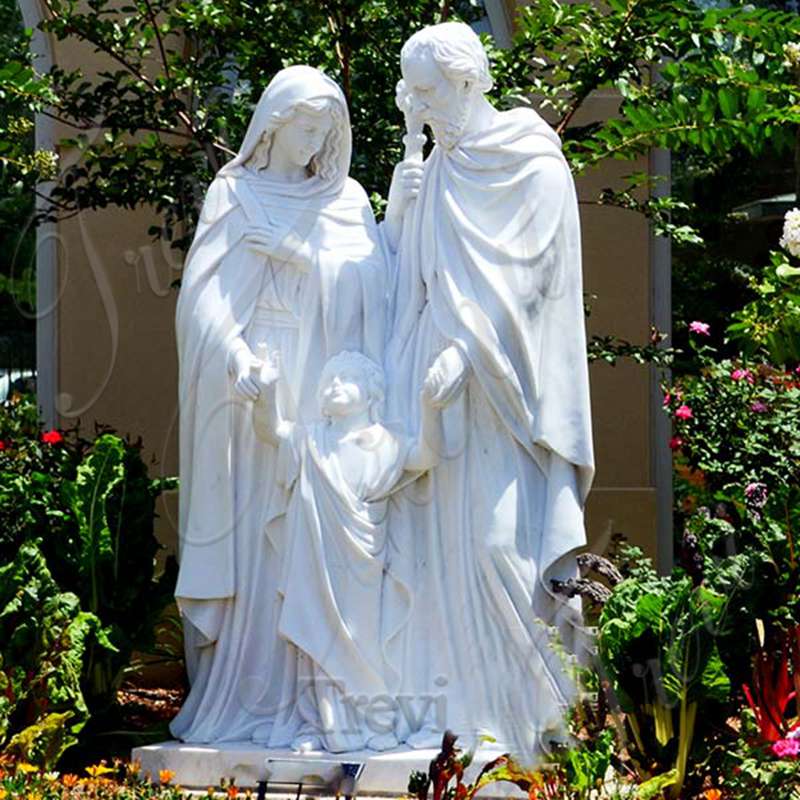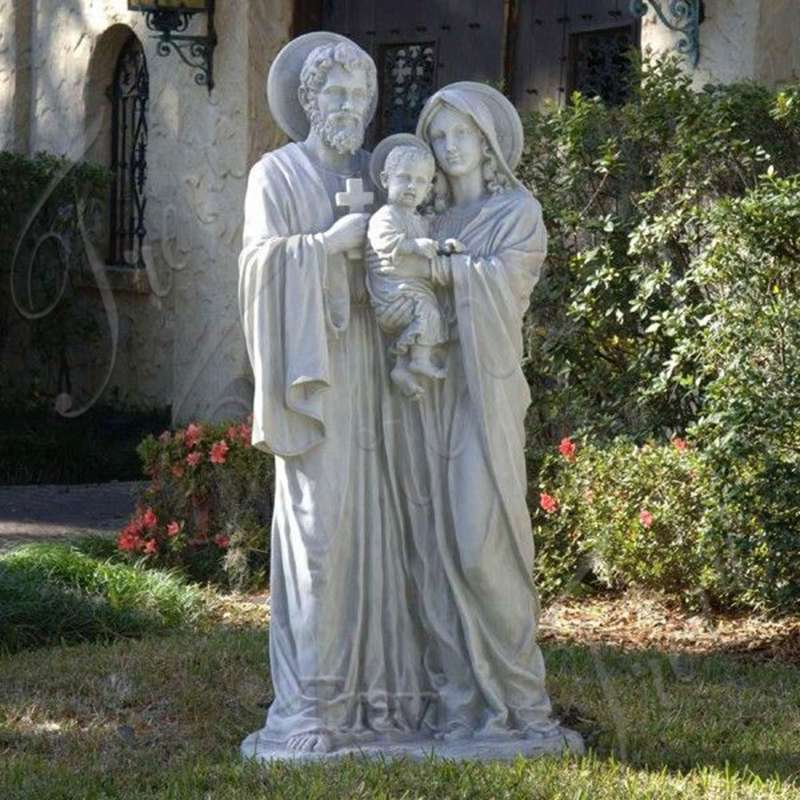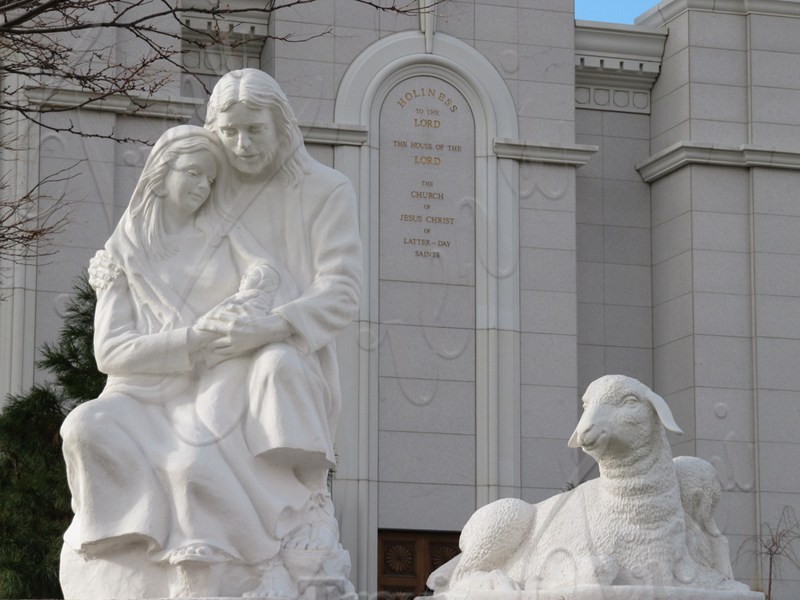 Trevi is a factory with 40 years of experience in the production and export of sculptures. So the quality of all the sculptures we produce is guaranteed. If you would like to learn about life-size marble statues of the Holy Family or other marble products, please contact us at your leisure.