Sculpture Introduction:
This outdoor Robert Indiana LOVE Sculpture is one of the most popular sculptural designs in modern urban decor. This metal sculpture contains only the word "LOVE". The design of the sculpture is simple and clear, showing us the theme of love. So, it can be placed in any outdoor public place, because "love" is the eternal theme. This outdoor sculptural font is a pop art image of American artist Robert Indiana. It consists of characters in bold type. It was also used as a typographic image for a 1964 Museum of Modern Art Christmas card. The same design soon became a popular stamp in the United States.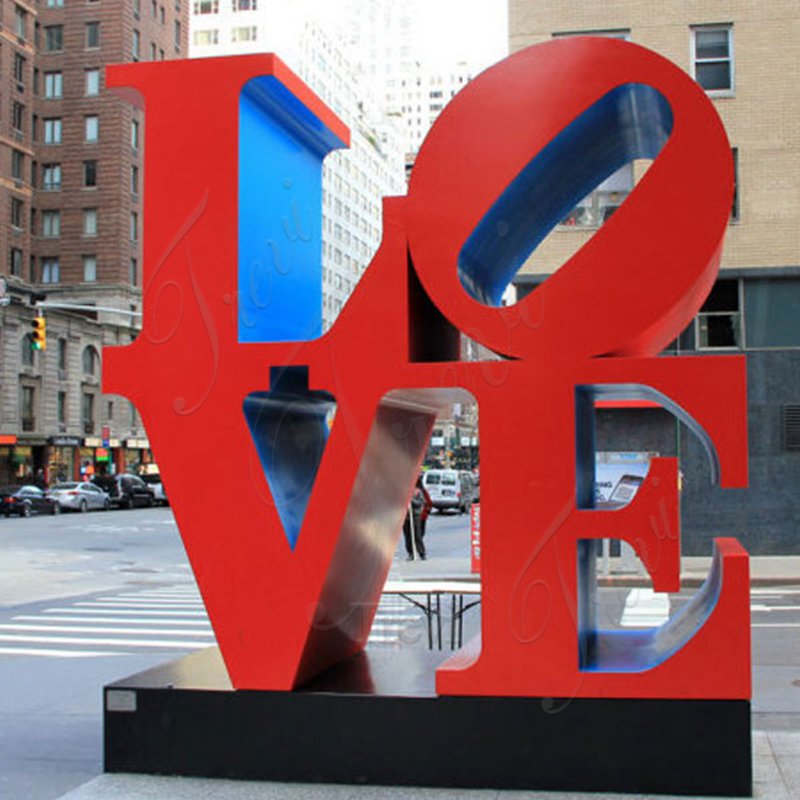 "LOVE" is a pop art sign made by American artist Robert Indiana. The logo uses the Didone font to write the English word "LOVE". Where the "O" slopes and the "V" form a line. The original design uses red letters and a green and blue background. This design was originally used as a Christmas card for the Museum of Modern Art in 1965. The first sculpture of this shape was exhibited at the Indianapolis Museum of Art in 1970.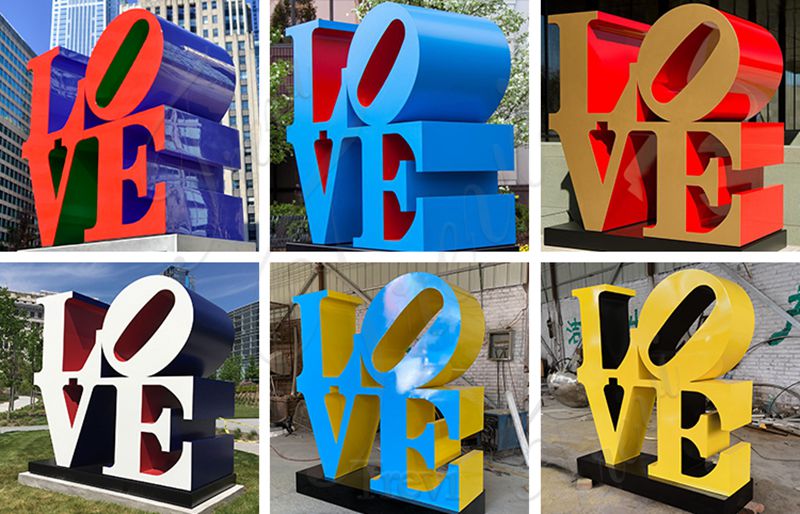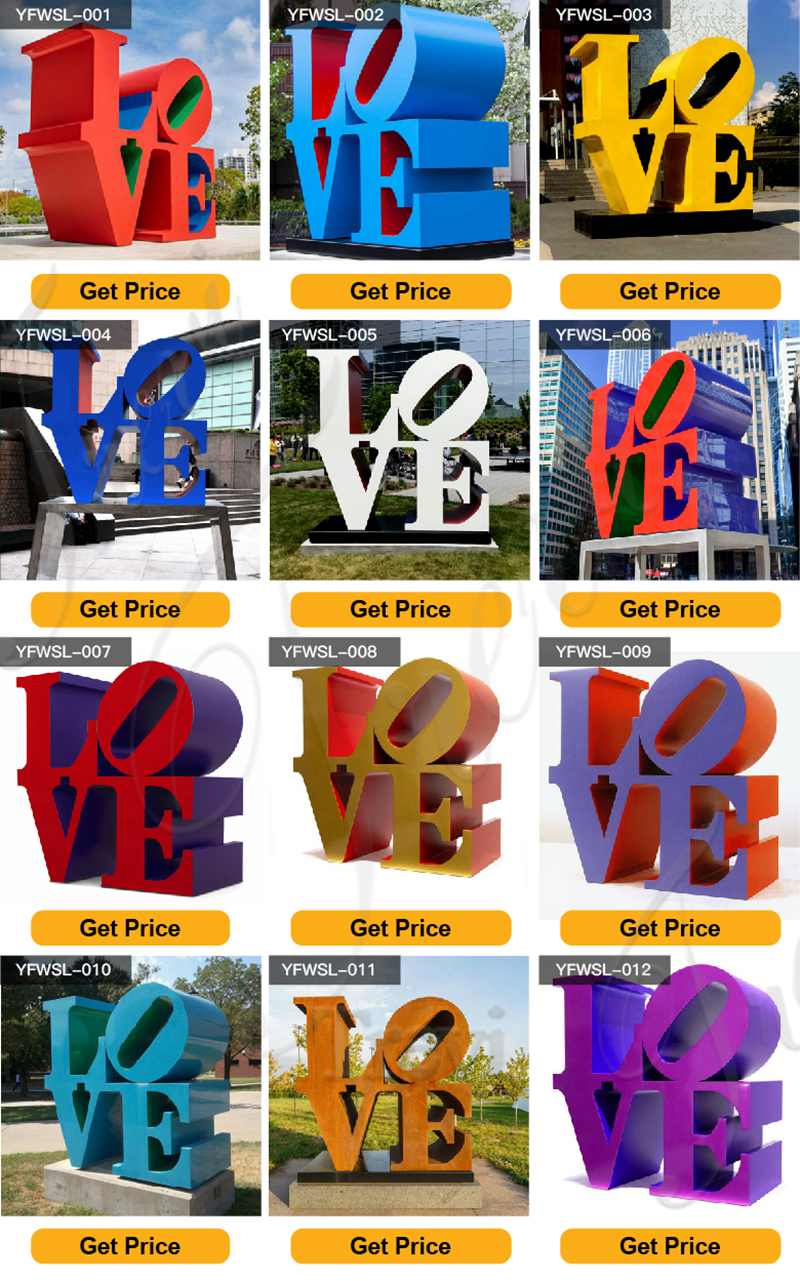 Trevi's LOVE Sculpture:
Trevi is a professional metal sculpture factory, specializing in metal sculpture production for more than 30 years. So Trevi has experienced craftsmen making the Robert Indiana LOVE Sculpture. Make sure the alignment and angle of the sculpture are very precise. Each letter is very three-dimensional. Our artisans polish the sculptures to ensure a very smooth surface without any defects.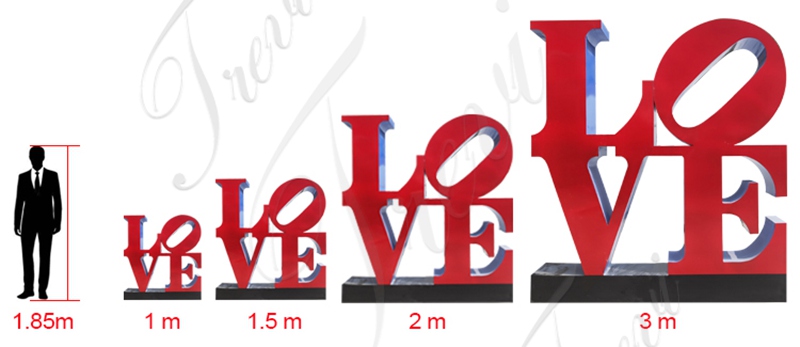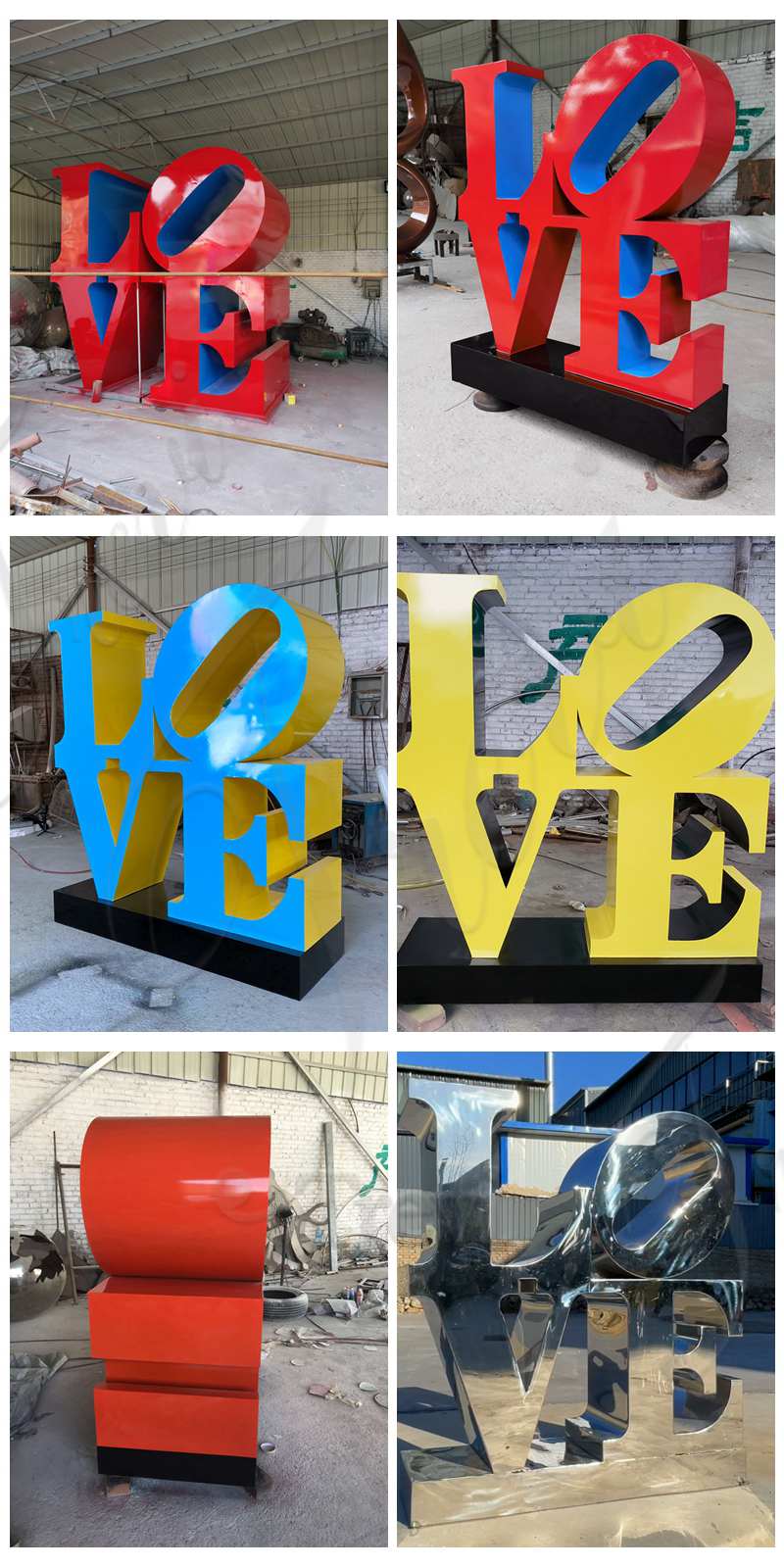 Use High-Quality Materials:
We will use 304 stainless steel as the raw material for this metal sculpture. In general, You Fine uses 2mm thick 304 stainless steel to create this modern LOVE metal sculpture. Because it has good corrosion resistance and heat resistance, it is easy to process and make sculptural artwork. So our sculptures not only look beautiful, but the quality of the sculptures is also strong. Therefore, its surface will be more delicate and smooth. And also has good corrosion resistance and high-temperature resistance. Not only outdoor lawns, squares, woods, parks, and roadsides are good places to install this stainless steel sculpture. You can place it by the water as a water feature decoration. Of course, if your budget is sufficient, you can also use 316 material for sculpture, which has better corrosion resistance and heat resistance. It is more resistant to moisture and has higher purity and hardness. The polished surface of the sculpture is brighter and can be used in harsh environments.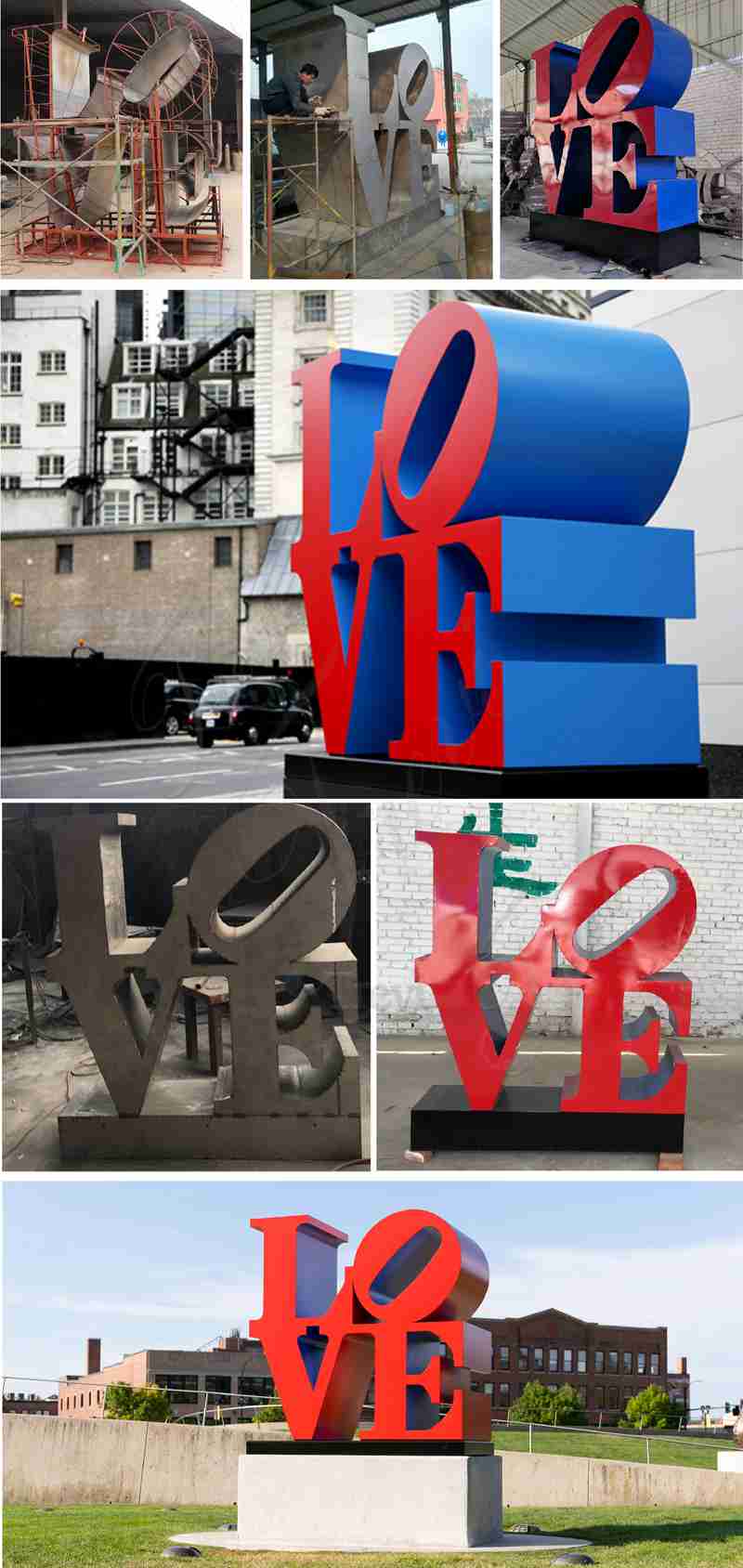 More Colors Are Available:
Trevi has metal LOVE sculptures in a variety of colors to choose from. You can paint the desired color effect as needed. We will use spray paint to paint the surface of the sculpture. Our masters often use a spray gun to evenly spray the surface of the sculpture. Using the spray painting process, the sculpture dries quickly and naturally. Therefore, the painting process needs to be carried out in a clean room, so that dust does not fall on the surface of the sculpture. We are a professional stainless steel sculpture factory with more than 30 years of experience in stainless steel sculpture production. Therefore, our professional craftsmen can make it according to the size of the customer's needs. And we also have a variety of colors to choose from, such as classic red, blue, red-blue, bright yellow, etc. One of the most popular color combinations is the classic red and blue. As long as you want color matching, Trevi can achieve it for you.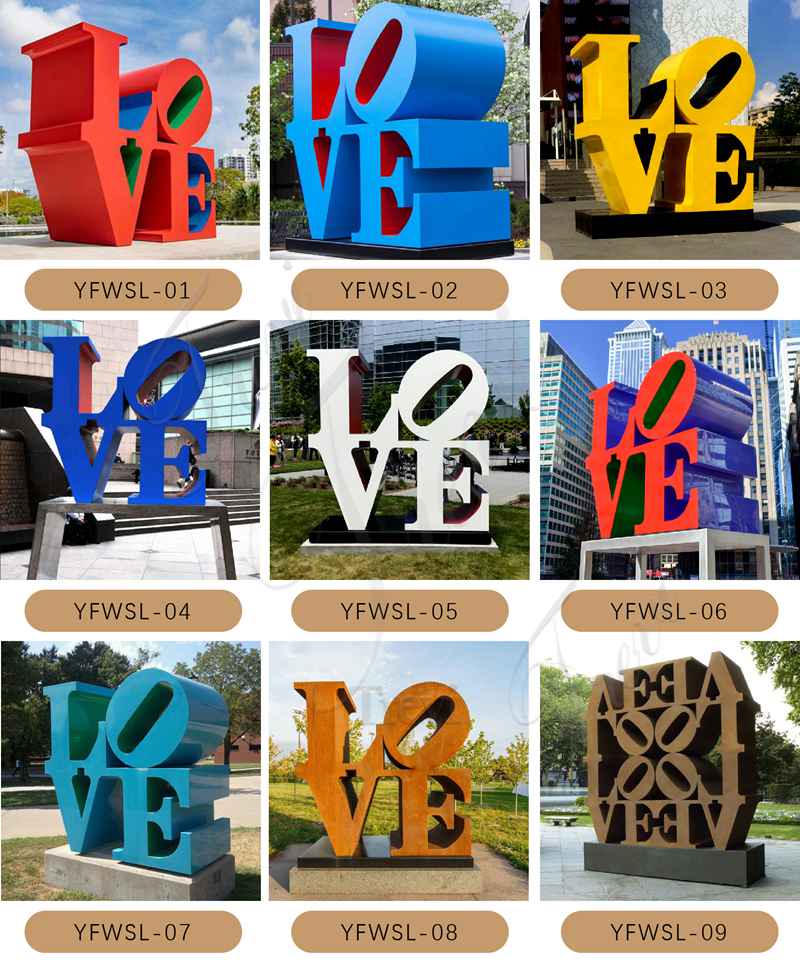 Real Customer Feedback:
As a long-established stainless steel sculpture factory, Trevi's sculptures have also been exported for many years. So we have many real customer feedback from all over the world. Below are the feedback pictures from our customers about the "LOVE" sculpture.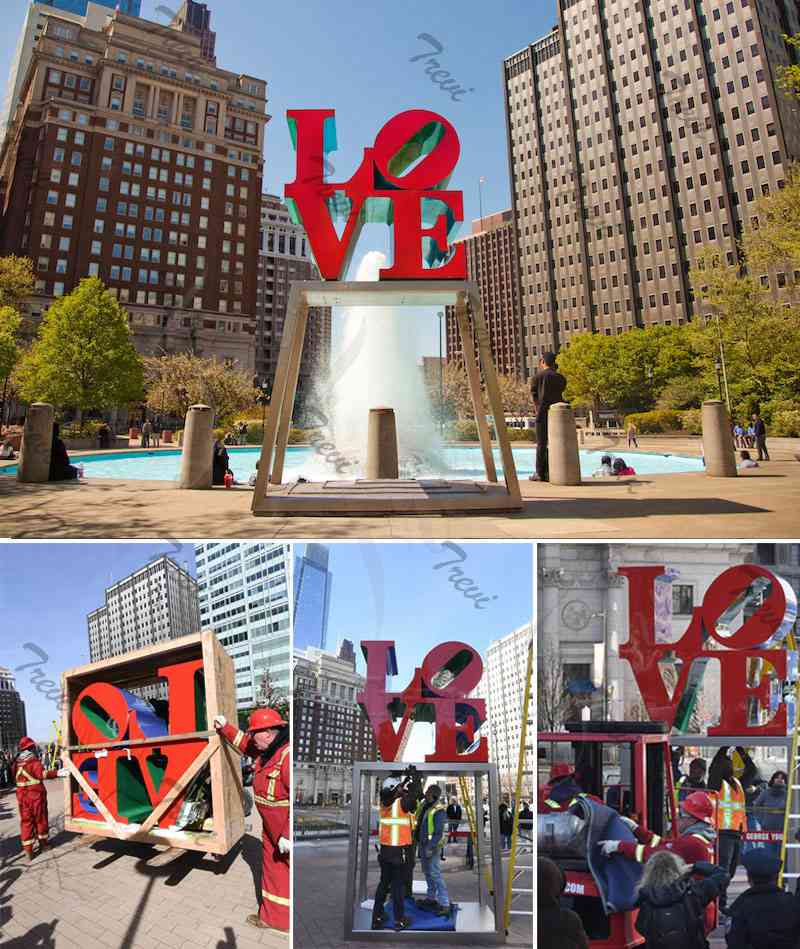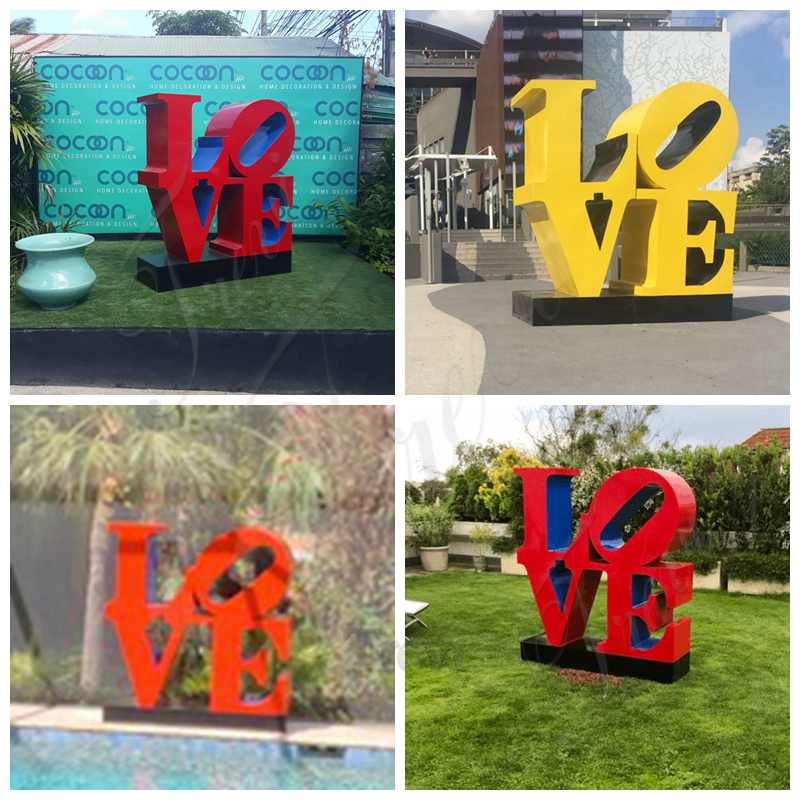 Please feel free to contact us for more information on stainless steel sculptures. Trevi looks forward to working with you.