Sculpture Details:
This is a stainless steel tree sculpture with a highly smooth surface. We can see that the leaves of this are still its branches, and every detail is very delicate and looks very beautiful. This stainless steel tree sculpture is custom made for our client. Our professional design team first makes design drawings according to customers' requirements. When the client confirmed, we started to make this large outdoor sculpture. The pictures of this product are from the feedback of our customers.
How Do We Make This Stainless Steel Tree Sculpture?
Trevi is a stainless steel sculpture production factory with a history of 40 years, and has a team of excellent stainless steel sculpture craftsmen who have been engaged in stainless steel sculpture production all the year round. Therefore, it has the ability to customize the production of various types of stainless steel sculptures. The branches or leaves of this stainless steel tree sculpture are finely ground. So the surface of the sculpture can be made very shiny. Every detail of this metal tree sculpture is hand-forged by our artists for beauty and artistry.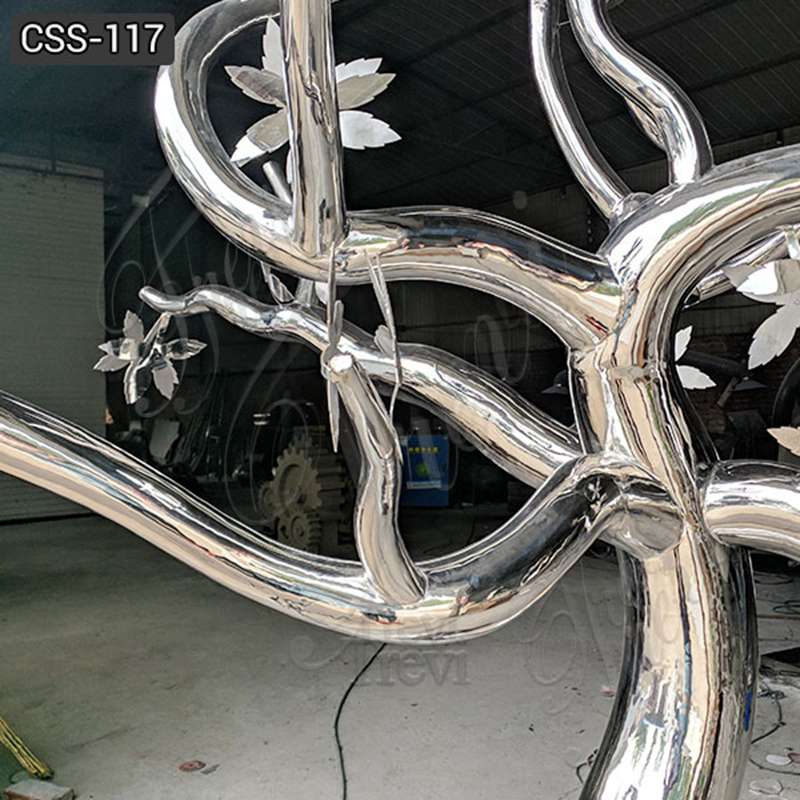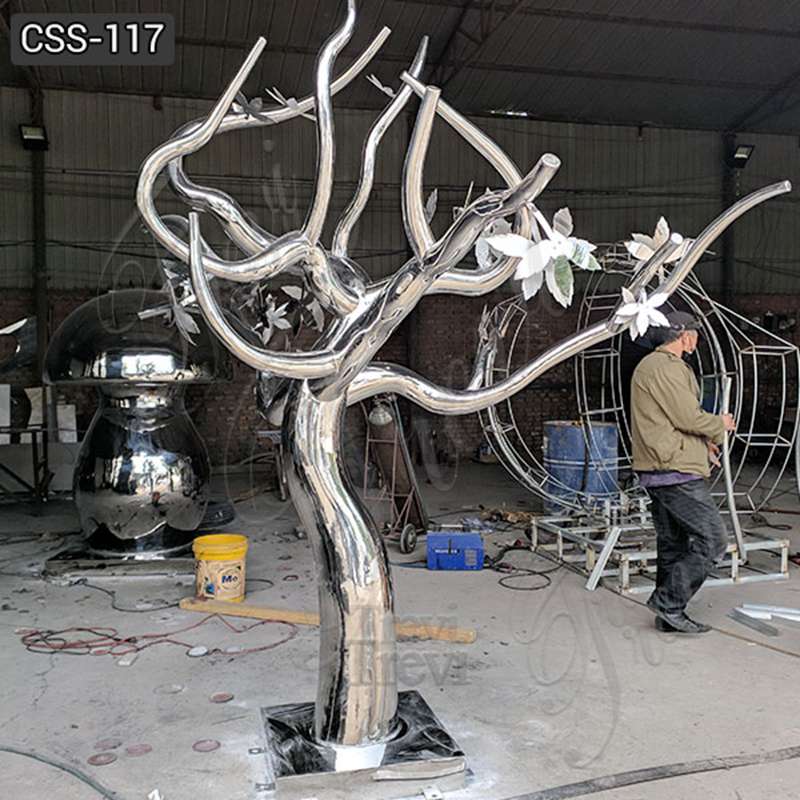 When welding sculptures, we will choose a full welding process instead of just spot welding. So you can see that the details of our sculptures are very delicate. At the same time we can also guarantee that your sculpture will serve you for many years.
Why Choose Stainless Steel Sculpture?
This is because stainless steel sculptures have very good outdoor performance. They are resistant to corrosion and high temperatures, and can remain beautiful for years of outdoor service. And the stainless steel sculpture is perfect for any city street, park, central plaza or home garden. It can add a beautiful scenery to your city. The installation or maintenance of stainless steel sculpture is also very simple, so it is also an indispensable decorative element in modern urban decoration. In the process of making stainless steel tree sculptures at Trevi, we choose high quality 304 stainless steel, so you don't have to worry about your sculptures rusting.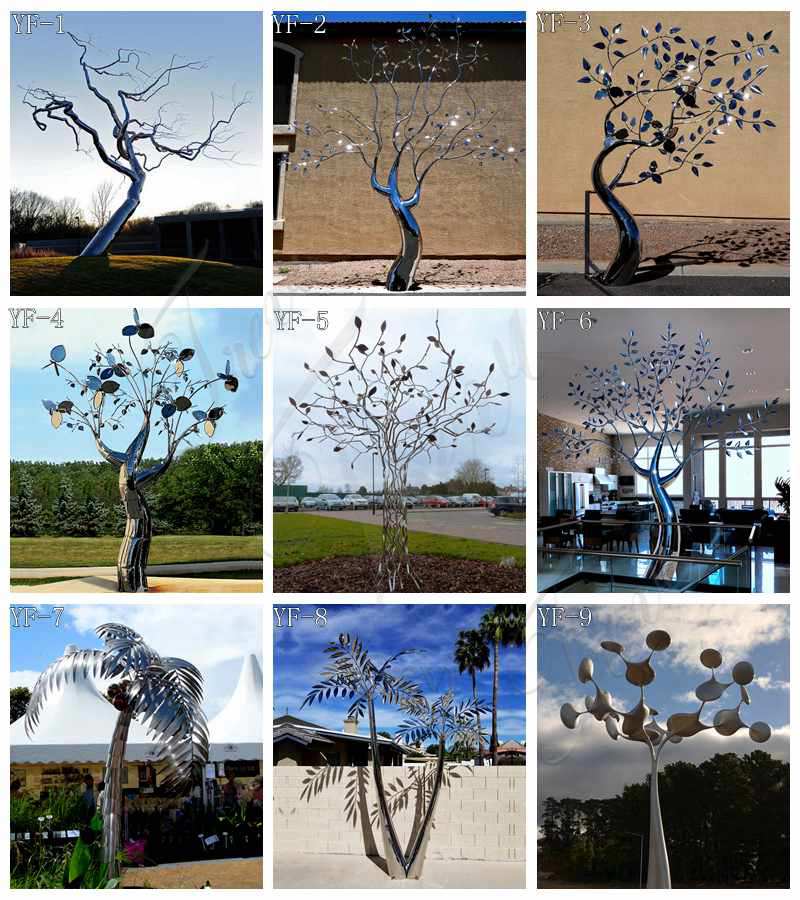 Choose Trevi, Choose High Quality:
We are located in the beautiful hometown of sculptures in Quyang County, Hebei Province. We have our own stainless steel factory and an excellent team of stainless steel sculpture masters. Our company has been engaged in the export trade of metal sculpture products industry for 40 years. We now have a first-class sculpture design team, production team, installation team, sales and customer service team, which can undertake sculpture projects of different scales and levels around the world. Whether you want to customize a single large sculpture or a batch as a middleman, Trevi can take your order perfectly.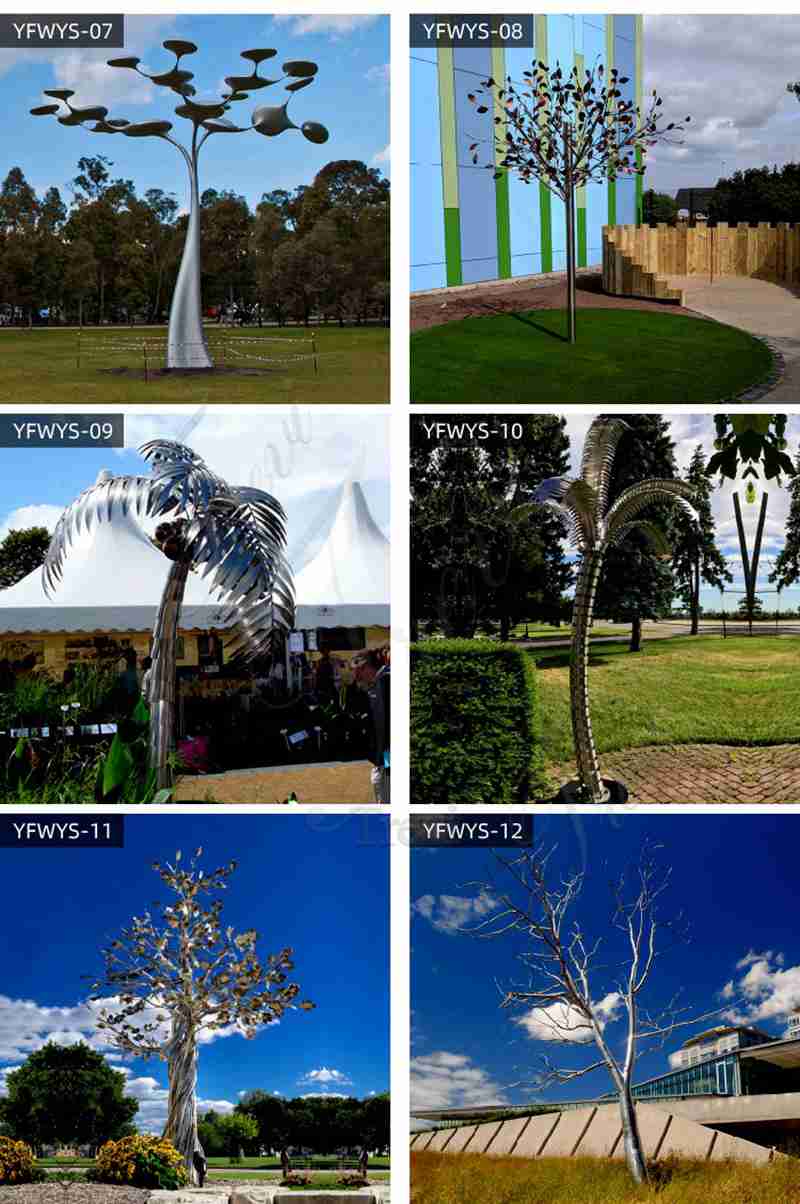 If you are interested in our outdoor stainless steel tree sculpture, please feel free to contact our staff for more product information. We can make the size or shape you need according to your request.