Product Details:
This is a highly polished stainless steel dolphin sculpture. Its surface appears to be mirror-smooth, reflecting the surrounding scenery. The Trevi factory uses 304 or 316 stainless steel for the entire sculpture. Dolphins have a docile personality, are friendly to humans, and look cute, so they are loved by people. Realistic dolphin sculptures are perfect for gardens, parks, or by the pool.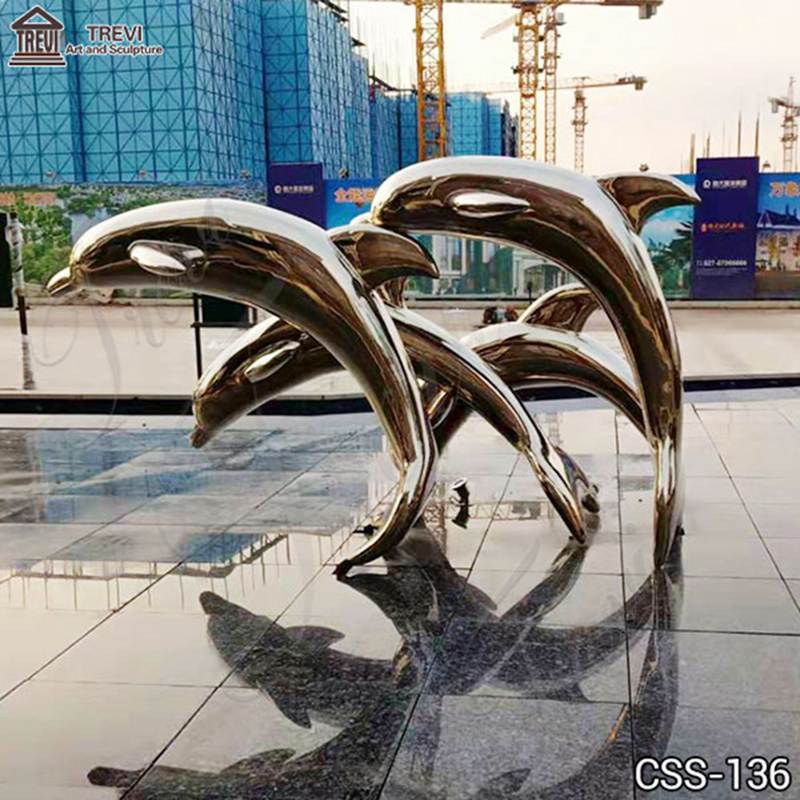 Excellent Workmanship:
This stainless steel dolphin sculpture was made by experienced and skilled masters in the Trevi factory. They use a combination of electric welding and full welding when welding. Every joint of the sculptures they weld is perfect. After the dolphin sculpture is finished, it will be hand-polished as a whole by the polishing masters, and finally, it will show a mirror-like effect. Such a mirror polished stainless steel sculpture has been well received by our customers.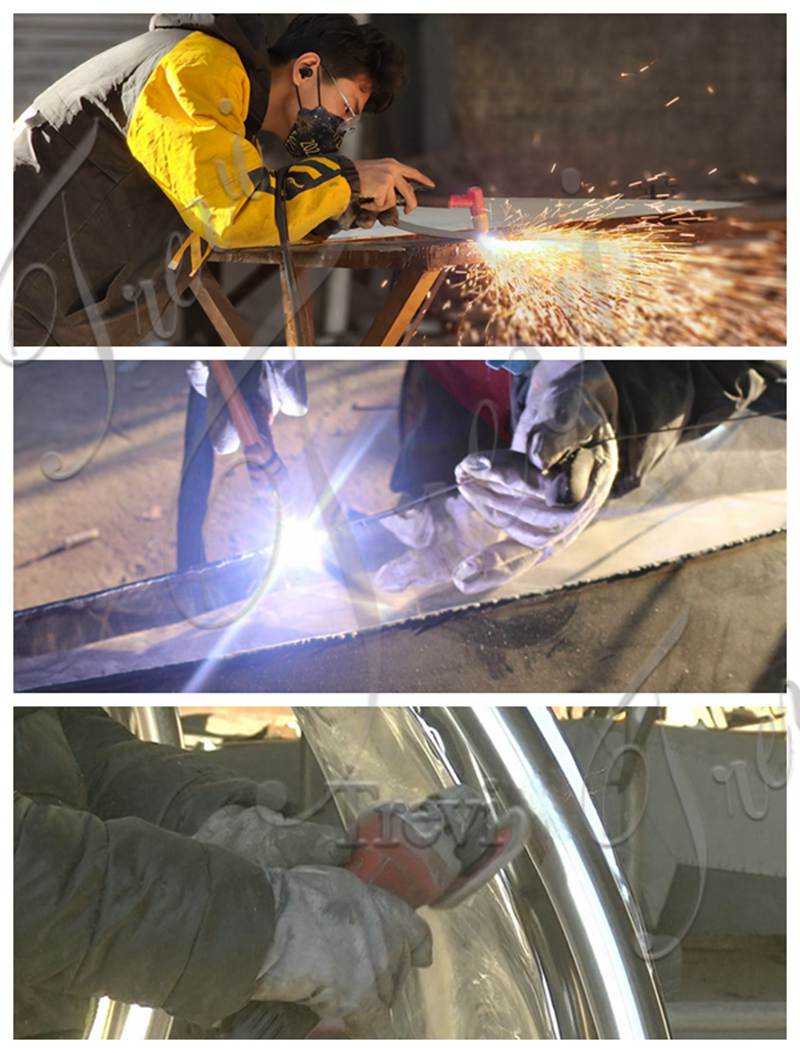 More Designs:
Trevi factory not only has stainless steel dolphin sculptures, but also stainless steel whale sculptures, stainless steel duck sculptures, stainless steel turtle sculptures, stainless steel seahorse sculptures, etc. These are the latest creations of designers from the Trevi factory. At the same time, we also accept your personal customization. If you want to design your own, just provide us with a drawing and we will be able to restore it perfectly. Of course, if you want to communicate with our designers about the style of sculpture, we can also meet.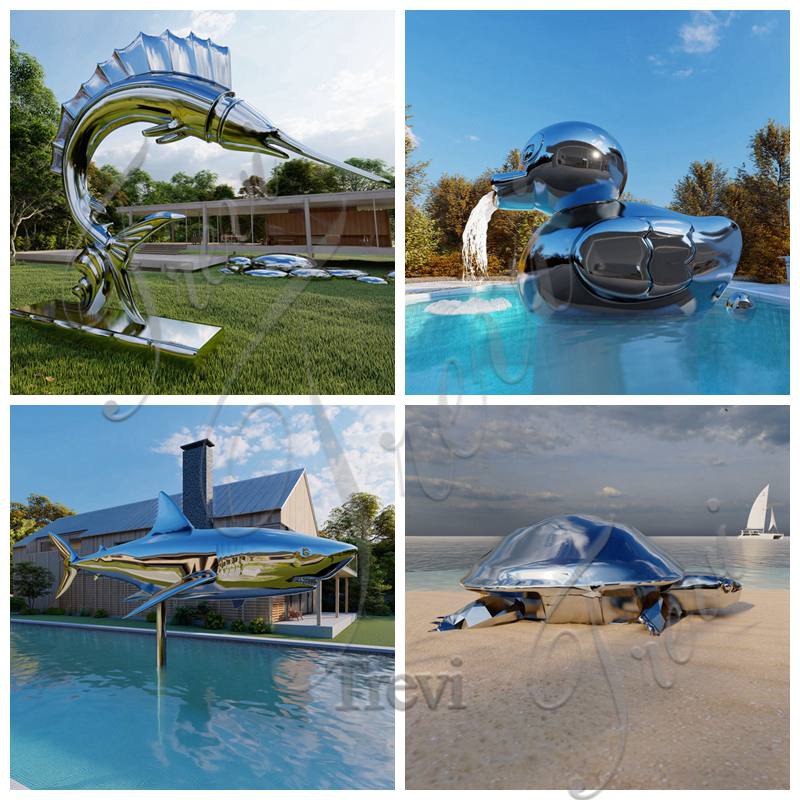 Why Stainless Steel Sculpture is Popular?
First of all, stainless steel sculptures have a long service life and can be placed outdoors for a long time. Sculptures made of 304 or 316 stainless steel have strong corrosion resistance and high-temperature resistance. Even if the sculpture is exposed to heavy rain and sunlight for a long time outdoors, it will not be damaged.
Secondly, stainless steel sculpture has high plasticity. Nowadays, most of the creative sculptures are stainless steel sculptures, which have strong plasticity and can be created into various types according to the needs of users, so they are more personalized and more diverse.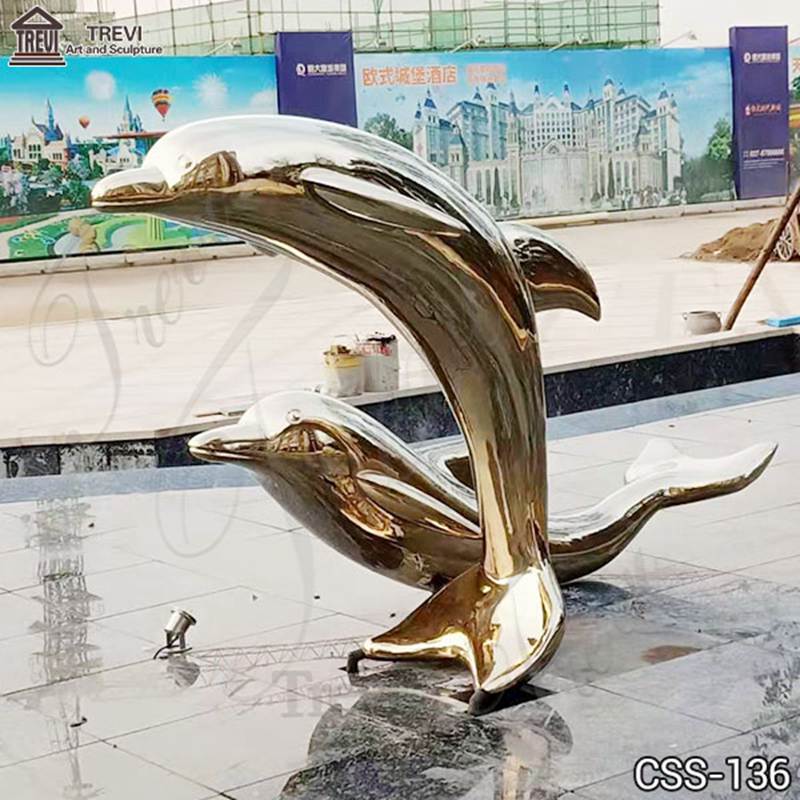 If you are interested in our metal animal sculptures for sale, please feel free to contact us.