Horse Statue Introduction:
This life–size bronze horse is one of the hot-selling statues for sale in the Trevi factory. Its flowing hair, lifelike eyes, and vivid exterior make it look like a real horse. Trevi factory made the horse statue with high-quality bronze materials. We would also add some metal elements such as zinc into the material. The addition of these elements would enhance the toughness of copper. Then, our bronze horse sculptures have a good quality guarantee and could be placed outdoors for decades. So, you could buy our statues with confidence.
Professional Making Techniques:
The extremely high degree of reduction is the guarantee that the masters of the Trevi factory promise every customer. Our bronze horse sculptures are made with 1:1 clay molds by skilled clay mold masters before casting. Once some small flaws are found in the clay mold-making process, they will be corrected immediately. The realistic clay model provides a good reference for casting masters. Master foundry casters use the traditional lost wax method to cast bronze animal statues. Although the technical process is complicated, our masters have mastered each step proficiently. The bronze sculptures they eventually presented were praised by customers.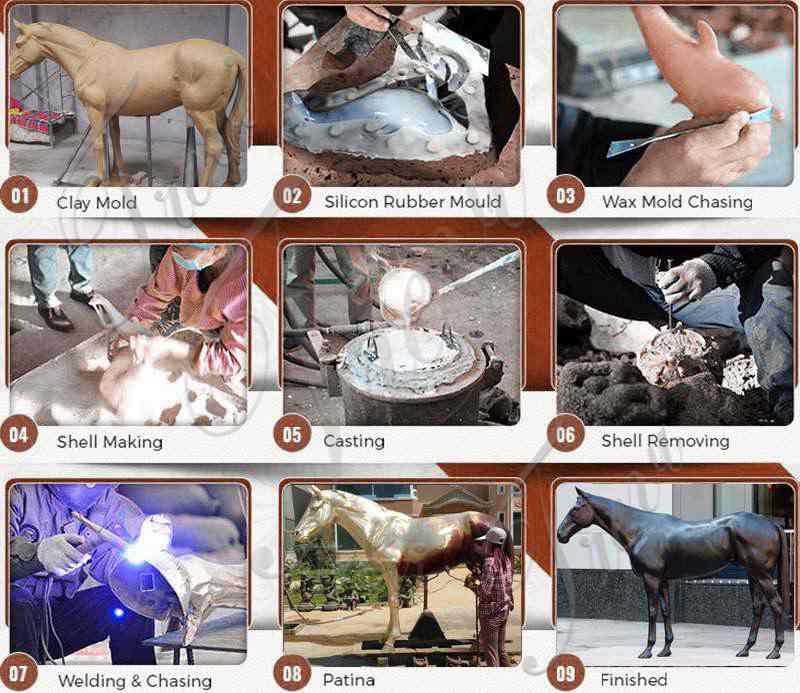 More Horse Designs:
The masters of the Trevi factory have made many types of life-size exquisite bronze horse statues for sale. Whether it is a standing horse, a winged pegasus, a vault with raised front hooves, or a galloping horse or a horseman, they are often made by the masters. And we also accept various customized services. For example, if you want your horse to behave differently, or to combine some other elements with its appearance, our talented designers can help you achieve that too. We will try our best to meet all your expectations for the bronze horse sculpture.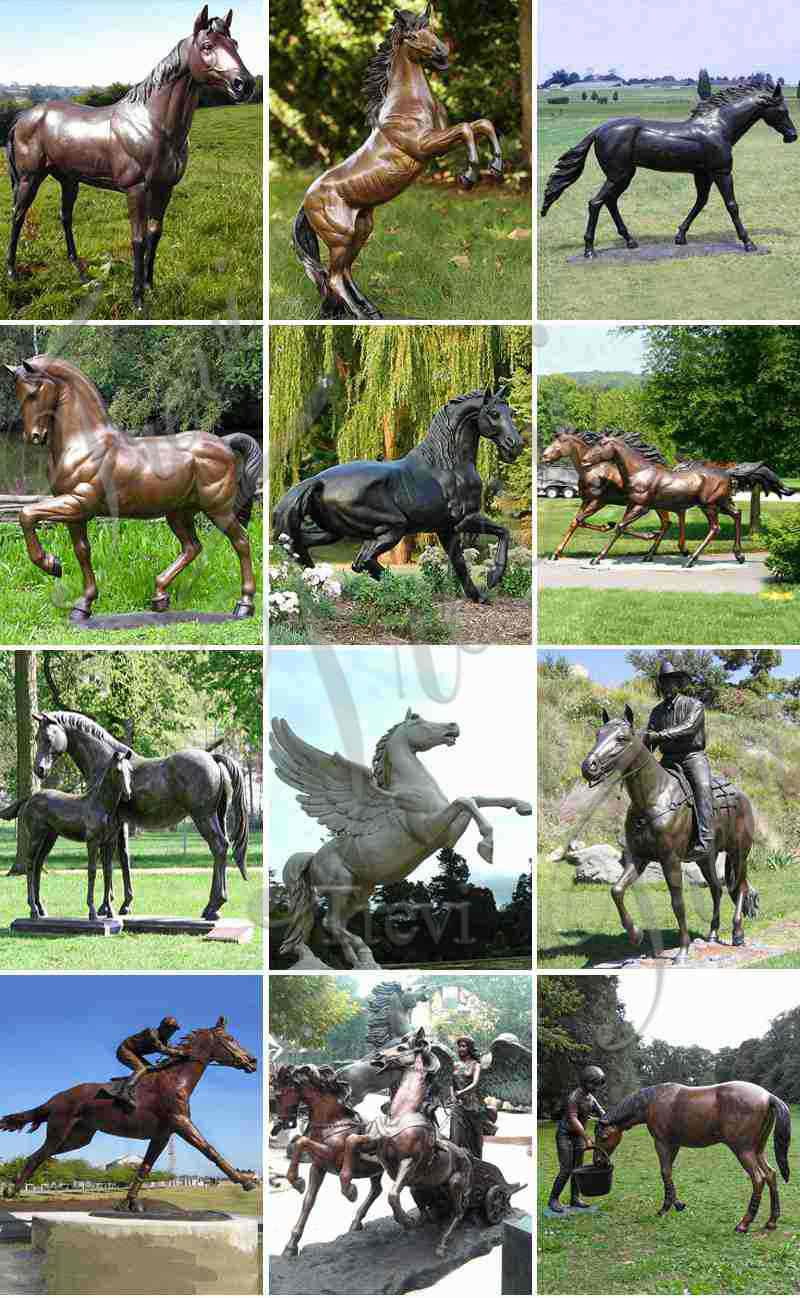 Diverse Color Options:
Trevi factory has professional chemical coloring masters. They graduated from famous art academies in China. They are very skilled in the proportion and deployment of various colors. Bronze horse sculptures painted by them can have a very beautiful appearance. And its exterior color will become more natural over time. Therefore, many customers admire our coloring masters very much.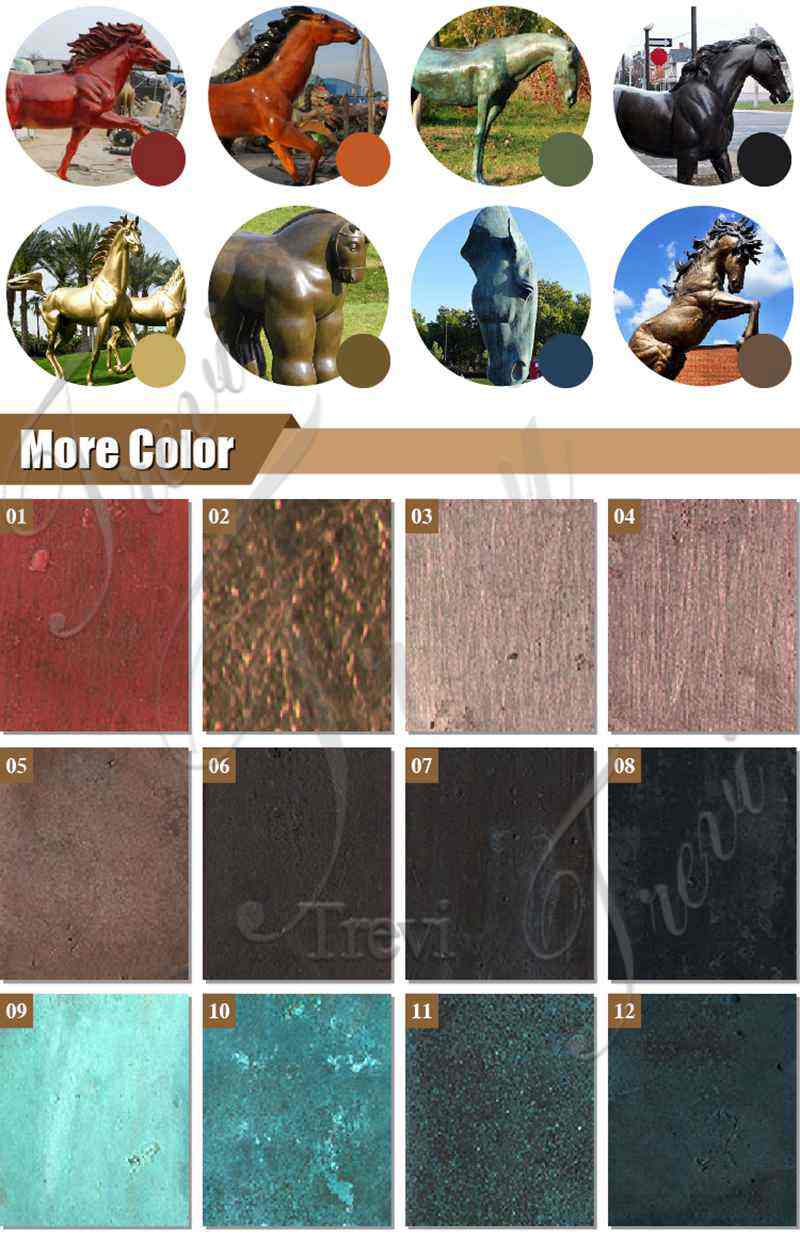 Trevi also gives you a factory price guarantee. If you are interested in this black bronze horse statue, please feel free to contact us.