Marble Sphinx Sculpture Description
The replicated White Marble Sphinx Sculpture from the Trevi sculpture factory is a majestic work of art. Crafted with precision and reverence for the original design, this sculpture captures the beauty and mystique of the ancient Egyptian Sphinx.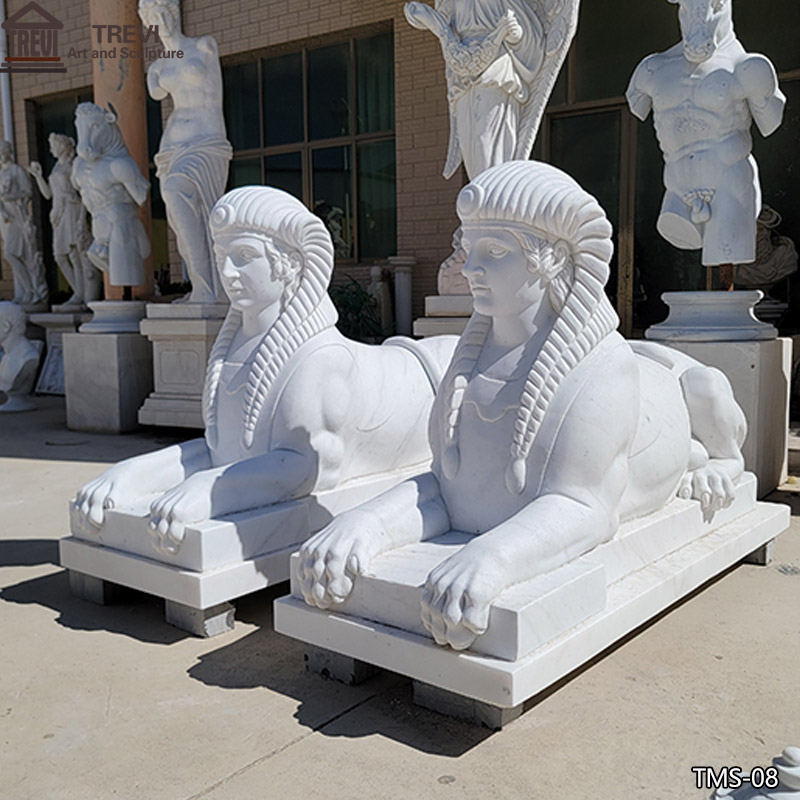 Carved from high-quality white marble, it exudes an air of sophistication and elegance. The detailed craftsmanship and intricate features of the Sphinx's body and face make it a true masterpiece.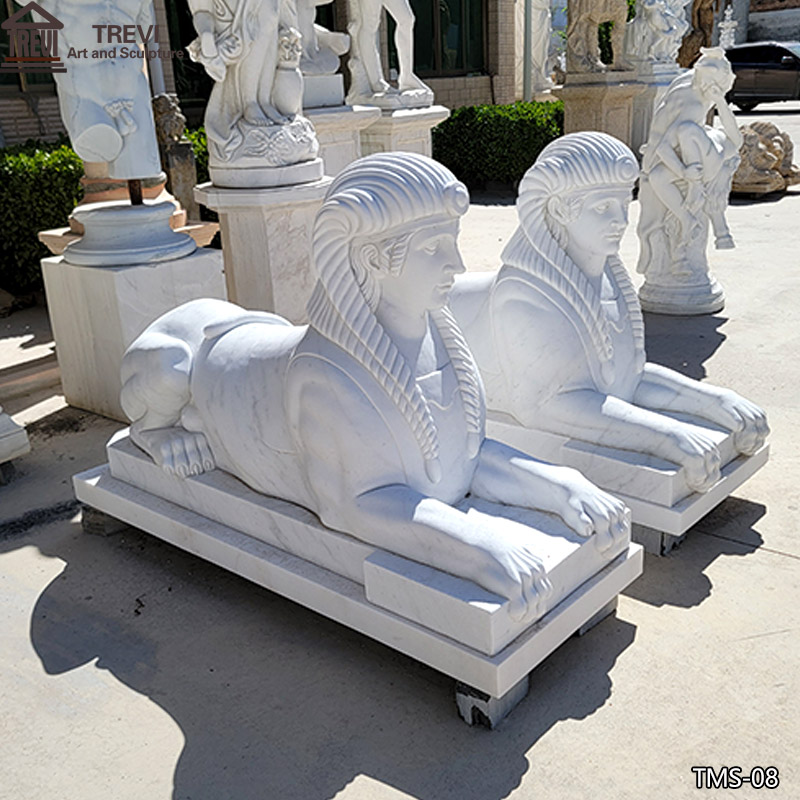 This sculpture serves as a testament to the exceptional skills of Trevi's artisans and their dedication to preserving the essence of historical art. It is a captivating piece that adds a touch of classical grandeur to any environment, making it a remarkable addition to both indoor and outdoor spaces.
The History of the Ancient Egyptian Sphinx Statue
The ancient Egyptian Sphinx sculpture has a rich and storied history dating back to around 2500 BC. It originated in ancient Egypt during the Old Kingdom period. The Sphinx is a mythical creature with the body of a lion and the head of a pharaoh, often believed to represent the Pharaoh Khafre.
These sculptures were typically placed near pyramids and served as guardians, symbolizing strength and wisdom. The Great Sphinx of Giza, one of the most famous examples, is an iconic representation of this form of art. Carved from a single massive block of limestone, it stands as a symbol of the Egyptian civilization's grandeur and cultural significance.
Throughout history, the Sphinx has remained an enduring symbol of Egypt and a testament to the artistic and engineering achievements of the ancient Egyptians. It continues to captivate people worldwide with its enigmatic charm and historical significance.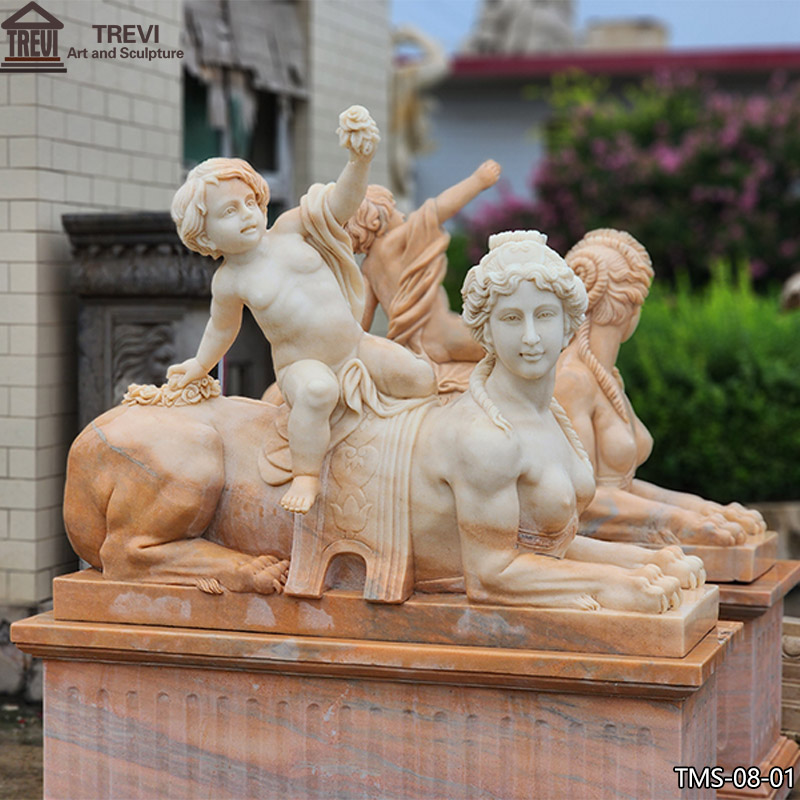 More Marble Sphinx Sculpture Options
As for the current season, it must be a good season to decorate your house or home garden. It is sure to be the perfect addition to your outdoor space. Our sculptures are made of high-quality white marble material. High-quality materials ensure that the sculpture is very realistic and vivid.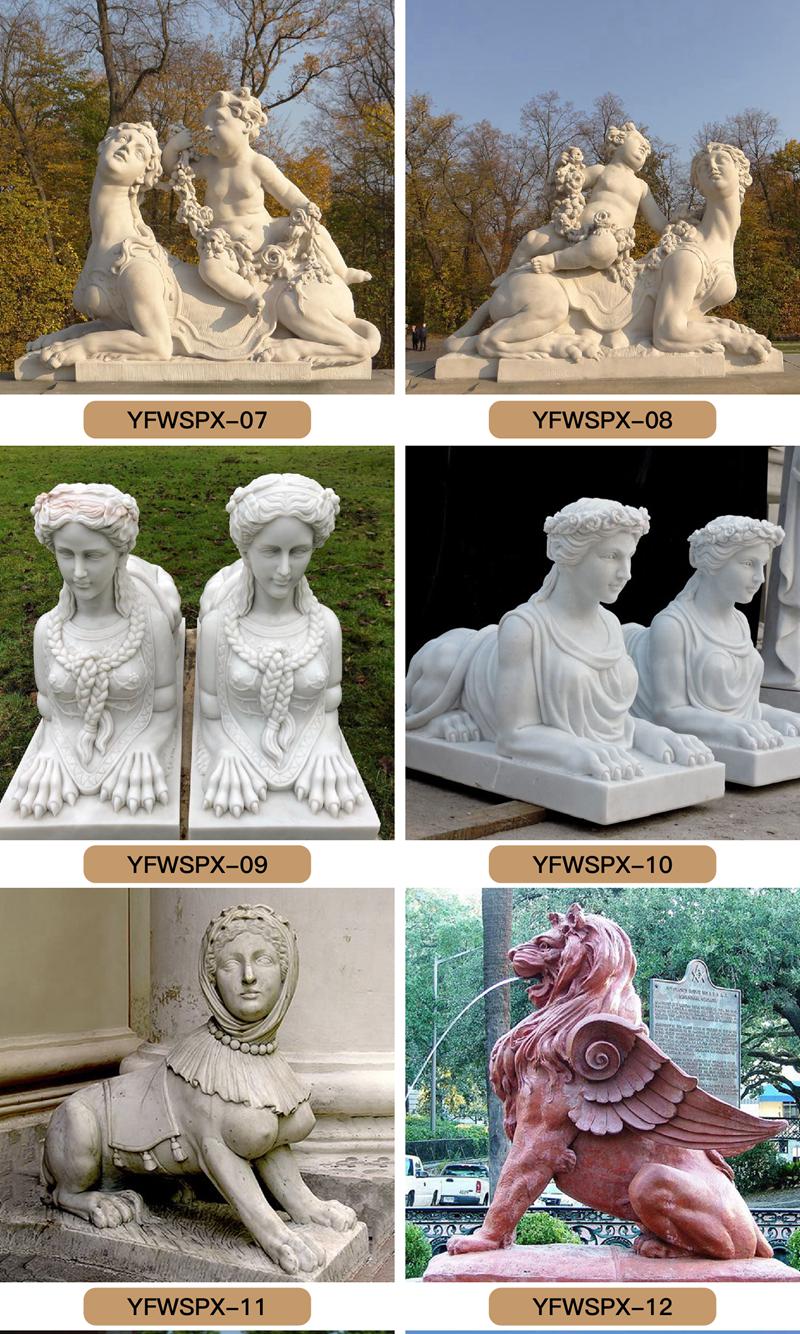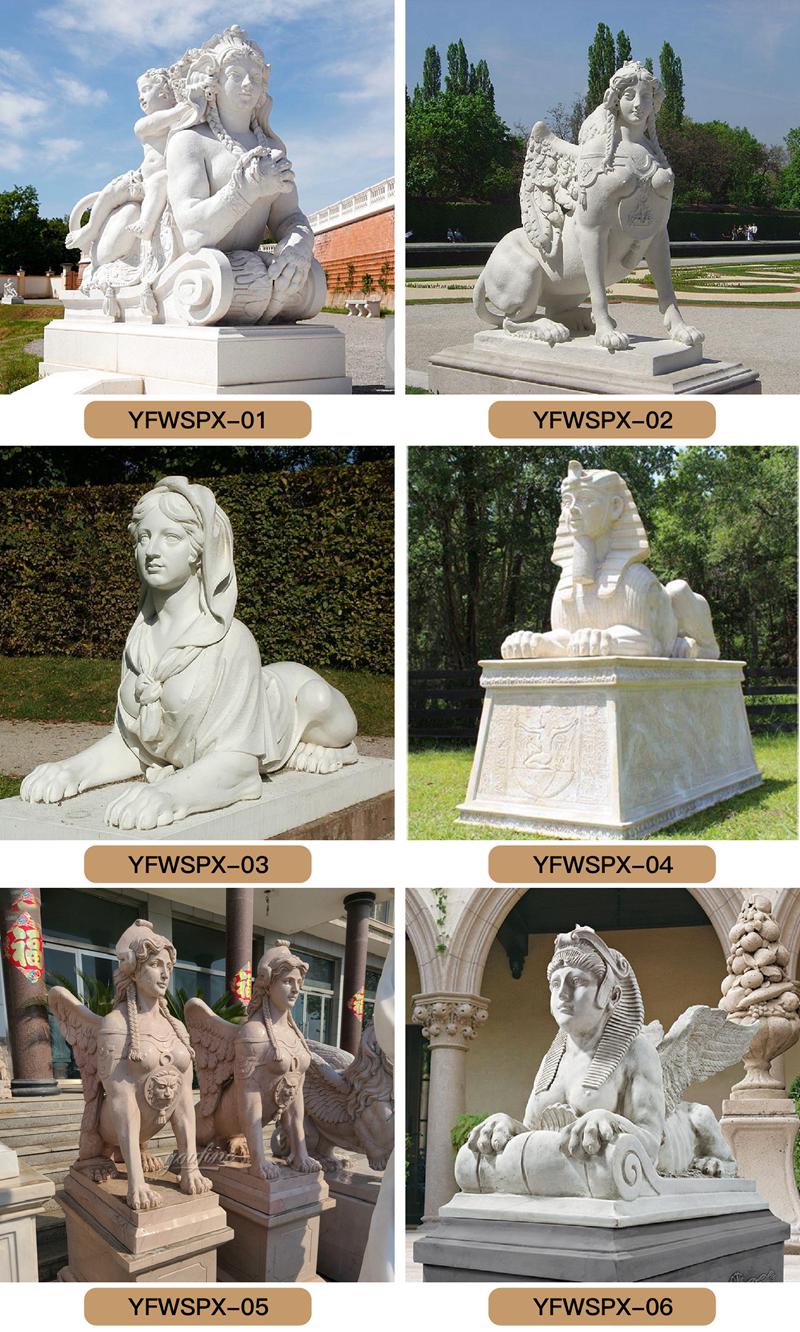 The Advantages of Trevi Art Sculpture
Trevi Art Sculpture is one of the Leading manufacturers and exporters, which has specialized in sculpture productions for over 40 years. Our factory boasts some of the industry's finest talents who approach marble carving with great dedication and reverence. Located in Quyang, the birthplace of sculpture. Our artists have been studying the art of marble carving since their childhood. The art of sculpting and the spirit of workmanship runs deep in their veins. Also, Trevi provides customized service, we would design the Greek sphinx sculpture according to your requirements.
Excellent Feedback from Our Customer
This customer approached our factory with a vision of adding a marble sphinx sculpture to their yard, placing great trust in Trevi factory's capabilities for marble sculpture production. Through effective communication and collaborative design efforts with the customer, we were able to bring their envisioned marble Greek Sphinx sculpture to life. The end result exceeded the customer's expectations, leaving them highly satisfied with the final product.
So if you are looking for a beautiful marble Sphinx sculpture or other Greek marble figure sculpture, we would make your dream come true. Please feel free to contact us anytime.