White Marble Fountain Details
A White Marble Fountain stands as an elegant masterpiece, a harmonious blend of nature's purity and artistry. Its pristine, glistening white surface beckons with grace, while the cascading tiers create a mesmerizing dance of water, transforming any space into a sanctuary of serenity and aesthetic enchantment.
You can see, On the edge of the marble-tiered fountain, there are six delicate flower pots where you can plant your flowers, perhaps adding a touch of warmth to your garden.
Different Color and Material Options
Explore Trevi factory's range of marble fountains, available in various colors and materials. They are incredibly popular, blending quality craftsmanship with captivating design. Whether you prefer classic white marble or unique beige marble, our collection caters to diverse tastes. These marble garden fountains are not just decorative, but symbols of sophistication, making a statement in any space. With their wide appeal, they've become sought-after pieces, adding timeless beauty to any setting. Choose from our selection and bring home a piece of art that stands the test of time.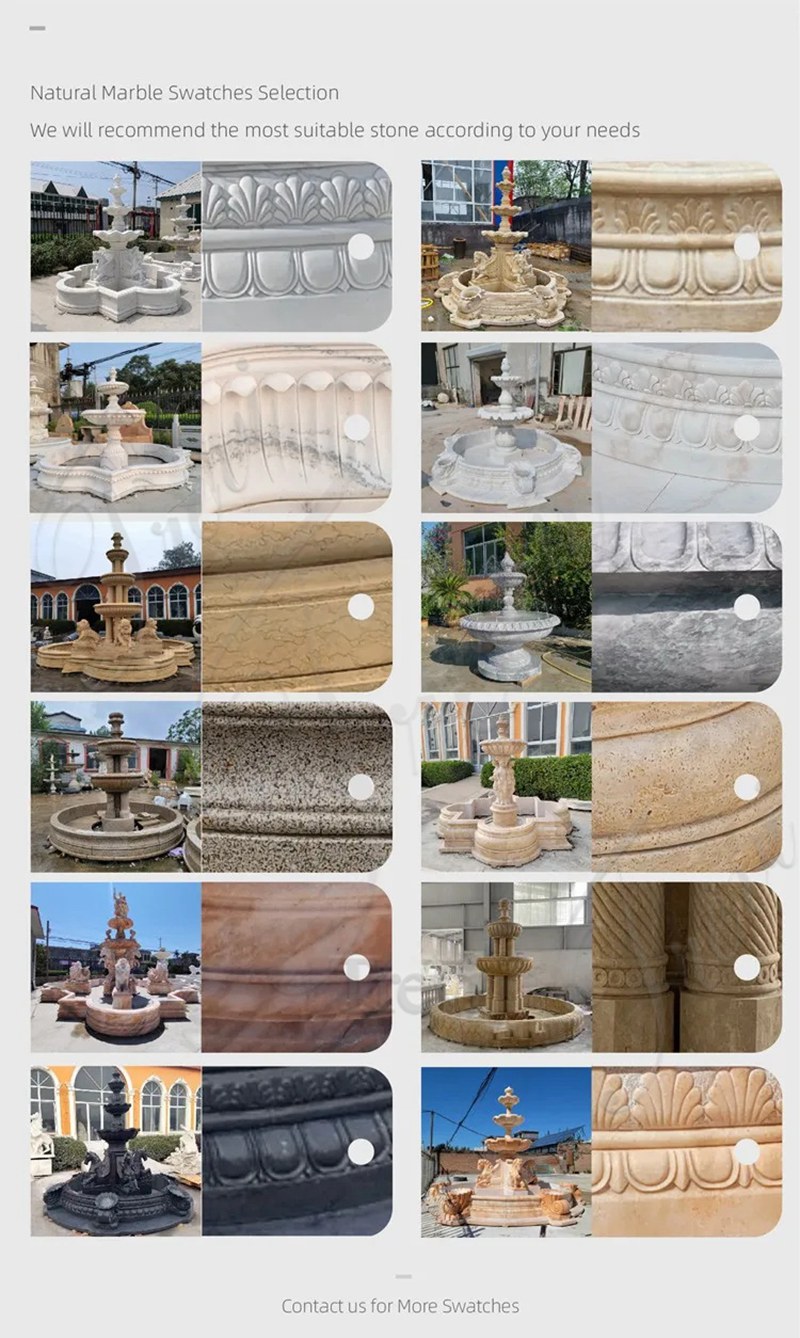 Where Can This Tiered Fountain Be Decorated?
A white Marble Tiered Fountain is a versatile decorative masterpiece suitable for a range of settings. Its elegant presence can transform gardens into tranquil sanctuaries, add sophistication to courtyards, and enhance the ambiance of patios. In public spaces, such as parks or entryways, This marble fountain becomes a captivating focal point, while in larger indoor areas like atriums or event venues, it brings a touch of elegance and serenity. Whether gracing outdoor or indoor spaces, a Tiered Fountain elevates the surroundings and provides a soothing, aesthetic charm that leaves a lasting impression on all who encounter it.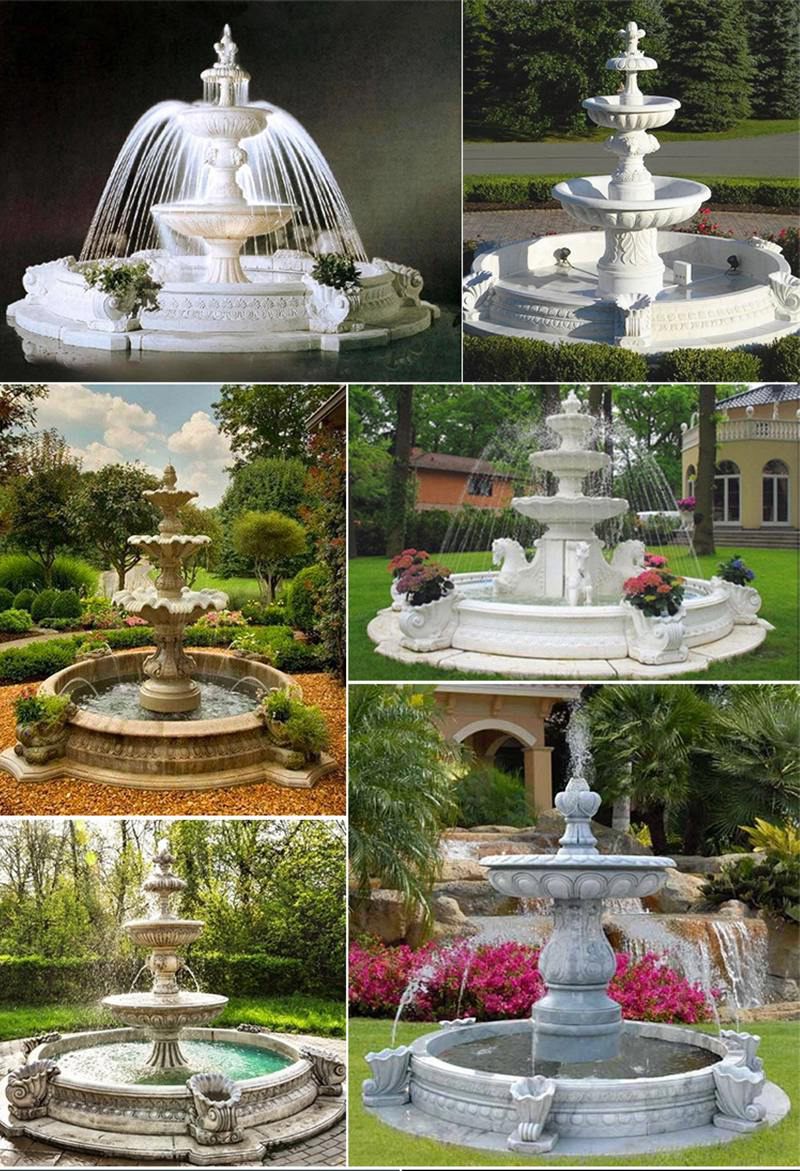 Customized Design to Meet Customers' Needs
Trevi Art Sculpture Factory could offer a high-quality hand-carved Marble tiered fountain. This fountain is hand-carved by our artists. This white marble-tiered fountain has an air of mystery that makes it perfect for a yard, garden, and park. The size of this marble lion fountain can be customized to suit your needs, so if you don't know what size to choose, that's no problem! Our designers can make recommendations to you based on the pictures of your placement location.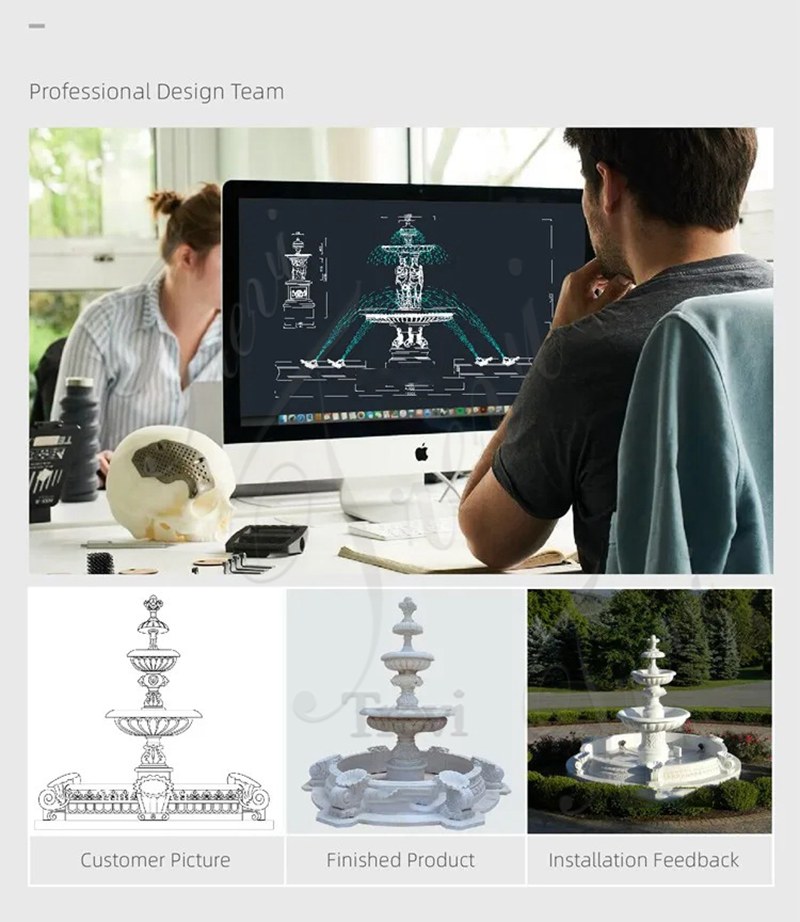 Show More Marble Garden Fountain Products
Thanksgiving and Christmas are coming soon, We recognize the importance of timely delivery when it comes to our customers' satisfaction. To meet this need, we have a selection of popular fountains that are maintained in stock. This inventory allows us to fulfill orders quickly and expedite shipping, ensuring that our customers can enjoy their chosen fountains without any unnecessary delays.
Contact us now to bring the awe-inspiring beauty of our three-tiered marble water fountain into your surroundings.