Marble Overmantel Marble Fireplace Description
This exquisite overmantel marble fireplace mantel features a distinctive double-layered design. What sets it apart is the striking presence of intricately carved lion statues flanking the pillars on either side, imbuing the entire fireplace with a sense of grandeur and majesty. The fireplace's elegance is further accentuated by the meticulous detailing in the form of delicate flower motifs beautifully etched into the marble. With its unique design and fine craftsmanship, this marble mantel is the epitome of luxury and artistic excellence, making it the centerpiece of any room.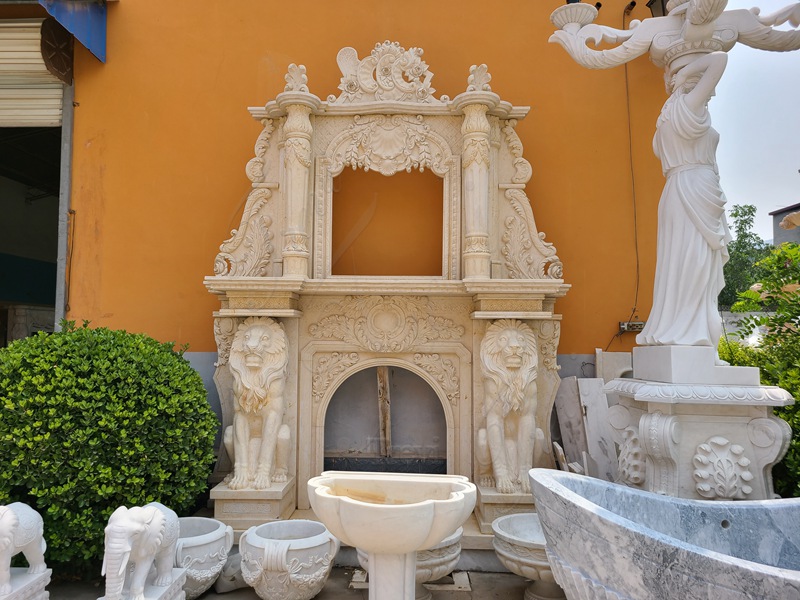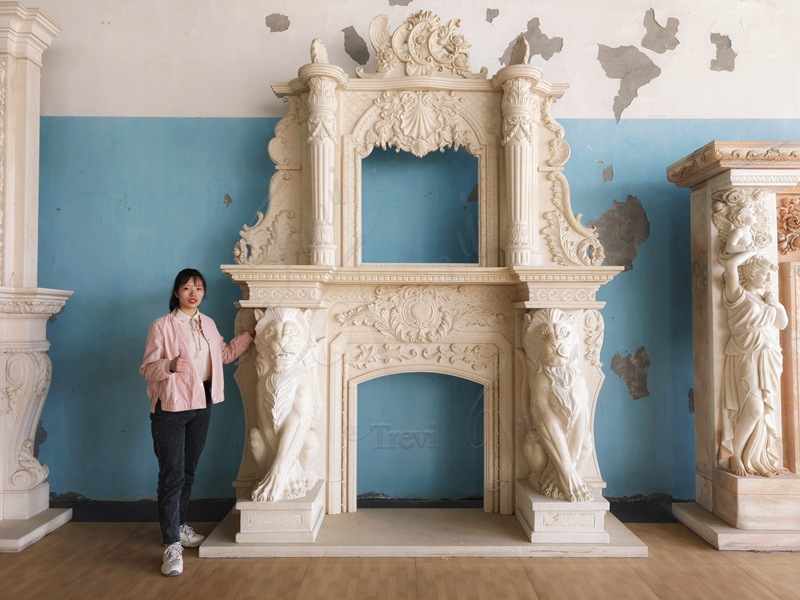 Exquisite Hand-Carving Details
Each exquisite detail of this magnificent hand-carved marble fireplace is meticulously crafted by our team of highly skilled artisans. These artisans have honed their marble carving techniques since childhood, along with decades of experience in this intricate art form. Whether it is the detailed carvings on the marble fireplace or the carvings of the lion sculptures on both sides, they are exquisite, making this marble mantel look extremely luxurious and noble.
Detailed Installation Support
To facilitate a seamless and hassle-free installation process, we provide installation drawings and detailed instructions for each fireplace model. These resources help the customer or their hired professionals to effectively and accurately assemble and install the fireplace. With our guidance, customers can confidently carry out the installation and enjoy their marble fireplace without any complications.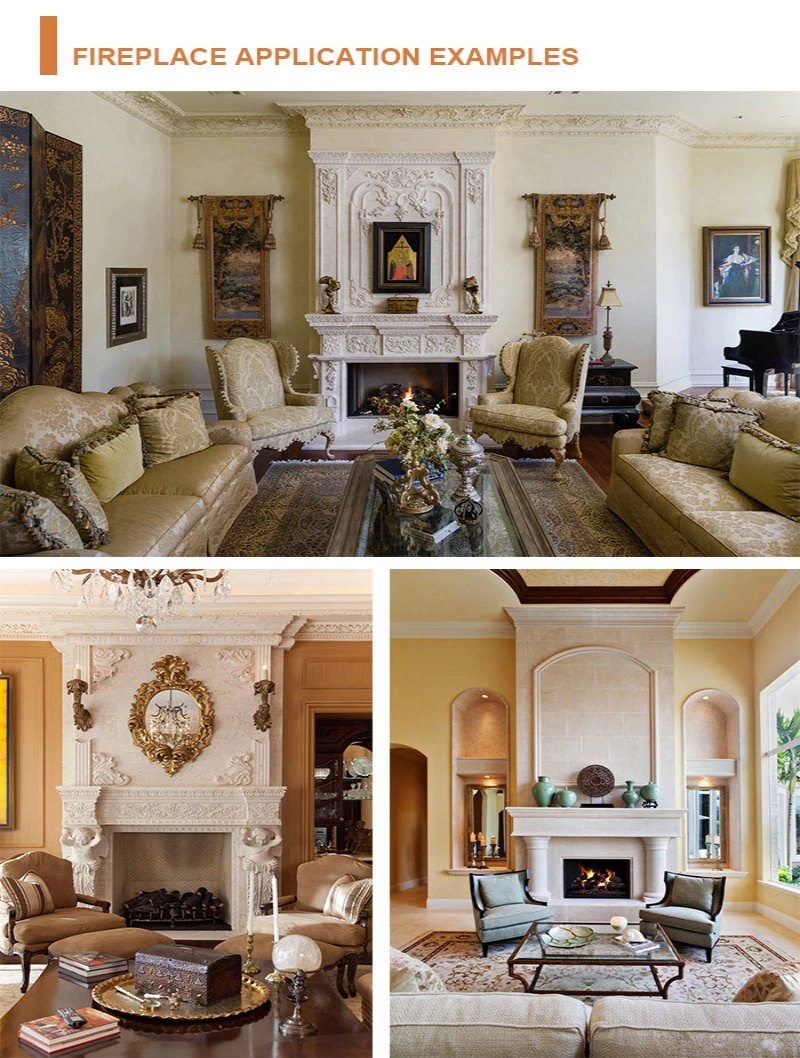 Customization options
We understand that each customer may have specific requirements when it comes to the size and dimensions of their marble fireplace mantel. Hence, Trevi factory provides customization services, allowing customers to provide their desired measurements. Our skilled artisans will then create a bespoke marble fireplace tailored to the exact specifications provided, ensuring a perfect fit for the intended space.
More Marble Fireplace Mantel Options
Trevi factory offers a diverse selection of marble fireplace designs. From traditional and classical styles to contemporary and modern designs, customers can choose from various options that suit their personal tastes and the overall aesthetic of their spaces. Each style is crafted with meticulous attention to detail, ensuring a beautiful and impressive centerpiece for any room.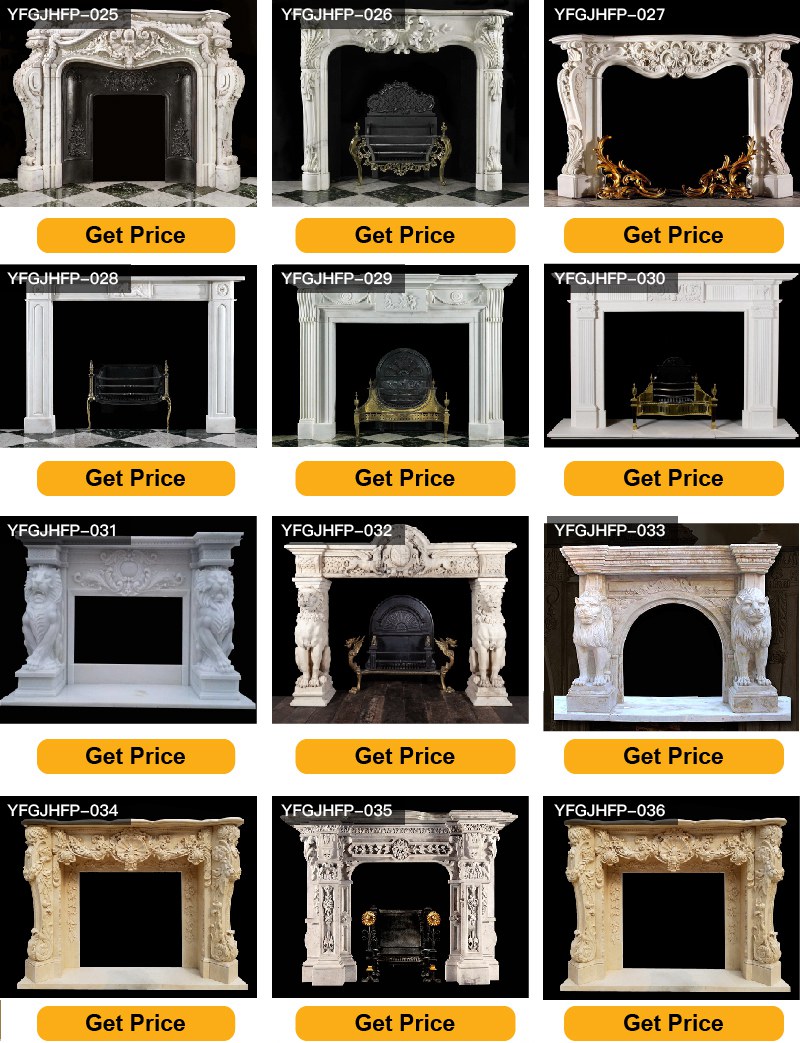 About Trevi Art Sculpture Factory
As a marble carving factory established in 1983, we have decades of experience in exporting marble fireplaces, our fireplaces have been exported all over the world. Almost all of our customers highly praise the quality of our fireplaces, they praise the details of the classics, praise the first-class quality, we would still visit our customers after many years, We always build long-lasting friendships with our customers.
So choose Trevi, we would provide you with the best quality marble fireplace surround and the best service. Please feel free to contact Trevi if you have any needs.