Product Details:
The product for sale shows us a pair of marble lion statues. They have an incredibly lifelike appearance. Their sharp eyes make people dare not look at them. The lion's hair flutters in the wind under the carving of the sculptor. They open their mouths wide, revealing sharp teeth, showing their majesty as kings of the universe. The lion statue has muscles that could be seen everywhere, making it look fierce as a whole. The use of sunset red marble not only makes the lion statue look beautiful but also enables it to have a long service life.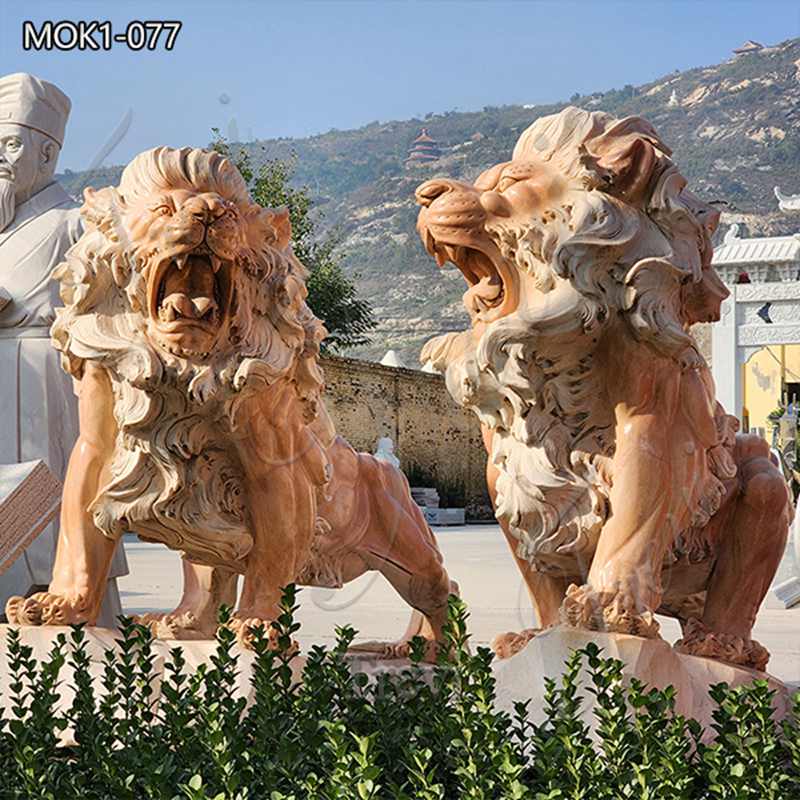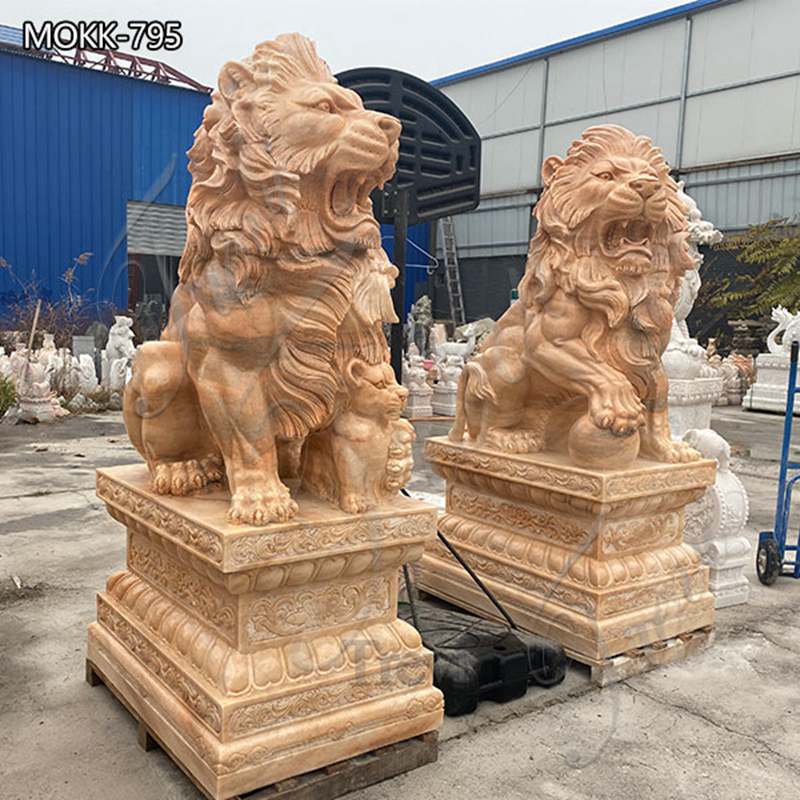 Excellent Carving Artists:
This pair of lion statues are hand-carved by artisans at the Trevi factory. Our artisans have inherited their carving skills from their forefathers, while they continue to refine their carving skills. They have been engaged in the carving of various marble lion statues in the factory. The artisans have a deep grasp of the habit and characteristics of lions and could perfectly restore them. Even in their spare time, they do some carving practice. So, decades of sculpting learning, and accumulation eventually made them top artisans in the field of sculpting.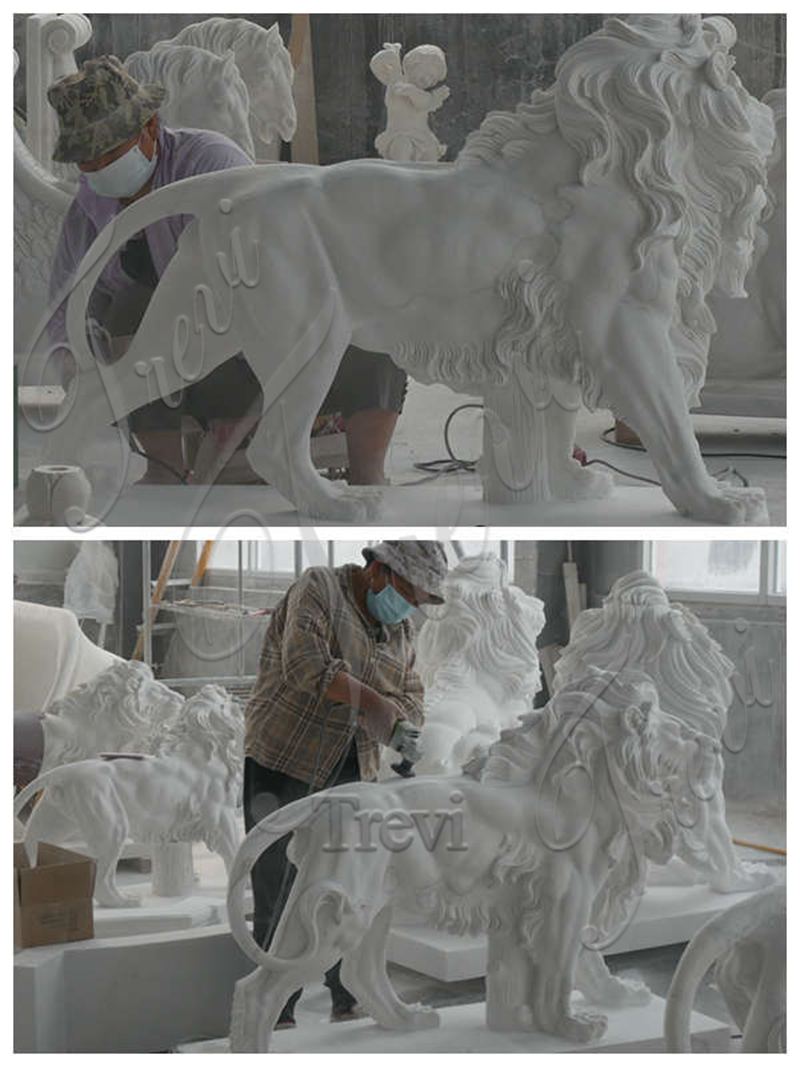 More Options:
Trevi factory has lion statues for front porch of many types and themes. We not only have standing marble lion statues but also squatting marble lion statues, marble sleeping lion statues, marble squatting lion statues, marble lion statues holding shields, etc. And, we have a variety of colors of natural marble for you to choose from. The Trevi factory is abundant in natural marble of various shades. The marble lion statues made of white marble, red marble, yellow marble, and green marble have different presentation effects. You could choose according to your needs.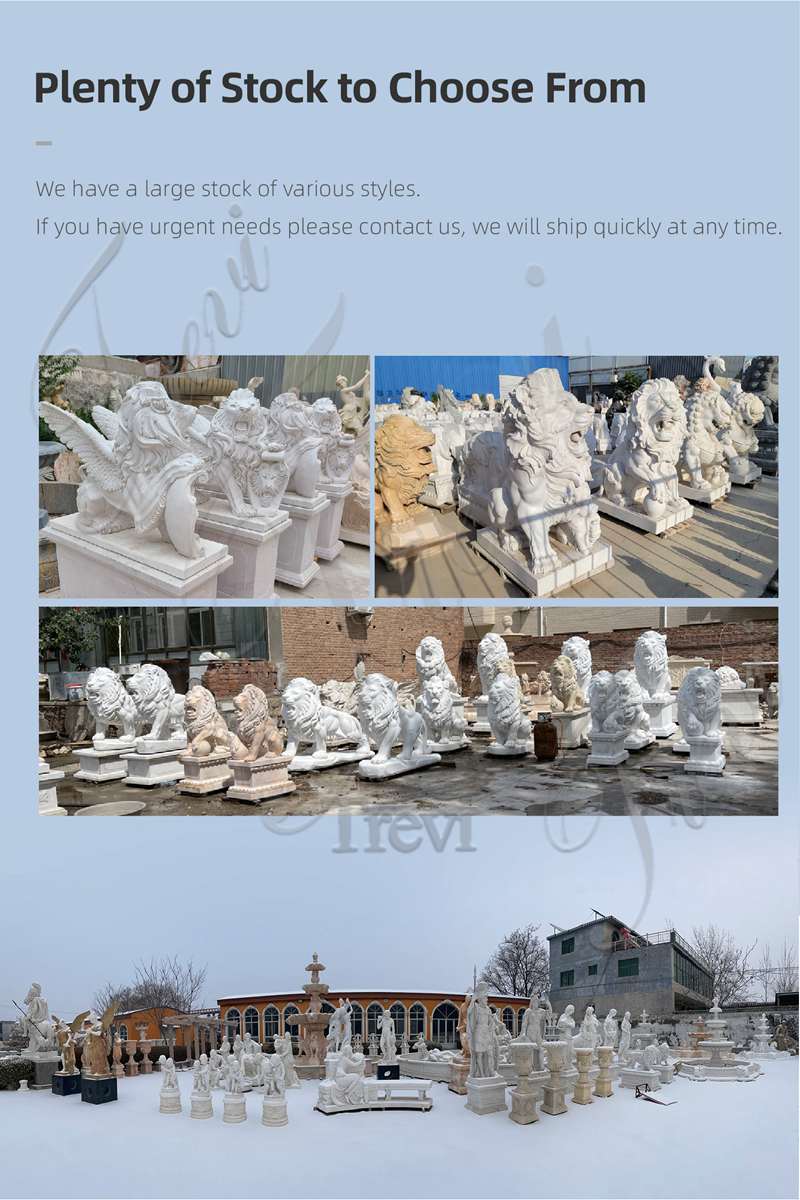 Services of Trevi Factory:
First of all, the Trevi factory has professional and responsible sales staff. If you need to know about statue cleaning, you could consult them at any time, and they would provide you with professional and detailed guidance.
Secondly, we would continuously update the progress of statue production for you, allowing you to witness the whole process of the completion of a statue. Corresponding pictures and videos would be sent to you to give you an immersive sense of participation.
Third, full shipping insurance is possible at the Trevi facility. In order to protect the interests of customers to the greatest extent, we would purchase full shipping insurance for each statue product. So, you could buy with confidence.
Trevi would treat every customer with great sincerity. If you're interested in the marble lion statues for sale, please contact us for more information.