This is a white marble lion statue with flamboyant hair and strong muscles. This exquisite garden marble lion statue shows us the perfect image of a pair of lions. These are classic Western lion designs.
Both lions are recreated from male lions in nature, with long, flowing hair. We could see that every detail of it is realistic and vivid.
Such a sculpture would be a good decoration for your home. There are many people who like to decorate such lion statues in front of their doors, driveways, and front porches.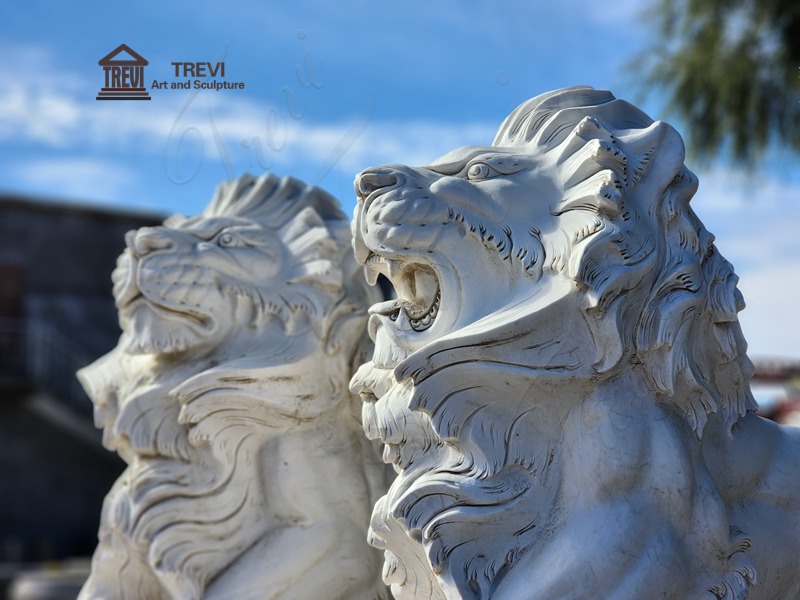 The Role of the Lion Statue:
A white marble lion statue like this could add ambiance to any place, outdoors or indoors.
If you like our statues, please feel free to contact Trevi. Trevi supports single purchases and wholesale. You could stock the right front door lion statue sculpture for your customers. And you could also install such a guardian lion for your private premises.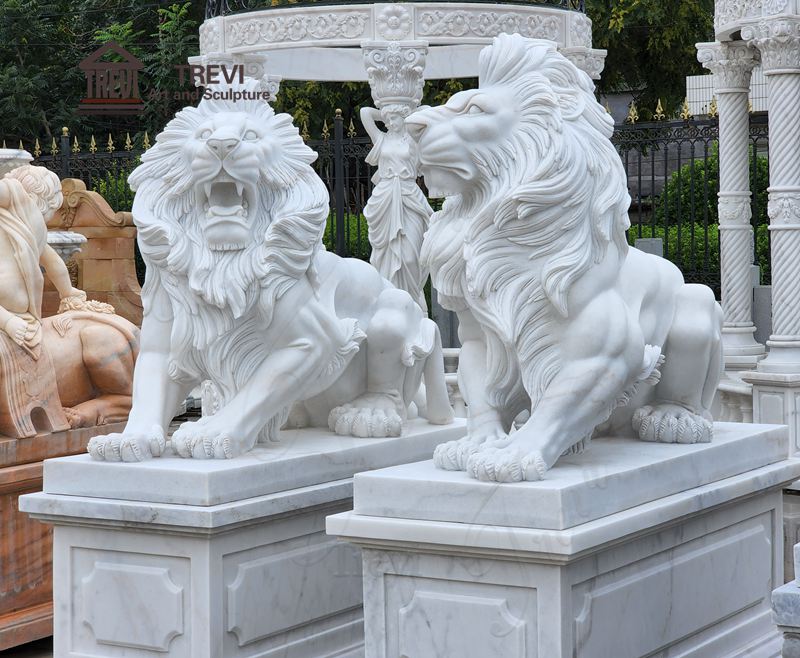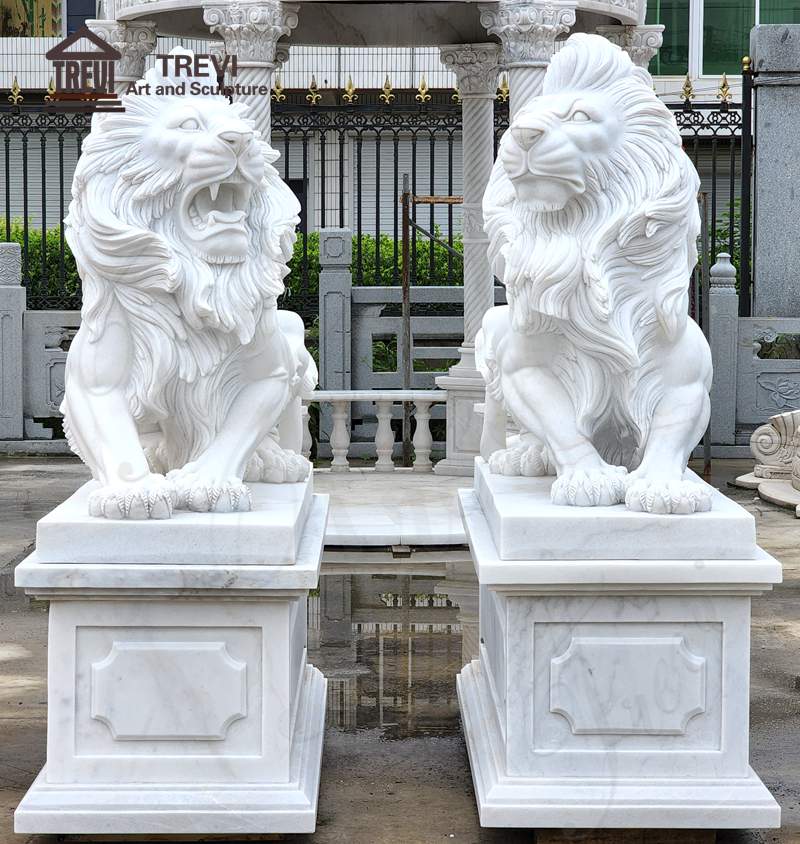 Lion statues of such high quality are very popular on front porches, whether to decorate churches and shrines or to add protection to a garden or home. You could install these White Marble Lion Statues on steps, doors, and gates. And they could also be placed around fountains, under trees, and next to flowers, which would look beautiful.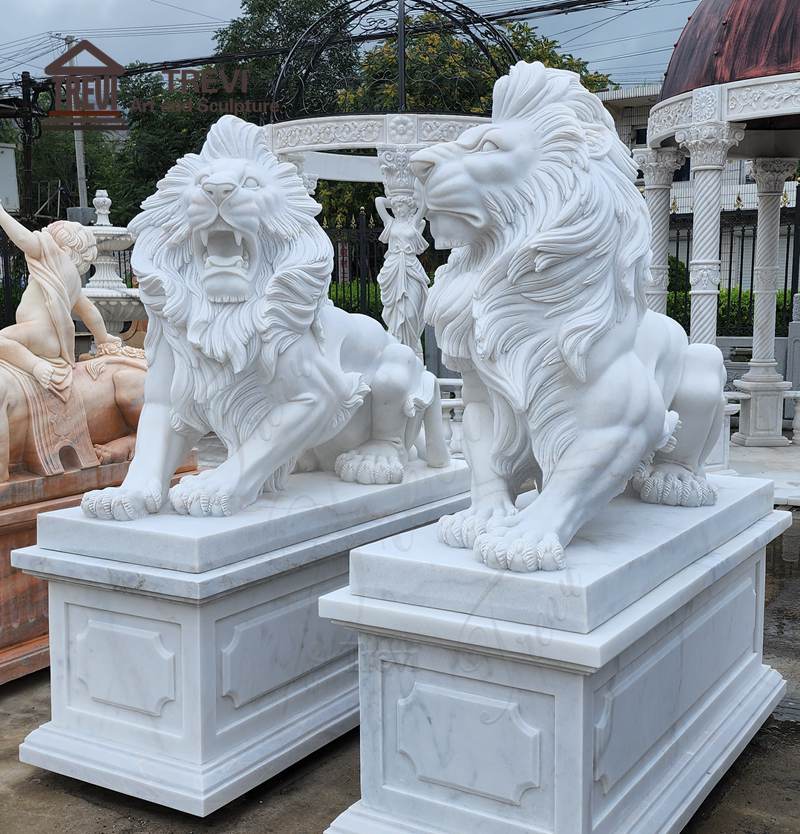 Advantages of Trevi Making Marble Lion Statues :
Featured Natural Stones:
Trevi would sculpt the pair of white marble lion statues using high-quality marble materials. All our carving products have been insisting on using pure natural A-grade marble.
Trevi has very high-quality mine resources. Every month, we have professional workers select materials from the mine to make sure the material is the best.
Advanced Pure Hand-Carving Team:
Every detail of Trevi's marble lion sculpture is hand-carved. Our sculptors have decades of experience in marble carving techniques. This is because our artists are all ancestral marble carving techniques, and their ancestors participated in the marble carving of many ancient royal gardens such as the Forbidden City, the Forbidden City, and the Summer Palace. So you would be able to buy the most vivid and lifelike front porch lion statue from Trevi.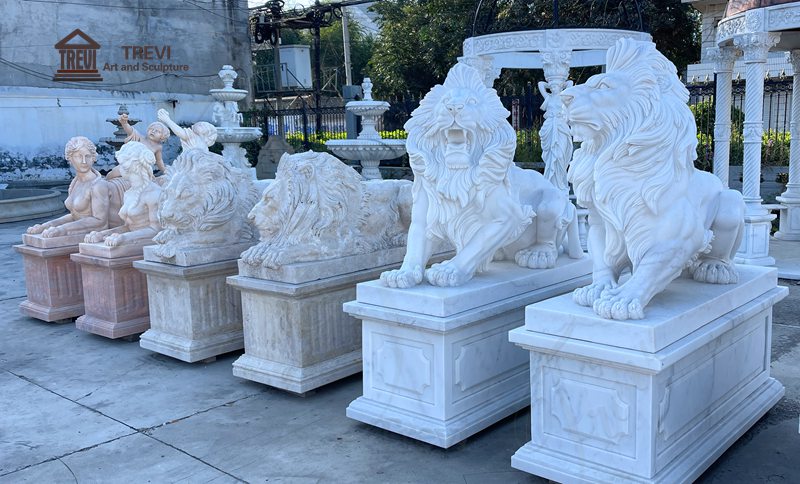 Discount Price:
Since Trevi is factory direct, there is no middleman to make the difference. So you could buy your favorite lion statue at the best wholesale price. We have a much popular marble statue of a lion representing power, culture and wisdom.
Customization is also supported. You could choose the size and material you like, or customize the design to your liking.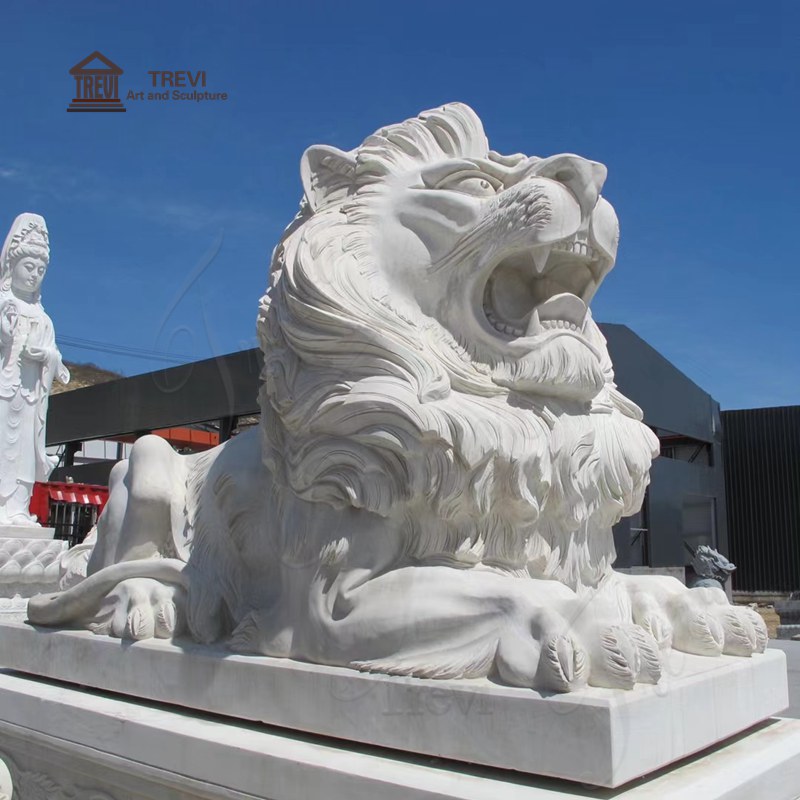 Packaging and Shipping:
First, outside, our workers would pack the marble lion sculptures throughout the garden in a sturdy wooden box. Inside, we also wrapped the surface of the sculpture in cloth and foam.
Regarding transportation, we have long-term cooperative shipping companies. So we could arrange delivery to port or home delivery. We would also purchase full insurance to ensure the safety of the sculpture's transportation.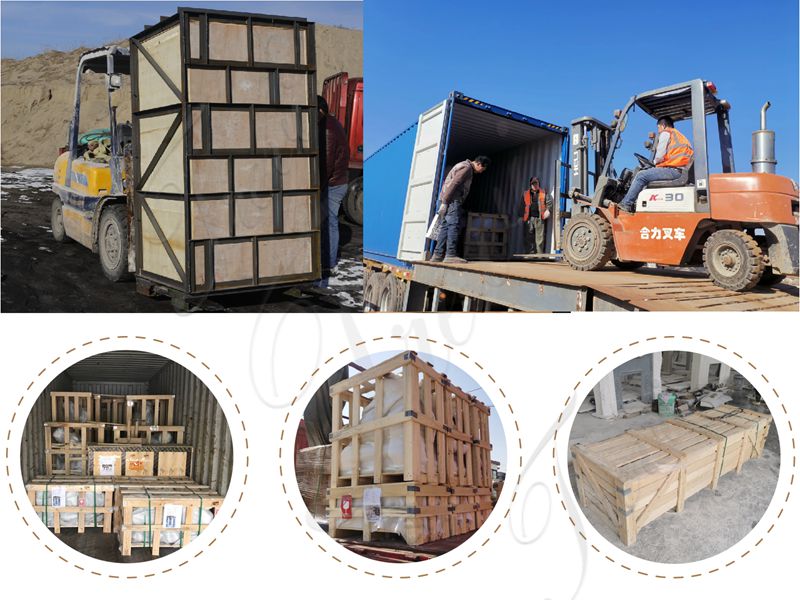 Trevi has a variety of White Marble Lion Statues for customers to choose from, which could meet the needs of different customers and different places. If you like our animal statues, please feel free to contact Trevi.