Outdoor Marble Gazebo Details
This exquisite marble gazebo stands as a testament to the artistry of our skilled craftsmen. Every intricate detail of this beautiful structure is meticulously hand-carved, showcasing the dedication and precision that went into its creation. The gazebo is crowned with a wrought iron dome, a stunning display of artistic finesse that adds a touch of sophistication to its design. The harmonious blend of classic white marble and the vibrant red wrought iron roof creates a captivating visual contrast, rendering the entire gazebo simple yet remarkably elegant.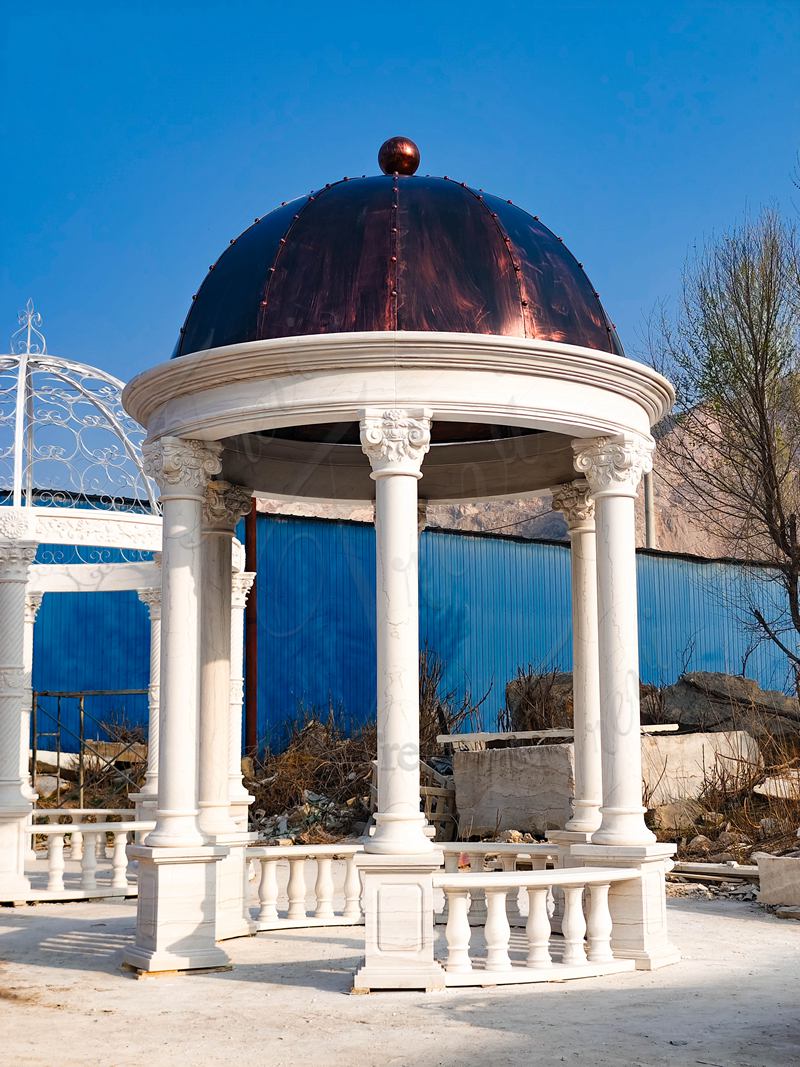 Our marble garden gazebos are specifically tailored for grand occasions like weddings, where their presence elevates the event to new heights of opulence and grace. Imagine exchanging vows beneath its grandeur, the marble pillars and the ornate dome bearing witness to your love story. Moreover, the outdoor marble gazebo serves as an inviting space for leisure. During your leisure hours, you can gather with friends and family beneath its shelter, indulging in heartfelt conversations and creating cherished memories.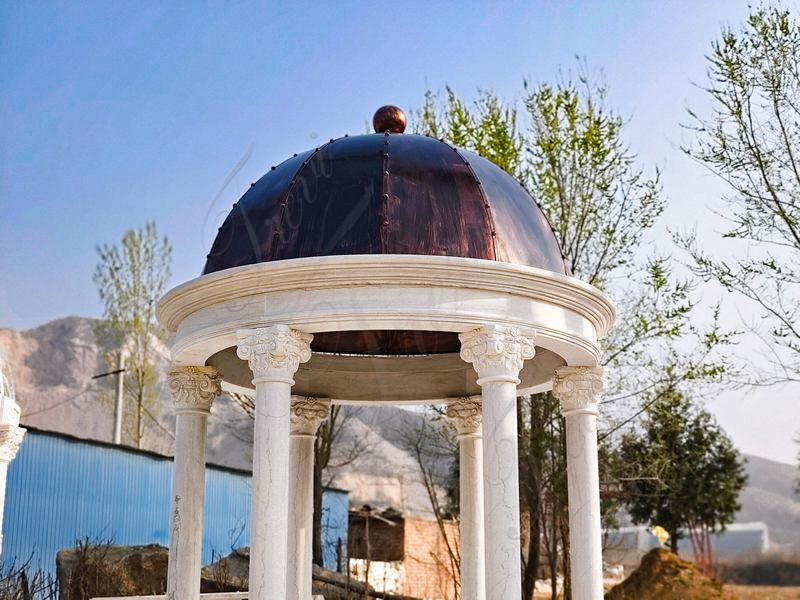 Allow this marble garden gazebo to be the backdrop of your most cherished moments, enhancing the beauty of your surroundings and adding an aura of timeless elegance to every occasion.
Professional Architectural Designers at Your Service
At Trevi Factory, we take pride in our dual expertise. Not only do we possess a team of highly skilled craftsmen dedicated to the art of creating exquisite marble pavilions, but we also have professional designers who are adept at translating your unique vision into a personalized marble pavilion design. our talented designers collaborate closely with you, taking your ideas and preferences into account, to fashion a marble gazebo that not only meets but exceeds your expectations.
Sturdiness and Durability
Customers choose these marble gazebos primarily for outdoor use, imposing stringent quality requirements. Our factory's gazebos are meticulously crafted from natural marble, offering numerous advantages. With minimal water absorption, natural marble provides excellent protection against wind, frost, rain, and snow. For residents in rainy or snowy cities, opting for our marble gazebo proves to be a wise decision. Barring natural disasters like earthquakes or tsunamis, natural marble ensures a long lifespan. Under typical conditions, our factory's marble gazebos guarantee a minimum service life of 40 years.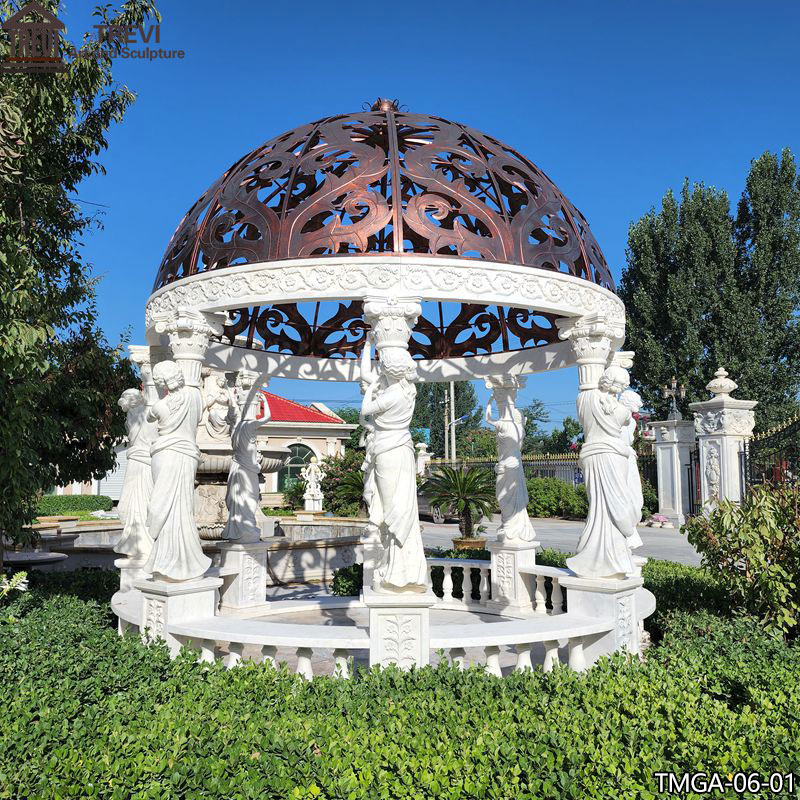 Comprehensive Installation Support
Trevi's services extend beyond the sale of the marble gazebo. We provide detailed installation drawings and offer guidance throughout the installation process. Our team is dedicated to ensuring that our customers have a seamless and successful experience.
Various Marble Gazebo Styles
Trevi's collection includes an extensive range of marble gazebo designs, each uniquely crafted to cater to diverse tastes and preferences. Whether you're seeking a classic, intricate design or a modern, minimalist aesthetic, our selection ensures that you'll find the perfect marble gazebo to enhance your outdoor space. Explore our diverse options and elevate the beauty and functionality of your garden or outdoor area with our exquisite marble garden gazebo designs.
If you are interested in our marble gazebo or want something to make your wedding venues more attractive, please feel free to contact us.